Intel Extreme Masters in Sydney kicked off today in Sydney, Australia, but we spent a better part of the day walking through the massive demo area where we sighted the Asus ROG Mothership. In case you're wondering what that is, the ROG Mothership (GZ700) is Asus's adventurous form-factor for a gaming machine. We got to spend some time with an engineering sample which was not running any games, to get a glimpse of what the future of gaming laptop form-factors could be.
The Asus ROG Mothership is a very unique take on a gaming laptop. It's a detachable gaming machine, with all the important components being housed in the display assembly. The keyboard attached to a set of magnetic pins and can also be used detached, via Bluetooth. The keyboard on the machine offers quite a bit of travel, almost 1.8mm of it and of course sports the usual RGB treatment. The ROG Mothership comes with a built-in kickstand, just like the Microsoft Surface so that it can stand upright.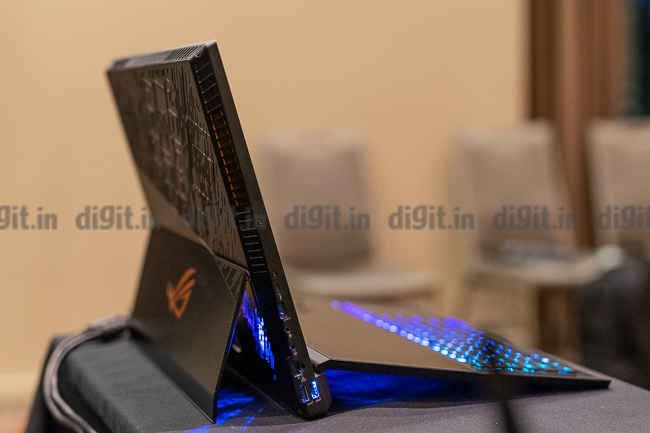 The Asus ROG Mothership is a detachable gaming PC
The Mothership is definitely quiet a unique piece of gaming hardware, packing an Intel Core i9-9980HK processor along with 64GB of RAM and an Nvidia RTX 2080, all into a chassis less than 2 inches thick. Where is lacks in thickness, it makes up for in weight. The Mothership is not a light machine by any means, weighing in close to 4 kilos without the keyboard attached. When the keyboard is attached, it also doubles up as a cover for the display so that you can ferry it around in your backpack without damaging the FullHD, Pantone certified screen.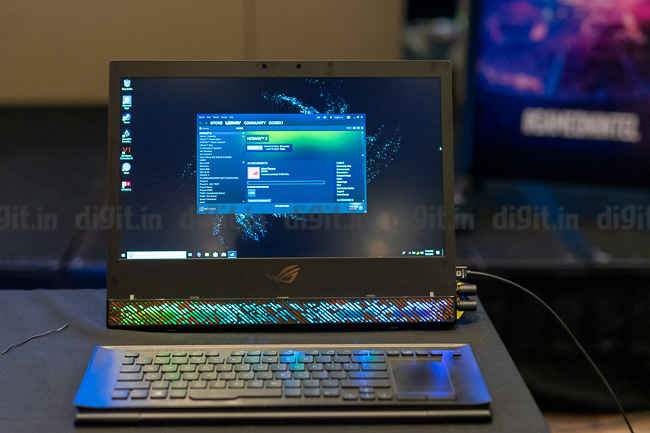 The ROG Mothership offers a FHD display with refresh rates of 144Hz
Besides the form-factor, the Mothership does sport a unique finishing, with laser cut patterns with the signatures ROG look on the bottom bezel. Similarly, on the back as well, there's the signature ROG logo on the kick stand, with the back cover having etched designs as well. Both the front and back are lit using internal RGB lights to lend the Mothership a very unique look.
First Impressions
The Asus ROG Mothership is definitely a head-turner, but its practicality remains to be seen. It is by no means a "thing and light" machine, and neither does it support a stylus. So creative individuals who would most benefit from the tablet-like design are already limited. Lifting the Mothership is not easy either, given its weight, so lugging it around it not really an option.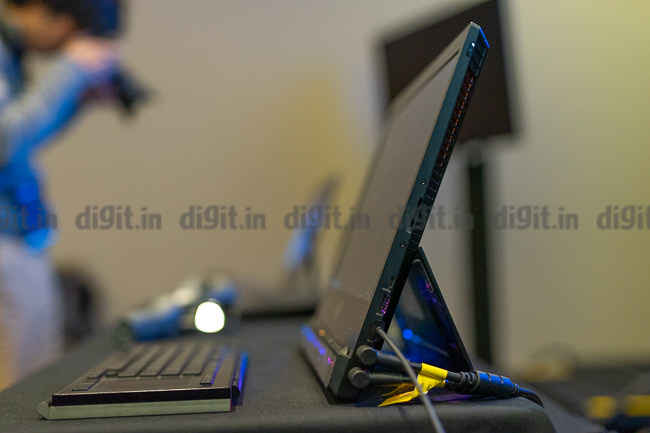 The detachable keyboard folds on itself to be more compact
What the 17-inch gaming machine can do well, is be a legitimate desktop replacement, that can be moved around from place to place if needed. Given that the Mothership comes with a mini HDMI port and a Thunderbolt 3 port as well, attaching external displays should not be a problem. Regardless of its weight, we feel that the ROG Mothership is one good looking machine, one that would definitely one that would turn heads wherever you decided to prop it up. Of course, you should be willing to carry the two 230-watt power adapters with the Mothership as well, because those components on the inside are really power hungry. For a starting price of AUD $9,999 (roughly Rs 4,85,000) you get a one-of-a-kind gaming system from Asus. Its one you would have to be very brave (and beefy) to carry around.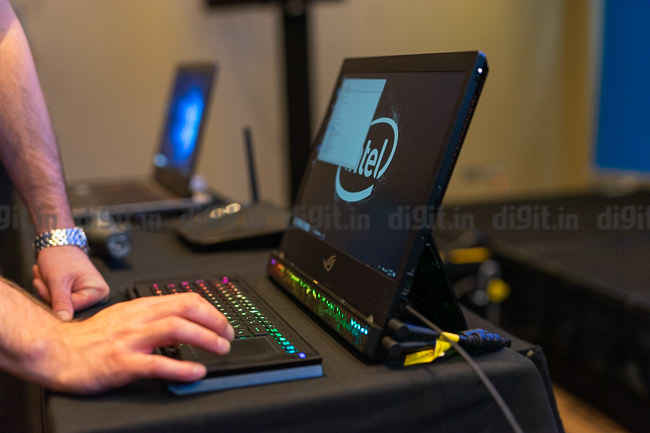 Some beautiful RGB game on the Asus ROG Mothership