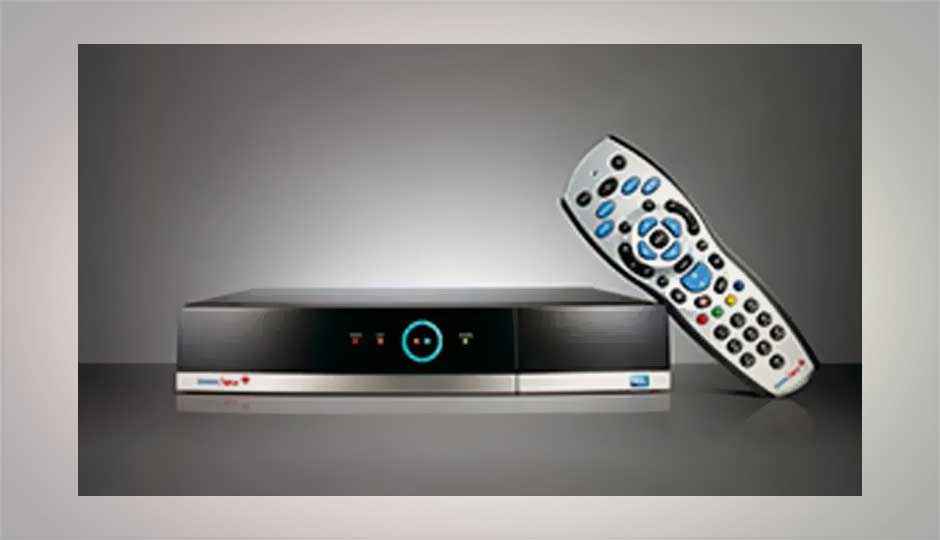 HIGHLIGHTS
The problem is simple - lots of channels, lots of DTH operators, countless number of packages. Which one should you pick? We give you a definitive answer by looking at the High Definition channels in movies and general entertainment category.
Walk into an electronics showroom, and the chances of you finding a CRT TV are almost zero. With the flat panel HD TVs (HD Ready and Full HD – even though they aren't being sold with such clear admittance up front, anymore) being perhaps the default choice, chances are that you will want HD content on the TV more often than not. With the HD set top boxes for most DTH operators being competitively priced, again, chances are you will prefer those over the Standard Definition offerings, particularly if you are watching TV on a big screen that is bigger than 32-inches. The difference between SD and HD channels is very visible, and the inferior experience of a non-HD channels and broadcast is more than apparent. If you have invested in a a flat panel television, it is time you feed it the correct content as well.
The popularity of HD channels can be measured by the fact that the popular Hindi General Entertainment Channels (GEC) are all being offered in HD. Same goes for most Hindi Movie channels and English movie channels. For sports fans, particularly in this part of the world, watching cricket or football in HD makes most weekends!
With this story, we help you figure out which DTH operator stands where in terms of the HD channel offerings for Hindi and English entertainment and movie channels. The idea being, to help you pick the best operator, considering the channels you watch quite often. The dual motive of guiding you about which channels are offered on which platform, and how much it will cost you. We have tried to look at the lowest possible subscription cost for each channel, and in some cases, a bouquet of channels. And in the end, we have a total cost number, in case you wish to subscribe to all channels in this genre.
Hindi GEC and Movie channels
Right from the outset, it is clear that all the popular Hindi general entertainment and movie channels have their HD versions. Simply because, there are guaranteed eyeballs for them in the largely Hindi speaking nation. And well, there is Bollywood too. This table tells you which Hindi entertainment and movie channels are available on each platform. Clearly, none of the DTH operators are willing to take a risk of not having these very popular channels on their platform. Apart from Airtel Digital TV missing out on Life OK HD, all channels are available on all platforms.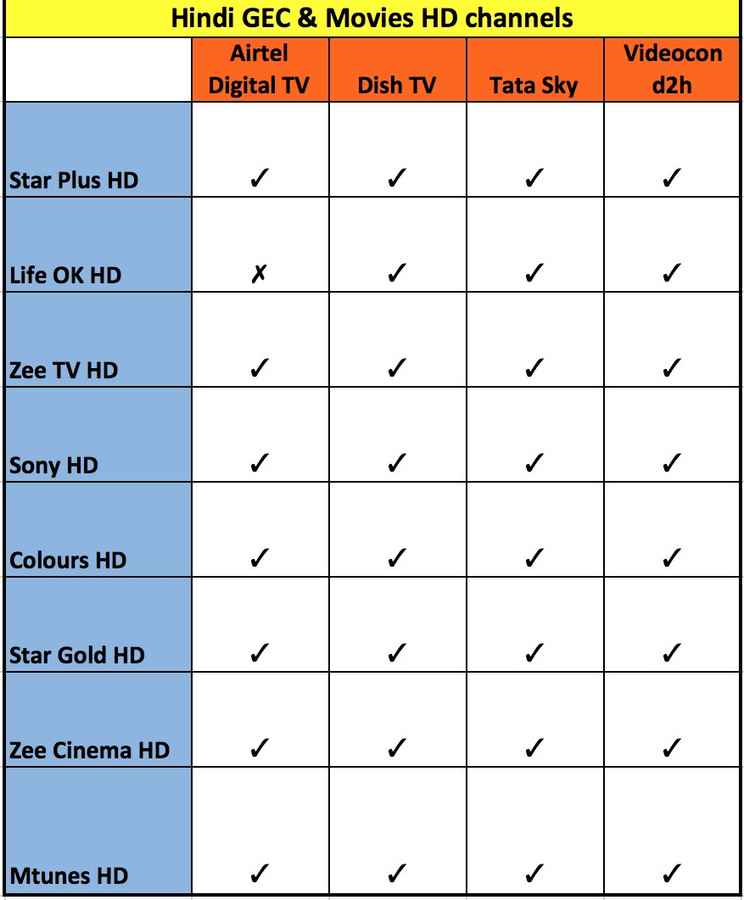 This now neatly brings us to the question of – how much will I have to spend? On paper, Airtel Digital TV just sneaks into top spot, with the least expensive channel package. This is brilliant, except that it does miss out on Life OK HD channel, that we had mentioned earlier. Unless that is a channel you really need, you might just want to consider the Value Sports base pack Hindi Plus HD top-up Mtunes HD top-up. In that regard, Videocon d2h offers all these HD channels in a pack that costs Rs 305 per month, the new Gold Entertainment HD pack. Contrary to general opinion, Dish TV is the most expensive if you want just the Hindi entertainment and movie channels, with the applicable HD World pack priced at Rs 399. While it is a good thing to have simple packages, this in-flexibility and limited package range does put Dish TV at a disadvantage. Incidentally, the much maligned Tata Sky (the general perception that Tata Sky is more expensive than Dish TV), incidentally costs less than Dish TV, if you wish to specifically watch these HD channels.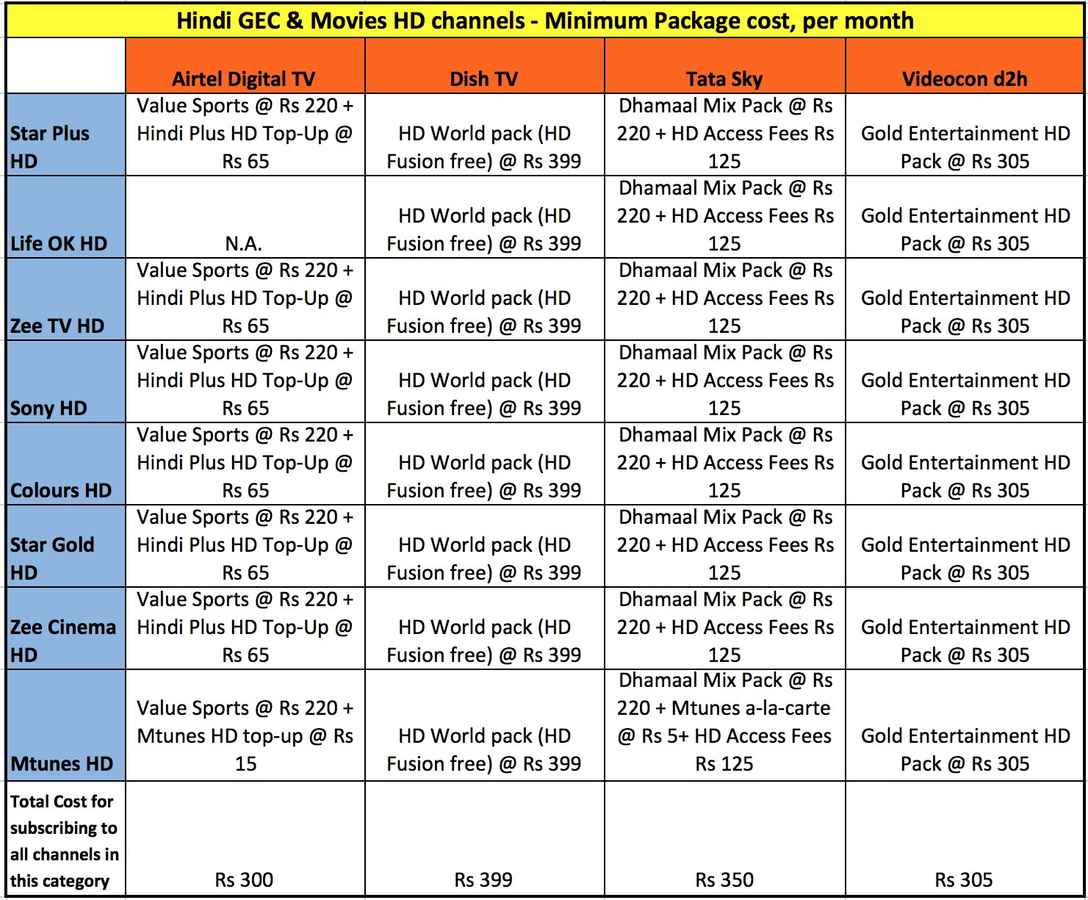 Legitimate Winner: Videocon d2h
Our alternative recommendation: Tata Sky


Videocon takes this one, simply because of the much more affordable price of the channel package. The New Gold Entertainment HD pack, which was introduced sometime back, addresses the needs to this specific demographic, better than most rivals. While having all channels in the bouquet.
Tata Sky, though, would be our recommendation. Simply because for the extra Rs 45 per month, you will get a much better user experience than what Videocon d2h offers – HD and HD hardware as well as a much better and infinitely more usable user interface. Incidentally, if Life OK HD isn't a major channel for you, then the same positive qualities apply to Airtel Digital TV as well.
English GEC and Movie channels
For anyone who prefers the English entertainment and movie channels, the choice is a tad more complicated. Unlike the Hindi channels which are almost forced on to every platform because of their massive viewership numbers, the choice isn't so simple for the english entertainment and movie channels. Straight up, it is clear that not all channels are equal! Primarily, there are three popular movie channels – Star Movies HD, Zee Studio HD and Movies Now HD. The three new HD channels – HBO Defined, HBO Hits and Romedy Now are still not available on all platforms. Surprisingly, there are only two real English entertainment channels in HD – Star World HD and Star World Premiere HD. Quite a shame really, and this massive gap needs to be bridged. The broadcasters certainly need to bring in the HD versions of the other popular channels like Comedy Central, Zee Cafe, FX, Fox Crime and AXN. I do agree that they have been taking it slightly slow, because of claimed bandwidth limitations that many DTH operators are facing, hence the inability or unwillingness to fill up existing space with channels right away.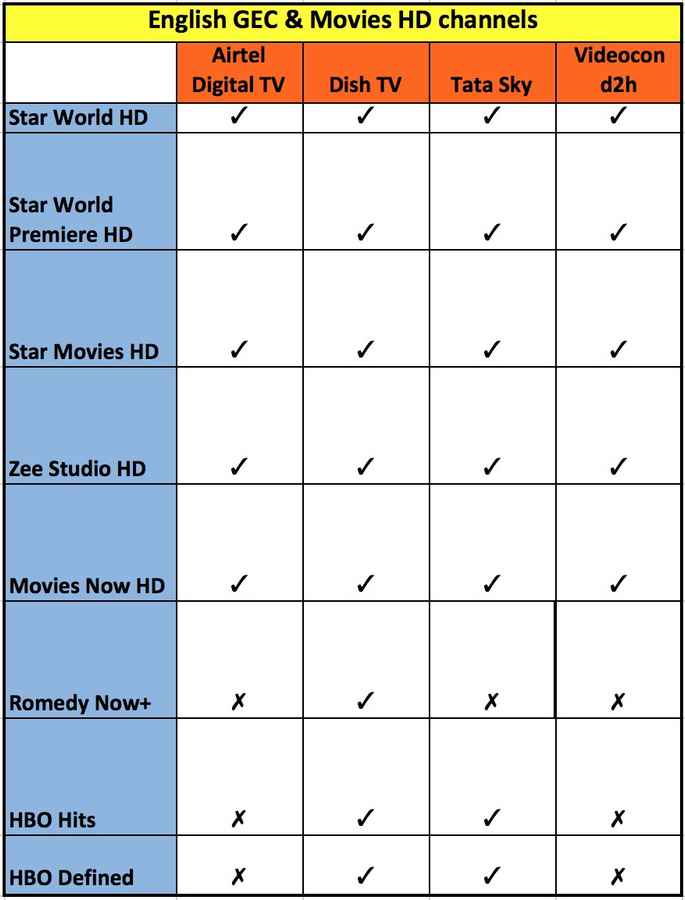 Across this genre, Star World, Star World Premiere HD and the three aforementioned popular movie channels are available across platforms. That is sorted, if you wish to watch only those channels. Dish TV and Tata Sky are carrying the HBO premium channels – Hits and Defined, while only Dish TV is carrying Romedy Now (at the time of writing). Airtel Digital TV, on its part, only offers the standard definition versions of the HBO premium channels.
In terms of the cost impact, Dish TV offers all the channels, and expectedly, costs the maximum as well. Tata Sky misses out on Romedy Now , for the moment. Videocon d2h, often claimed as the "affordable" option to Tata Sky costs only Rs 3 lesser than Tata Sky, but offers 3 channels lesser as well. It is funny to note that this so-called affordable DTH is thrashed by Airtel Digital TV, which costs Rs 199 lesser for the exact same number of channels.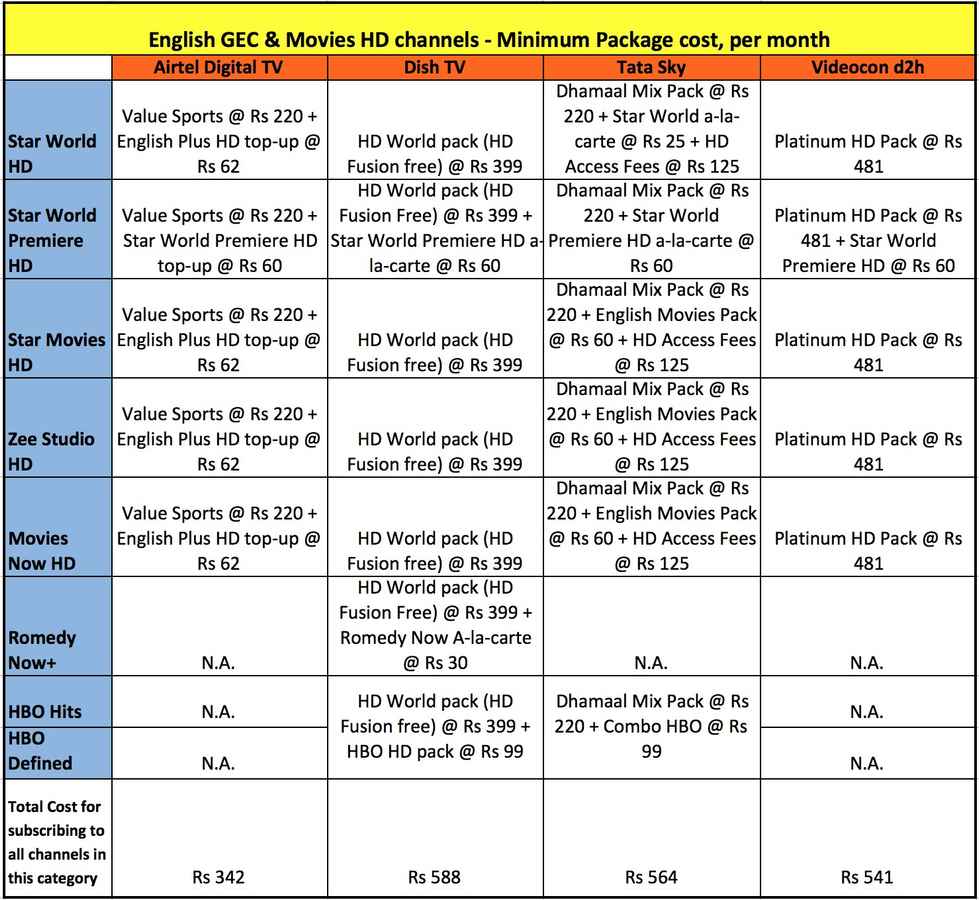 Legitimate Winner: Dish TV
Our alternative recommendation: Tata Sky


On paper, Dish TV is perhaps the best choice, if you need the English entertainment and movie channels. And we must complement them for being the only platform, at least till now, to actively add new channels in this genre – first to add the HBO premium HD channels and the first to add the Romedy Now HD channel.
At the moment, Airtel Digital TV and Videocon d2h are missing three channels, and that puts them out of the reckoning for the time being. We do hope that these two service providers solve this little jigsaw and offer a more wholesome package for channels in this genre.
Alternatively, if Romedy Now as one channel isn't holding you back, then we would also suggest considering Tata Sky, which also cost a little lesser per month. Apart from what we had said about the superior quality hardware and user interface, do remember that Dish TV's DVR experience isn't the perfect one, whereas Tata Sky HD offers the dual recording/pause feature and a built-in 500GB hard drive.