Bluetooth speakers are dime a dozen these days and are fast gaining popularity amongst a whole host of consumers. Frankly, most of them are fairly run of the mill, but rarely does a product come into our lab that has multiple people excited. Mass Fidelity's Core is one such product. It's a 6-inch x 6-inch speaker elegantly wrapped in mesh-cloth with a black acrylic top and a chrome bottom. It has a built-in battery to aid in the speaker's portability, but can also be used while plugged into a power source. It offers an aux-in connector, along with a SPDIF input port. There's also a USB port in case you want to charge your smartphone. If there was a physical embodiment of minimalism, the Core would be it. We received one in our lab and couldn't wait to give it a try and here's our first impression of it.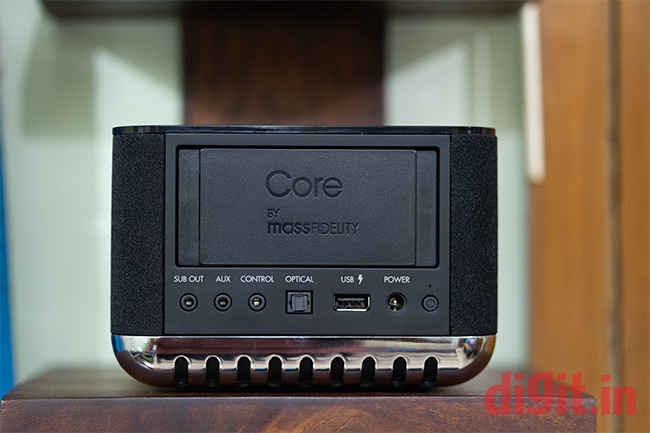 The Box: Impressive inside and outside
The Core comes in a rather elegant and posh-looking box. It's a White box, but the minute you hold it, you know you've got something expensive in your hands. Take the top off and you find everything packed very neatly. There's a bunch of power cables, a power adapter and even an RCA-to-3.5mm aux cable. There is, of course, the Core which comes with a wireless remote and a really slick satin bag to keep the speaker in. Overall, the Mass Fidelity Core isn't packaged like a run-of-the-mill speaker. It's nice to have an RCA cable in the box, although it would have been nice if they had also packaged a regular 3.5mm auxiliary cable and even an SPDIF cable.
Build and Design: Minimalism at its finest
The Core is a 6x6-inch speaker with a slightly rounded Chrome bottom. The top of the Core is where you will find the volume buttons, along with buttons to help you pair with Bluetooth devices and another button to chain other Core speakers together. Looking at the speaker is identically minimal regardless of which of the three sides you look at it from. There are the three sides which house 4 of the 5 custom speakers. The edge with the buttons closest to it is the front and houses two speakers, while the left and right have one speaker each. The back of the Core has a number of ports, including the charging port. While the sides are wrapped in a very high-quality mesh cloth, the top is made of glossy acrylic. Overall, the design doesn't have anything flashy, but that's the whole point. The speaker is designed to be super minimal, something that would blend into your home very easily. In fact, its so minimal in its design that in order to really show the speaker off, we had to stand it up vertically for effect while shooting the product video.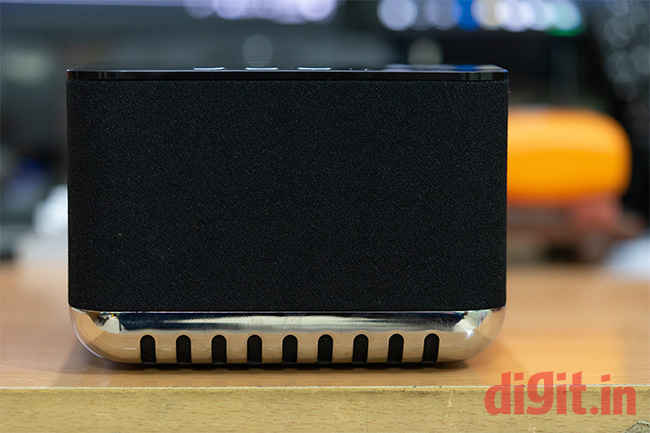 Listening to the Core
I haven't had the chance to test the Core yet, but did take it home for a few days to give it a casual listen. The first thing you will realise is that with the Core, placement is key. The right placement is actually very easy to figure out. Think about how you would place a pair of bookshelf speakers, or even two regular speakers. Now place the Core right in the center of that line, ideally with its back to a solid wall. Mass Fidelity says that they've built 5 custom speakers for the Core, with one of them acting as the subwoofer. The other four speakers are placed in a 1-2-1 configuration, that is, 1 speaker on the left, two in the center (facing the listener) and 1 on the right. The cumulative effect of these four custom speakers arranged in this manner (and of course, if placed correctly) is that the Core should output sound that resembles a pair of stereo speakers. For my initial experience, I simply paired the speaker with my Samsung Galaxy S9+ using NFC and streamed music over Bluetooth. I placed the speaker on a wall-mounted rack initially, knowing that this wasn't for testing the speaker. It is amazing how the minimal design of the Core essentially makes the speaker blend into your home. I placed it on a bookshelf, on my computer table (under the monitor) and even on a coffee table, and in all these spots, the speaker looked like it just belonged. For listening to music, however, I moved it back to the wall mounted rack.
That one evening, the speaker played for me numbers by artists such as Pearl Jam, Nirvana, Megadeth, and Tool. The Core easily filled my 15 feet x 15 feet room with clear audio. At one point, however, I noticed some delay, where the sound from one channel arrives at the ears later than sound from another channel. This was due to the fact that having the speaker placed on a wall mounted rack, which was technically to my back-left while in the listening position, was not the correct placement. Things changed when I moved it front center on my computer table, eliminating any kind of delay.
With a distance of roughly 10 feet between me and the speaker (now placed directly in front of me), the sound became a lot more balanced. Rock music, which generally takes a beating on most Bluetooth speakers due to their emphasis on "heavy bass" sounded a lot better than what I'm used to hearing. Switching over from Rock to electronic music (Chemical Brothers, Apollo 440, Infected Mushroom etc), the speaker's sub-woofer kicks in hard and you can definitely feel the bass.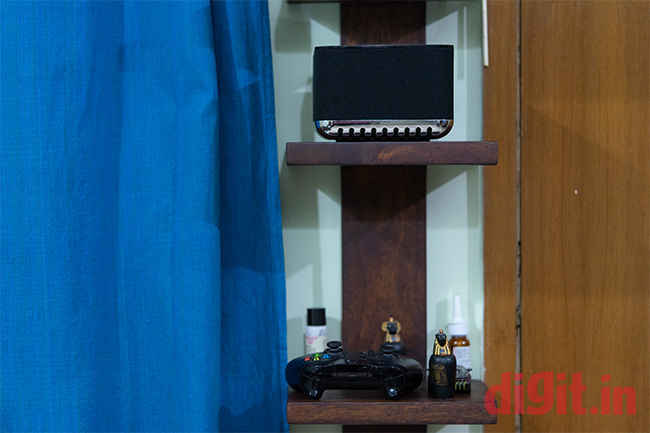 First Impressions
Core by Mass Fidelity was definitely a surprising Bluetooth speaker to have briefly used. I wasn't expecting the sound to be very rich, or the stereo separation to be good, but I was left pleasantly surprised. Mass Fidelity markets the Core as a speaker that can replace your soundbar, meaning, it should be good for watching movies too. We are still in the process of putting the speaker through a host of tests, measuring its performance with different kinds of setups and scenarios. We will have the final review of the Core coming out very soon, but for now, this is definitely a product which we are all very excited about.