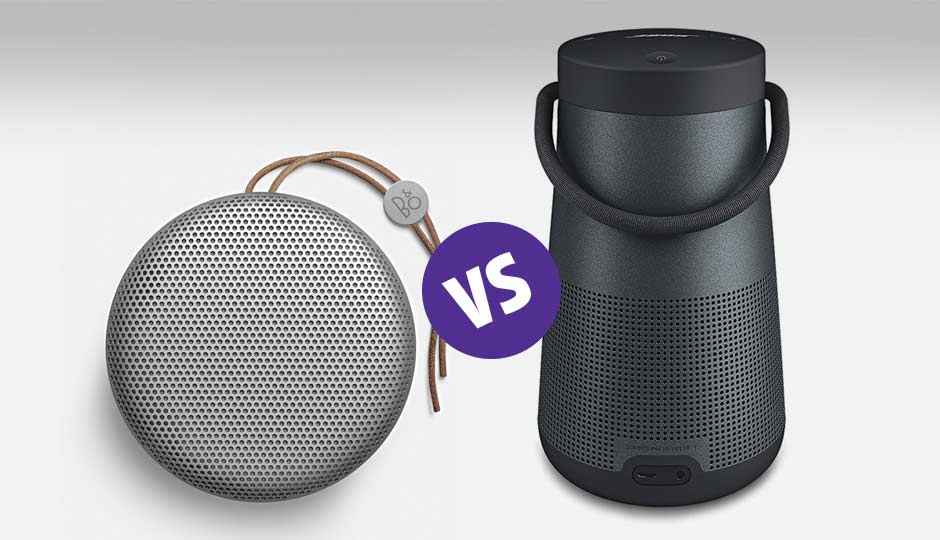 HIGHLIGHTS
Looking to get a portable Bluetooth speaker? We compare two of best in the market right now.
A few years back, it may have seemed a bit ridiculous to spend over Rs. 10,000 on Bluetooth-powered speakers. These portable gadgets were only looked at as good enough for listening to a few tracks on the go, but not really good enough for audiophiles to savour in the long term. That perception has changed steadily, as the biggest audio makers have come around to building smaller, lighter and better-sounding portable, wireless equipment at increasingly affordable prices.
Here, though, we have two portable speakers that are the result of thoughtful marketing strategies and deep insights into the changing paradigm of Bluetooth speakers in the market. Both featuring 360-degree bodies, the Bose SoundLink Revolve+ and the Bang & Olufsen BeoPlay A1 are positive nods at what the new generation loves. They perform out of their skin to provide commendable audio quality, a host of smart features for wireless devices and combine all of it with premium construction and seamless designing – something that more expensive speakers have always been associated with.
Here, we compare what happens to be two of the most premium portable wireless speakers in India, priced at the lower end of the premium segment. At around the Rs. 20,000 mark, Bose looks to capitalise on its previous hits in the SoundLink series with a durable, 360-firing speaker. Bang & Olufsen, frankly, gets its first tryst in building something that is remotely affordable with the BeoPlay A1. How do these two direct rivals fare? Read on.
Build
Bose SoundLink Revolve+
The Bose SoundLink Revolve+ is certainly a well-built speaker, and the heft of its body affirms its quality. The metal unibody chassis does not have any seams thereby being more rigid and sturdy, and the rubberised top and bottom panels do well to add grip and aid button feedback. You also get a reinforced nylon 'handle' that gives it the lantern-like look and a tripod screw jack at the bottom for mounting on platforms. The speaker feels well built, but the looks can be polarising. Personally, I'm quite fond of it.
Bang & Olufsen BeoPlay A1
The BeoPlay A1 is designed by Danish designer Cecilie Manz, and the seamless flow of design and form is commendable. It feels way more premium than any other speaker in the market right now, at least in this category. Even the lower rubber strip is smooth, and you get a wall hanger to make the most of its 360-firing build. It looks more intriguing and impressive than its Bose counterpart, but unfortunately, misses out on durability. This means that while it is better designed, the Bose SoundLink Revolve+ outdoes it in overall build quality.
Features
Bose SoundLink Revolve+
The Bose SoundLink Revolve+ comes with a host of smart features, including support for the Bose Connect app. This allows you to adjust audio settings, give the device a custom name, and even pair it with another SoundLink speaker for stereo effect. Other features include splash resistance, microUSB charging and playback, aux-in, and pairing memory for up to five Bluetooth devices.
You also get a tripod mount in case you'd need it, and all of these make the SoundLink Revolve+ the most versatile SoundLink from Bose to date. The power button acts as the battery indicator here, and also provides voice prompts for battery and device connection status.
Bang & Olufsen BeoPlay A1
The BeoPlay A1 gets much fewer frills in comparison to the SoundLink Revolve+. You get standard Bluetooth and aux connectivity, a strap for slinging it on to a hook, and a USB-C port for charging. The USB-C port here is a unique addition and not many portable speakers have adopted it to date. The benefit of this port is the reversible interface that makes charging easy and helps if your smartphone uses the USB-C interface as well.
It also gets a customisable button that allows its buyers to execute a specific function – ranging from playing a specific track to controlling the music. The function is assigned via a smartphone app. However, the BeoPlay A1 is not as durable and does not function as a power bank either. You can pair two of these for stereo audio, but that is about it for features.
Performance
Bose SoundLink Revolve+
The SoundLink lineup has consistently been one of the better sounding portable speaker portfolios, and the Revolve+ further adds to it. The speaker uses a passive radiator and a down-firing transducer with onboard reflectors to provide uniform, 360-firing audio. The bass performance is particularly commendable – with good clarity, depth and nicely detailed. However, the mids do sound lacking, and the slight lack of emphasis particularly affects vocals in instrument-heavy tracks. The highs are clean and bright, and fall just short of being sharp, which makes it hit the sweet spot.
Soundstaging, owing to the design, is quite good, although the primary audio direction is discernible.
Bang & Olufsen BeoPlay A1
This is where the B&O BeoPlay A1 outdoes the SoundLink Revolve+. The BeoPlay A1 delivers the impeccable richness of tone and produces pitch-perfect notes. The bass lines are crisp, sharp, precise and heavy, forming an impressive backbone for the entire track. The mid frequencies are supple and clear and are well pronounced to balance the strong low frequencies.
The highs, to accompany the rest of the frequency distribution, are bright, precise and well pronounced. The overall audio has a rich timbre that makes it sound in line with more expensive, desktop speakers. The horizontal 360-firing grille further adds to the expansive soundstaging.
Value for Money
Bose SoundLink Revolve+
The Bose SoundLink Revolve+ is the pricier of the two. At ₹24,500, it is certainly quite pricey. However, you get a premium build, quirky design, good audio performance, multi-device pairing, microUSB charging and playback, and 14 hours of playback, meaning that the SoundLink Revolve+ is indeed money well spent. Further, you get the entire SoundLink ecosystem that you can connect your device with. All of these make it a fairly feature-packed portable wireless speaker.
Bang & Olufsen BeoPlay A1
At ₹18,000, B&O's BeoPlay A1 brings a new level of sophistication to this segment of speakers. The BeoPlay A1 is the better-designed speaker and is also the better performer. It delivers 24 hours of music playback, a USB-C port for charging and connectivity, and a customisable physical button. It is not a rugged speaker but still gets our vote as the more value for money product owing to better audio quality and the balance of connectivity and features.
Conclusion
Both the Bose SoundLink Revolve+ and the Bang & Olufsen BeoPlay A1 have their own strengths and advantages. Bose's 360-firing speaker is the one you should buy if you want a bigger speaker that makes people form opinions based on how it looks. It sounds quite good on its own right, and the versatility of having an ecosystem of speakers to pair with for getting stereo audio is an added benefit.
However, it needs to be taken into account that the Bose SoundLink Revolve+ is a full Rs. 6,500 more expensive than the B&O BeoPlay A1. For a lesser price, you get better audio quality, equally good spatial audio distribution, better battery life, and a forward-oriented USB-C port that more smartphones and laptops are adapting to these days. The BeoPlay A1 ticks all the core component checkboxes and adds exclusivity to its appeal.
The BeoPlay A1 is a designer product, and it pretty much looks its part. It feels even more premium than the Bose SoundLink Revolve+ and achieves everything that a premium portable speaker should. Chances are slim that you would have another BeoPlay/Beolit speaker lying around at home to pair the two together, but for the most part, you wouldn't really miss having two of these around at home.
The Bang & Olufsen BeoPlay A1 takes the cake in this premium, portable, wireless speaker face-off.
This article was first published in the August 2017 issue of Digit magazine. You can subscribe to the magazine by clicking here.