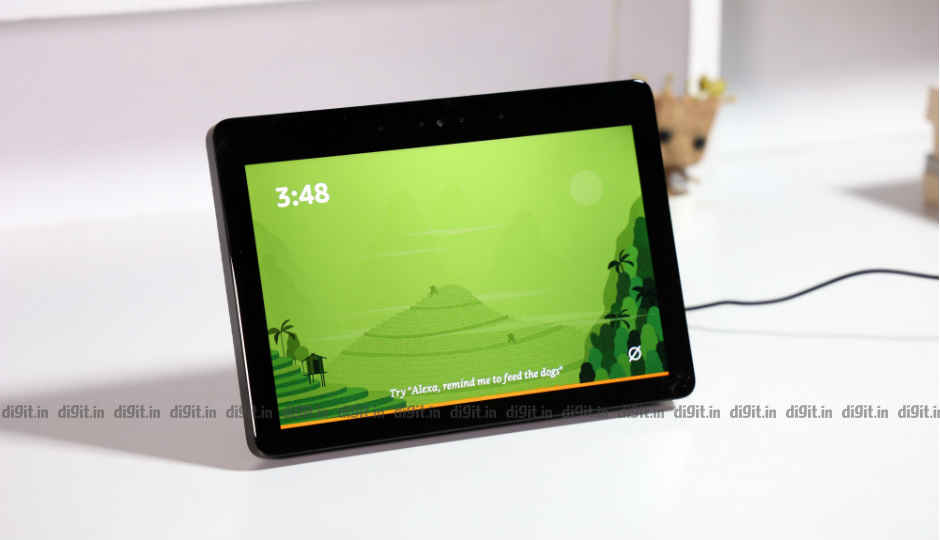 HIGHLIGHTS
The Amazon Echo Show is the latest Echo device in India and it sells for Rs 22,999.
Like a bandolier of bullets shot through a machine gun at quick pace, Amazon launched eleven new Echo devices in September last year for the US market. While some of them, like the updated Echo Plus, Echo Sub, and Echo Input have already made it to India, others are still trickling in. Meet the latest entrant: the Echo Show. As its name probably suggests, it's not just a speaker. It's a tablet-sized device that can stand on its own and show content on a large display.
The Echo Show launched in India is the second-generation model. Let's take a look at its spec sheet: the device has a 10.1-inch touchscreen display with a resolution of 1280 x 800. Just above the display is an array of four front microphones and a 5-megapixel camera. On the back it has dual two-inch neodymium speaker drivers with a passive bass radiator. The Echo Show is powered by an Intel Atom x5 processor and can act as a Zigbee-powered smart hub. What that means is that it can communicate with eligible smart home devices like connected lights and air purifiers. Like all Echo devices, it comes with Alexa baked right into it. The price tag on the Amazon.in product page reads Rs 22,999.
Unboxing and Setup: Quite straightforward, really
Like the other Echo devices, the Amazon Echo Show came neatly packaged in a sky blue box. Opening the box revealed a cardboard cover for the device with a slim grab handle at the top, with which I could then hoist the Echo device up and place it gently on a table. With the cover off, the Echo Show resembled a miniaturised CRT television set. Weighing in at a little over 1.7 kilogrammes, the Echo Show felt quite heavy to lift and carry around. What didn't help was the fabric texture all around the speakers behind the display. Plugging it in made the screen come on with an Echo logo pulsating gently in the centre of the screen.
A few static screens and a firmware update later, the setup process started—and that's when I realised I didn't even need the Amazon Alexa app on my phone to set it up. Frankly, setting a non-display Echo model up can get tedious at times; you have to watch out for the colour of the status ring and switch between Wi-Fi networks on your phone and all that. But there's none of that bother with this Echo because it's got a display, and quite a big one at that. Once I'd entered my Amazon account credentials, setting up and showing the home screen took no more than five minutes.
The home screen showed a small digital clock against a largish illustrated wallpaper in one corner. The only other informational (or even textual) element on the screen apart from the clock was the Alexa command tip below. It read something like, "Try, 'Alexa, play Kishore Kumar songs.' " The tip kept changing every few seconds. At first glance, I found this arrangement somewhat barren given that it's a large ten-inch display, but got used to it soon.
First Impressions: Nothing to write home about yet
I spent some time fiddling with the touchscreen display on the Echo Show, and I came to realise that the UI doesn't really have too many touch-based options. Swiping down from the top edge of the screen brought up a panel with a few quick shortcuts, including: Home, Alarms, Lights & More, Routines, Settings, Do Not Disturb, and screen brightness—just like the notification drawer on Android. While options in Settings can be adjusted using touch, the main home screen itself doesn't rely too much on touch. In fact, I could tell from the tips at the bottom of the screen that it was encouraging me to call out to Alexa using voice more. Swiping right showed me Trending Topics, which kept refreshing with every swipe.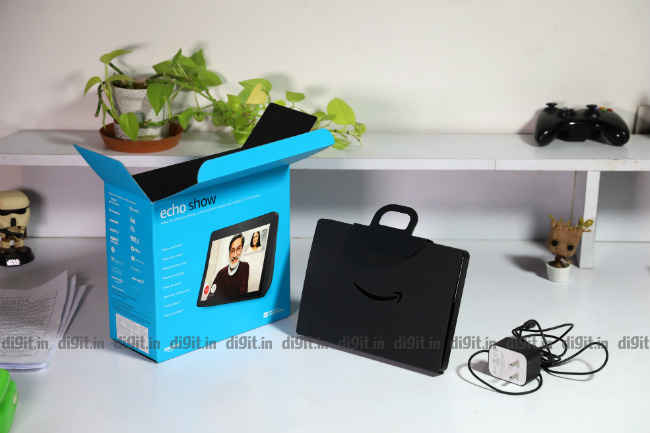 I was pleased to find out that Prime Video just worked when I said to the device, "Alexa, open Prime Video"; it didn't demand that I first sign up for a Prime membership or anything. After about twenty minutes of watching a Prime Originals show (Made in Heaven), I decided to turn the bass all the way down and the mids and highs up as the audio was quite boomy and vocals were inaudible. The player's controls worked the same way they do on the Android version of Prime Video. While Prime Video works pretty well on the Echo Show as a standalone Echo app, third-party video sources like YouTube are tricky to access.
When I called out to Alexa with the command, "Alexa, play a cool video," the device opened up Gwen Stefani's music video of Cool in a Bing search window. When I said, "Alexa, play any video," the device opened up a random episode of Travel in Style on Prime Video. However, when I said, "Alexa, show me YouTube," the device asked me whether I wanted to open the website using Amazon's Silk browser or Firefox. On selecting the latter, it opened the desktop version of YouTube, where I could then search for videos using the on-screen keyboard. So, I was able to play videos on the YouTube site but the videos did not play in full screen even when the full-screen option was selected; the URL bar of Firefox always showed. What's more, I was not able to select the resolution of the video. It seemed set to 720p as standard.
After a day with my new Alexa-powered companion, I was left feeling that the Echo Show was a premium lifestyle device whose large display had a lot of potential but went unused. Though my eventual review of the device could change that opinion, I believe Amazon could do, or even show a lot more on that ten-inch display. Whether that's true or not is something I'll have to wait and find out. Let's put the new Echo Show through a proper test in the coming days then.