Facebook has recently caught the eye of many netizens after the social media giant started testing its latest "Disappearing Messages' feature for its hugely popular Messenger app on iOS. The new feature will allow users to send messages which expire after a given time, predetermined by the user. Although information about the feature is scarce, a tweet by @iOSAppChanges shows a screenshot of the feature on Messenger, with this text displayed below the chat window-

"You turned on disappearing messages. New messages will disappear from this conversation 15 minutes after being sent."
Conjecture is that Facebook will give iOS users an option of choosing a time limit for messages sent using the 'disappearing messages' feature. Users may be able to choose a time between 15 minutes to 1 day, depending on their preferences. A move that was probably awaited by the 900 million monthly active users of the Messenger app.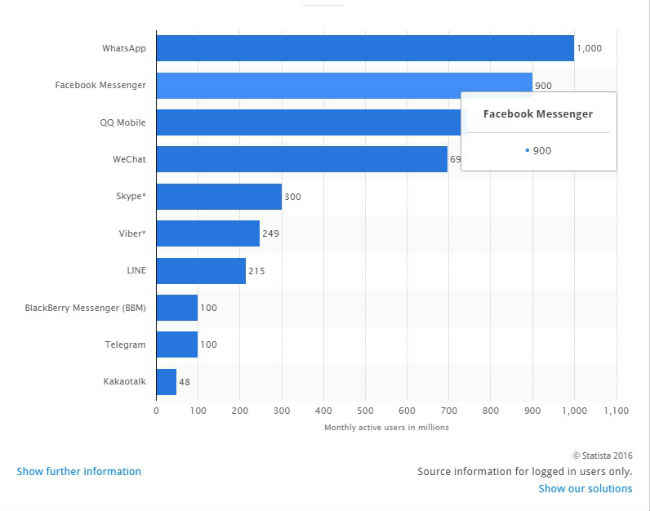 Why the disappearing act?
Disappearing messages are nothing new to the chat world. Private messaging service Snapchat has been making snaps, chats and stories disappear as a default since its inception. Another instant messaging app, Telegram, has made use of self destructive messages with 'secret chat' settings for a while now. Honestly, it feels like Facebook is a few years too late to the party, but better late than never right?
Privacy, in the vastly connected world that we live in today, has become a huge driver of new products and features on social media platforms. Young adults are increasingly lured onto such messaging services which promise a "no strings attached" conversation. This explains the reason behind the exploding rate of adoption of the Snapchat app, worldwide. According to Statista, "As of the first quarter of 2015, the Snapchat penetration rate among U.S. teen internet users was 38 percent. In contrast, 52 percent of teen internet users in Ireland accessed the mobile chatting app." Snapchat has also been stealing away business from Facebook owned Instagram in most countries including India. As per a recent survey by investment bank Piper Jaffray, Snapchat edged out Instagram & Facebook, to become the most important social network for US teens in 2015.
Can you trust Private Chat?
More than Privacy, teens and young adults feel less pressured to chat in an environment where conversations are seamless and cannot be stored for any sort of reference in the future. This allows chats to flow naturally amongst users, just like it would in a face-to-face conversation. But, is privacy really a myth in the world of disappearing messaging services? Can messages really disappear?
It is very difficult to verify if messages, pictures and videos sent using platforms like Snapchat, Telegram, Don'tTalk or Confide, are private, in the real sense of the word. Back in 2014, Snapchat settled a charge by the Federal Trade Commission (FTC), stating that it "deceived consumers with promises of the disappearing nature of messages sent through the service ." The FTC argued that it was very easy for people to take screenshots of private messages using third-party apps or an iOS version earlier than iOS 7. "If a company markets privacy and security as key selling points in pitching its service to consumers, it is critical that it keep those promises," said FTC Chairwoman Edith Ramirez. She added. "Any company that makes misrepresentations to consumers about its privacy and security practices risks FTC action."
If this wasn't damaging enough, Snapchat revised its Terms of service back in November and the new terms state, "You grant Snapchat a world-wide, perpetual, royalty-free, sublicensable, and transferable license to host, store, use, display, reproduce, modify, adapt, edit, publish, create derivative works from, publicly perform, broadcast, distribute, syndicate, promote, exhibit, and publicly display that content in any form and in any and all media or distribution methods." Kids, I hope you know this. Moreover Snapchat's new privacy terms also suggest that owing their Live Story feature, the service has the right to distribute and syndicate "stories around the world".


So no, currently chatting on a private messaging app does not ensure that your privacy remain intact. It is more of a UI feature, than an actual security measure. One that can be hacked, fooled or abused, if need be. How Facebook defines the rules of private messaging, is something we look forward to seeing. Even though the social media giant is playing catch up in this field, it is known to define privacy standards in the industry. Whatsapp's end-to-end message encryption is a good example of Facebook stepping up its privacy measures for its platforms. Let's wait and watch how FB's 'disappearing messages' fare in the real world.