Indian companies are becoming more innovative by the day. Delhi-based firm, Shouut, has taken an old idea and added a touch of new technology to it. It's a social discovery platform similar to Zomato or TripAdvisor, but Shouut's USP is that it's five apps in one. You can use it look for places to eat, find offers at stores, discover places to visit and more.
But that's not really innovation, is it? Shouut has tied up with Ricoh, the company behind the Recoh Theta 360 camera, to add a touch of VR to its discovery platform. Shouut sends its own photographers to various places to shoot 360 photos and videos, and add it to the platform. So, when you want to check out a place to visit, Shouut will be able to give you 360 photos of the place on your phone.
Partner Pulkit Srivastava says the same can be done with videos as well, in future. Srivastava says brands and businesses may want to present their own 360-degree photos and videos as well, which present a good monetisation option for Shouut.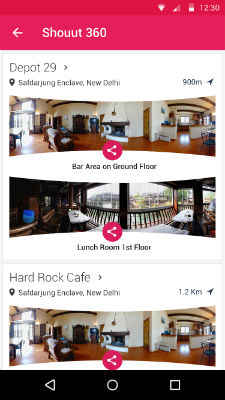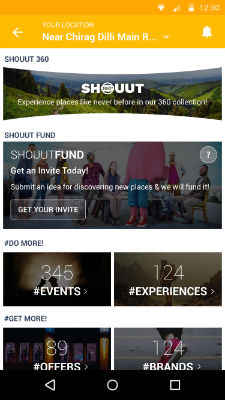 In addition, while recommendations and reviews of Zomato are based on users and algorithms, Shouut takes a different route. The company has 30,000 recommendations, or 'shouuts', as they're called in the app, already. They come from renowned food bloggers and businesses from 1,100 cities in India.
Shouut has raised half a million dollars in funding recently, which it plans to use for adding more experts to its platform. While anyone can apply to be a Shouut expert, Srivastava says there's a team that will have to approve them. So, if you apply, Shouut will first analyse your body of work, and then decide whether you can be a part of it. It's an effort of providing more trustworthy recommendations.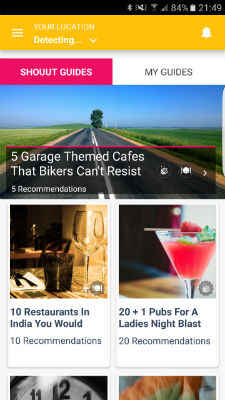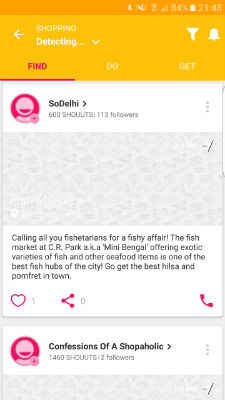 Bloggers and experts also get paid by the company. Their remuneration is based on their utility to the company, and you earn on a "per shouut" basis, says Srivastava. Experts are also allowed to add their own 360-degree photos if they want to.
There's also a 'follow' option for users. So, in future, an expert's worth may also be determined by the number of people following them. Shouut picks the user's location automatically and presents recommendations based on that, but regulars on the app may choose to follow a certain expert's recommendations more than others.
While Shouut's potential is big, what makes it truly innovative is the 360-degree media approach. Such content is not widespread in the app right now, but Srivastava says that the company is working on it. It's the right idea for social discovery, and it may make Shouut stand out in a sea of social discovery apps. The app already has content from over 1100 towns in India, with those from well known names like Little Black Book and So Delhi.
Shouut is currently available on Android and iOS, but the iOS app is on Beta.