On World Yoga Day try these five apps for yoga, meditation and mindfulness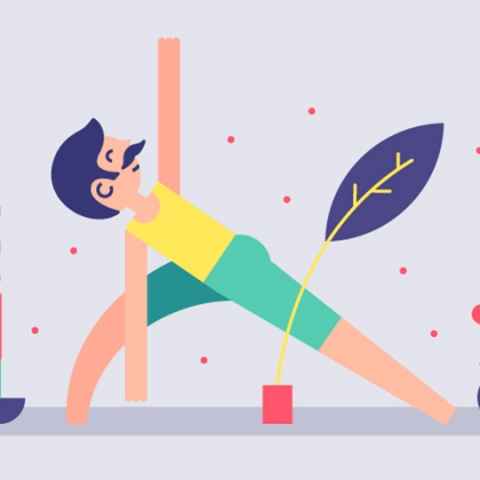 HIGHLIGHTS

Yoga is as much about the body as it is the mind, so on World Yoga Day we've curated a selection of apps that will help you with your Yoga regimen as well as meditation and breathing techniques
Today, we celebrate World Yoga Day. Yoga has fast been becoming the go-to physical regimen for fitness across the world. Yoga is not just about the physical regimen, but also about being mindful and managing your breathing. All these come together to improve not just your physical, but the mental state as well. If you find yourself living a life which leaves little to no time for the gym or a regular sporting habit, Yoga is the perfect answer. Since you're still crunched on time, here are five Yoga apps we recommend for you to kick-off this newer healthy lifestyle.
5-Minute Yoga
5-Minute Yoga is a video-based app that offers guided yoga poses for you to follow. The app is designed for those who need quick and effective yoga sessions to plug into the little pockets of time they have during the day. The app is available for free on both iOS and Android for free, with in-app purchases.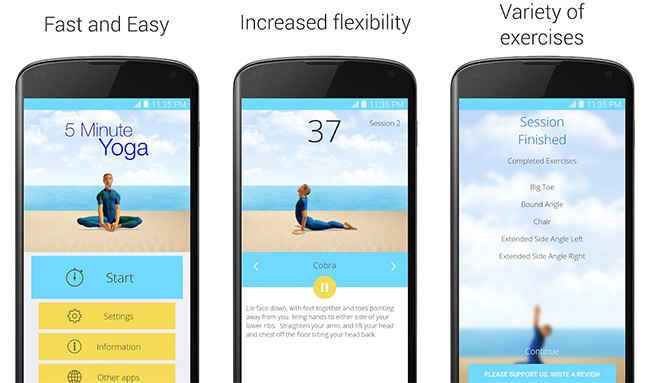 Yoga Studio
Yoga Studio offers video-based yoga sessions, each designed keeping a particular skill-level in mind. The app offers more than 75 ready-made classes. There are even specific programs designed to tackle various common ailments such as back pain. If you can't afford a Yoga instructor to come in everyday and guide you through the session, Yoga Studio is an app that offers a viable alternative. The app is again available on both iOS and Android and also works with Apple TV (4th gen).
YogaGlo
for those who are serious about getting into the habit of Yoga, YogaGlo offers a subscription-based service. The YogaGlo app is designed to replicate the experience of going to a Yoga Studio, but with the convenience of being in your own home, or any other place you choose to be. The app is iOS exclusive and works across all Apple devices such as the Apple Watch, the iPhone, Macs and even the Apple TV. While the app is free, to get going with the practice, you need to pay for a membership fee of Rs. 1549/month, which gets you access to over 3800 classes. You can also track your YogaGlo activity on Apple Watch and monitor your heart rate during each practice, so you can contribute to your Activity Rings and meet your daily goals.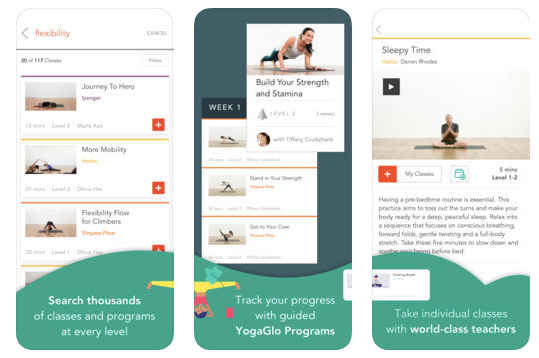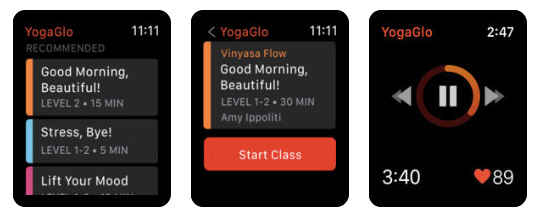 Yoga Daily
Yoga Daily contains programs suitable for all skill levels, whether you're a beginner or a seasoned practitioner. The app contains more than 200 guided classes dedicated to yoga, pilates, meditation, and even workout plans. The app guides you through step-by-step instructions so that you can do the exercises in a safe way. You can share your workouts and calories burned with Apple's Health App if you wish. While the app offers plenty of free content, in order to access the premium content, there is a subscription fee based on monthly and annual renewals. The app itself is available for free on both iOS and Android.
Headspace
Headspace is not a Yoga, but a meditation app designed to help you achieve one of the various goals such as better focus, better sleep etc. The app is beautifully designed and contains guided meditation sessions, all timed according to how much meditation experience you have to begin with. Newbies start off with 3-minute sessions and as your experience level goes higher, meditation session can be longer. While the app comes with a series of built-in meditations, you can also download additional packs from the settings menu, but you can unlock their full library for a fee of either Rs 120/month or an annual fee paid as Rs 74/month. The app is available for free on both iOS and Android.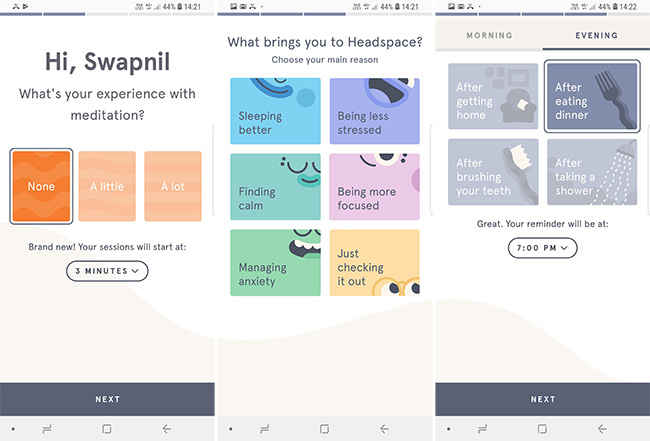 Bonus: Breathe
This is an Apple Watch exclusive, and probably one of the best ways to manage stress and rising anxiety. The breath app on the Apple Watch guides you through one minute of mindful breathing, designed to lower your stress and anxiety levels. While you can always invoke it manually when you feel the need, the app also pops up automatically when it detects an elevated heart-rate. The app is preloaded on the Apple Watch and does not need to be downloaded.