Cricket legend Kapil Dev on Wednesday announced a new venture that focusses on mobile platform, social networking and gamification. Called SloPho, the new application encourages users to participate in games, contest, challenges and polls to earn points that can be redeemed or transferred/gifted as prizes or bartered for advertising space on the platform.
The application equally focusses on businesses as it allows them to target campaigns by region and language. They can put up gamified promotions and access analytics data.
SloPho aims at today's tech savvy youth, growing popularity of mobile Internet and smartphones. Developers of SloPho are banking on the trend of youth spending a large time on mobile applications, instead of only calling and texting. They also focus on helping users monetise their images/contributions through the platform. Another important focus is on keeping the app secure for sharing information.
SloPho is a unique initiative though takes clue from the popular trend of social networking and gamification. That said, we take a detailed look at the SloPho application for the Android platform. Read on:
Getting the app
SloPho is available on Google Play store right and will be soon available on Apple's App store. For an Android version, visit https://play.google.com/store/apps/details?id=com.slopho . It's approximately 7MB in size, while the current version is 1.1. The application is compatible with Android 2.3 and above devices.
Look and Feel
On launching the application, you are asked to sign up or log in via Facebook, Twitter or Email. Soon after you are taken to the home page. For first time users, it highlights the main features including contest, challenges, corporate corner, poll and profile. Tap to continue. On the top left hand corner, there's a button, which directs to you to following categories – Feed, My Groups, Public Gallery, Help, About and Logout option.
The right hand corner has a Leaderboard button, which directs you to users with maximum points. On the right, you will find the profile section, where you can put your profile image and other personal details.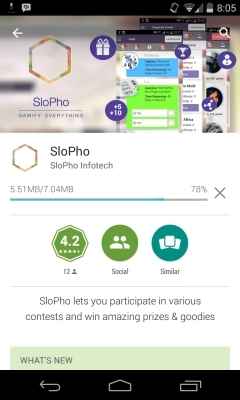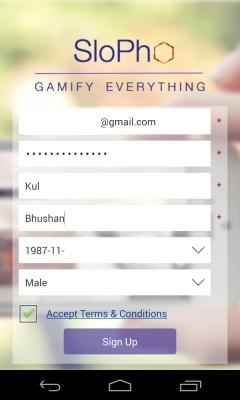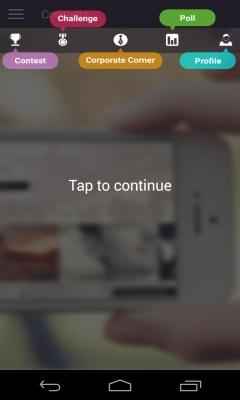 Overall, the interface is very simple as it does not take a lot of time to get familiar with its features. However, the app is slightly slow, especially when switching between categories. You will get a 'loading' message on refreshing feed as well.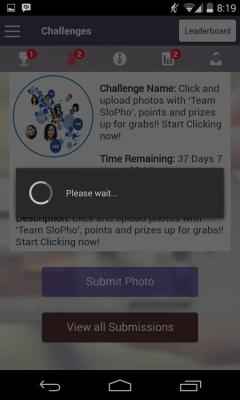 Features
SloPho's most of the features are focussed on gaming. You can participate in contests and polls to earn points. I participated in a photo challenge, and earned 10 points per submission. For participating in a poll, I added 1 point. For every contest, you can see the brand that sponsored the contest, how much time is remaining to participate and total submissions.
SloPho also includes social elements, letting you create your own group. You can invite your friends through e-mail ids. You can also share images securely with your friends through the application. You can also check out a public gallery.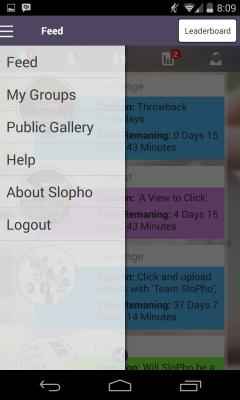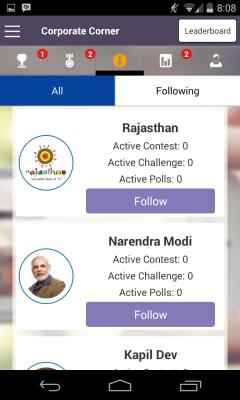 Another important feature of the application is it allows you to follow the brands. You can see all the contests and updates from them in a single feed. However, the application doesn't many brands at this point of time.
For professionals, SloPho lets you build your followers and bucket them. Professionals have control over what they share and with which set of followers. There's a SloPho Showcase platform where you can participate to show your talents to people around the world.
Our Take
SloPho is an interesting application, though needs more improvements such as faster interface. Gamified platform and rewards systems are its main USPs, giving you an option to win prizes and freebies without much of effort. You should definitely give it a try.