Google is going great guns with its Android Development Program in India. In a huge step forward for Indian Android developers, the mountain view based tech giant has finally announced the Android Developer Skilling Program in the country. Partnering with universities, government bodies and private institutes, Google's aim is to create a 2 million strong Android developer base in India.
Commenting on the announcement, Peter Lubbers, Head of Android Development for Google said, "We want to set a Google standard, a gold standard for development in India."
As per data shared by Google VP, Caesar Sengupta, only 4% of the top 1000 Android apps on Play Store come from India, but the country is on its way to becoming one of the largest developer hubs in the world by 2018. The Android Developer Skilling Program aims to drastically up the number of Android developers by offering a bunch of courses ranging from beginner to advanced levels. In addition, existing Indian Android developers can also add to the authenticity, weightage of their skills through Google's Developer Certification Program. As Lubbers puts it, "It will help developers set themselves apart from the crowd."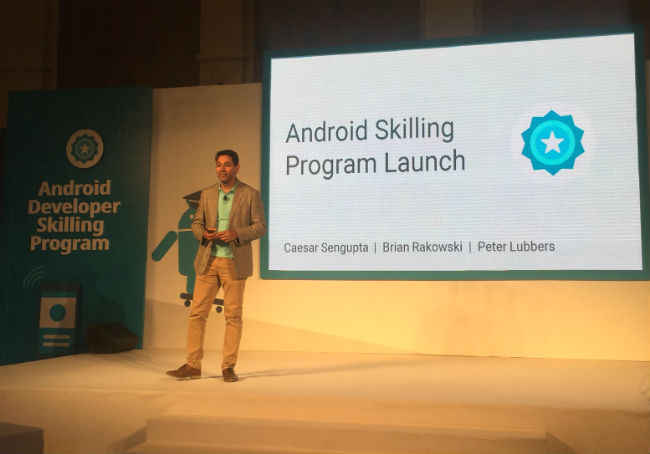 Caesar Sengupta, VP, Google
So, how do you get access to Google's Android Skilling and Certification Programs? Here are your options.
University Classroom Learning Courses
Google will be creating classroom-based training courses in Android Development, in association with 31 universities as well as training institutes under the National Skill Development Corporation (NSDC). Some noted names in this list include - Amity University, G.D. Goenka University, Lovely Professional University, Rayat Bahra University, Manav Rachna International University, Dr. A.P.J. Abdul Kalam Technical University, and more. The course is especially designed for computer science students, and will guide them in building apps, with an aim to create job opportunities for them as entry-level Android developers. Google also has plans to provide faculty training in these institutes, with an ultimate goal of enrolling 2000 universities, training 4000 faculty members, and creating a 250,000 strong student base.
Online Training Courses
Google has also joined hands with the National Programme on Technology Enhanced Learning (NPTEL), to provide online learning resources in Android Development. NPTEL has been offering online courses for 2 years to students who want access to courses similar to those taught at IITs. NPTEL's infrastructure and resources are already powered by Google. The skill development organisation will soon offer a free Mobile Computing course, designed to help students prepare for Google's Developer Certification Program. As per information provided by NPTEL, these courses will begin in July 2016, and will be closely linked to Google's Android Skilling Program.
Earlier in September, Google also announced a series of courses in partnership with Udacity. While some courses will be offered for free through this partnership, the Android Nanodegree course will be chargeable at Rs.9,800/month, for a 12 month program. In addition, August 2016 will also see the launch of a developer connect program by Udacity & Google in Delhi, Bengaluru, Chennai and Mumbai, followed by other Indian cities.
Training Institute Courses
To further increase the base for their Android Developer Skilling Program in India, Google is also joining forces with a select few training institutes in the country. These include - Koenig Solutions, Edureka, Manipal Prolearn, UpGrad, SimpliLearn, and Manipal Global Academy of IT.
Associate Android Developer Certification
Finally, all the above mentioned courses will allow students and aspiring Android developers in India to take the Associate Android Developer Certification exam. Announced first at Google I/O 2016, the Associate Android Developer Certificate will be a part of Google's global Developer Certification Program. Existing and aspiring entry-level developers will have to write Android apps in this exam, which will then be graded by Google's Android experts. The exam can be taken at a cost of Rs. 6,500.
Click here for more details on course syllabus and module structures under Google's Android Developer Skilling Program.