Top 5 Wireless Headphones for Entertainment (2022)
With the arrival of streaming services for music, movies, it is more imperative than ever to have a good pair of wireless Bluetooth headphones that will allow you to thoroughly enjoy all of this content. Without the right hardware, even the best tunes can sound flat and underwhelming, so wireless earphones for music and wireless headphones for movies not only allow you to consume media without disturbing others but also up the immersiveness of the media. Due to the mass adoption of smartphones, more and more people have started consuming all kinds of media on their phones. Having a good pair of headphones to connect with your smartphone/tablet when listening to music or watching TV shows and movies is no longer a luxury, but more of a necessity. Additionally, since most smartphones are now ditching the 3.5mm audio jack, switching to a wireless headset is a smart move. Wireless headphones' best feature is that they allow you mobility without being tethered to your source device. There are many options in the market including wireless headphones over the ear, wireless headphones in ear and wireless headphones on ear. Wireless headphones' price depends on the hardware used and the features provided, but many budget devices are also coming with exceptional features these days. To that end, here's a list of the top 5 wireless headphones for entertainment (listening to music, watching movies, etc) that will pair perfectly with your smartphone or laptop. Although the prices of the products mentioned in the list given below have been updated as of 20th Apr 2022, the list itself may have changed since it was last published due to the launch of new products in the market since then.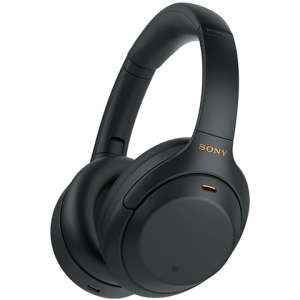 The Sony WH-1000XM4 is one of the best, if not the best, wireless headphones on the consumer market today. What makes it an ideal pair of wireless headphones for entertainment is the fact that it has a wide, spacious soundstage that ups the immersiveness of whatever media you're consuming, be it music or movies. The headset features 40mm drivers and the Sony QN1 processor that results in a dynamic and detailed audio performance. The headphone has refined and controlled bass, warm and clear vocals, and crisp mids and highs. Additionally, you also have multipoint connection, so you can connect to two devices simultaneously. Additionally, the Sony WH-1000XM4 are very comfortable to wear due to its plush ear cups and headband, so even if you're binge-watching a TV show for hours on end, you shouldn't feel discomfort. The headphone also comes with Active Noise Cancellation, so when you're listening to music or watching movies, the active noise cancellation will suppress the sound of all distractions around you and immerse you in an auditory bubble.
Pros
Best-in-class ANC performance

Dynamic, detailed sound

Multipoint connection support

Convenient Quick Attention and Wearing Detection features

Good battery life
Cons
Headband padding is slightly inadequate

Controls are a bit of a hit or miss

No IP rating
SPECIFICATION
Playback Time
:
NA
Frequency Range
:
NA
Channels
:
NA
Dimensions
:
NA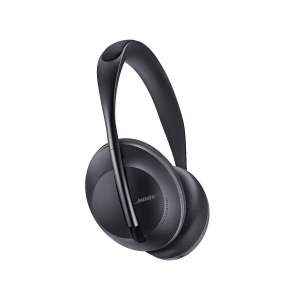 5.1 x 16.5 x 20.3 Dimensions
The Bose NC 700 is an excellent addition to the company's lineup of Active Noise Cancelling headphones. The headphones sound superb with a close to neutral sound signature that will work great for most media consumption. It also has excellent ANC performance, so you will be immersed in the content you're watching despite any distractions in your surroundings. Moreover, the headphones are also exceptionally comfortable to wear over long periods, so you can easily watch long movies with these headphones without feeling any discomfort. The latency is also minimal and the wireless connection is strong as well. Overall, the Bose NC 700 works exceptionally well in most scenarios but the Sony WF-1000XM4 does beat it out when it comes to sound quality and Active Noise Cancellation performance.
SPECIFICATION
Playback Time
:
20 Hours
Frequency Range
:
NA
Channels
:
NA
Dimensions
:
5.1 x 16.5 x 20.3
Price
:
₹34,500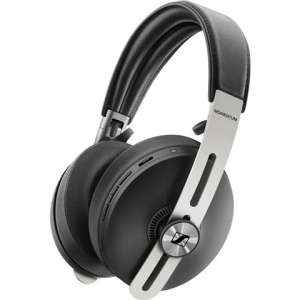 6Hz - 22kHz Frequency Range
The Sennheiser Momentum Wireless 3 are an excellent, versatile pair of headphones that does almost everything right except for the slightly underwhelming 17 hours of battery life. Other than that, there's little to complain about these headphones. They are supremely comfortable to wear over long periods due to their thick leather earpads. Additionally, they also come with excellent Active Noise Cancellation which will drown out external sounds when you're listening to music, watching movies, or binging on Netflix shows. For music, the headphones come with full-bodied sound with good clarity across frequencies, but especially in the midrange. So vocals in songs or movies will be heard loud and clear. The bass response is a bit on the heavier side, but it's not excessively pushed. Moreover, the headphone even connects to Sennheiser's app Smart Control where users can take advantage of features such as adjustable EQ, ANC control, and more.
Pros
Seamless connectivity

Intuitive auto on/off and pause/play features

Brilliant microphone quality
Cons
SPECIFICATION
Playback Time
:
17 hrs
Frequency Range
:
6Hz - 22kHz
Channels
:
NA
Dimensions
:
NA
Price
:
₹34,990

Sony consistently makes some of the best ANC audio devices on the market rivalled by few others, and the newest Sony WF-1000XM4 is no different. The Sony WF-1000XM4 is simply the best noise-cancelling truly wireless earphones money can buy. It has dethroned the Sony WF-1000XM3 to take up this spot. Apart from excellent ANC performance, you get impressive sound quality with LDAC, AAC and SBC codec support, an excellent companion app, great battery life and microphone performance, and so much more. The earphones are pretty comfortable and have minimal latency as well, making them ideal for content consumption, be it music, movies or TV shows.
Pros
Impressive sound quality

LDAC codec supported

Sony Headphones Connect app is fantastic

Excellent ANC performance

IPX4 water resistance
Cons
SPECIFICATION
Playback Time
:
NA
Frequency Range
:
NA
Channels
:
NA
Dimensions
:
NA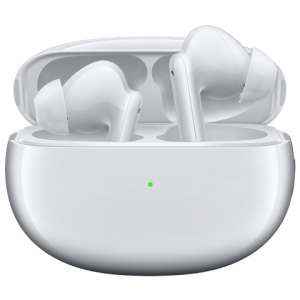 If you are looking for a solid pair of true wireless earphones for entertainment without breaking the bank, consider the Oppo Enco X. These earphones come with an eye-catching spec sheet and have partnered with high-end Danish audio brand, Dynaudio, to bring overachieving sound quality to this price segment of TWS earphones. The earbuds also use the new DBEE 3.0 Acoustic System that helps improve the audio quality across frequencies. It comes with a coaxial dual driver design which comprises one 6mm balanced membrane driver and one 11mm triple-layer dynamic driver. It is highly unusual to see coaxial dual drivers at this price point, so it isn't surprising that the Oppo Enco X is one of the best sounding TWS earphones in its price range. You get a dynamic and detailed sound that is fantastic for listening to most genres of music and watching TV series and movies. There's also ANC on these earphones, allowing users to step away from distractions when they're consuming content. The earbuds come with 20 hours of total battery life, however, there's no fast charging support.
Pros
Dynamic and detailed sound

Good ANC performance

Qi wireless charging support

Bluetooth v5.2
Cons
Average battery life

HeyMelody app isn't compatible with iOS

Unreliable touch controls
SPECIFICATION
Playback Time
:
NA
Frequency Range
:
NA
Channels
:
NA
Dimensions
:
NA

List Of Top 5 Wireless Headphones For Entertainment (Aug 2022)
| Product Name | Seller | Price |
| --- | --- | --- |
| Sony WH-1000XM4 | Amazon | ₹ 22,990 |
| Bose NC 700 | N/A | ₹ 34,500 |
| Sennheiser Momentum Wireless 3 | N/A | ₹ 34,990 |
| Sony WF-1000XM4 | Amazon | ₹ 18,990 |
| Oppo Enco X | Amazon | ₹ 12,999 |