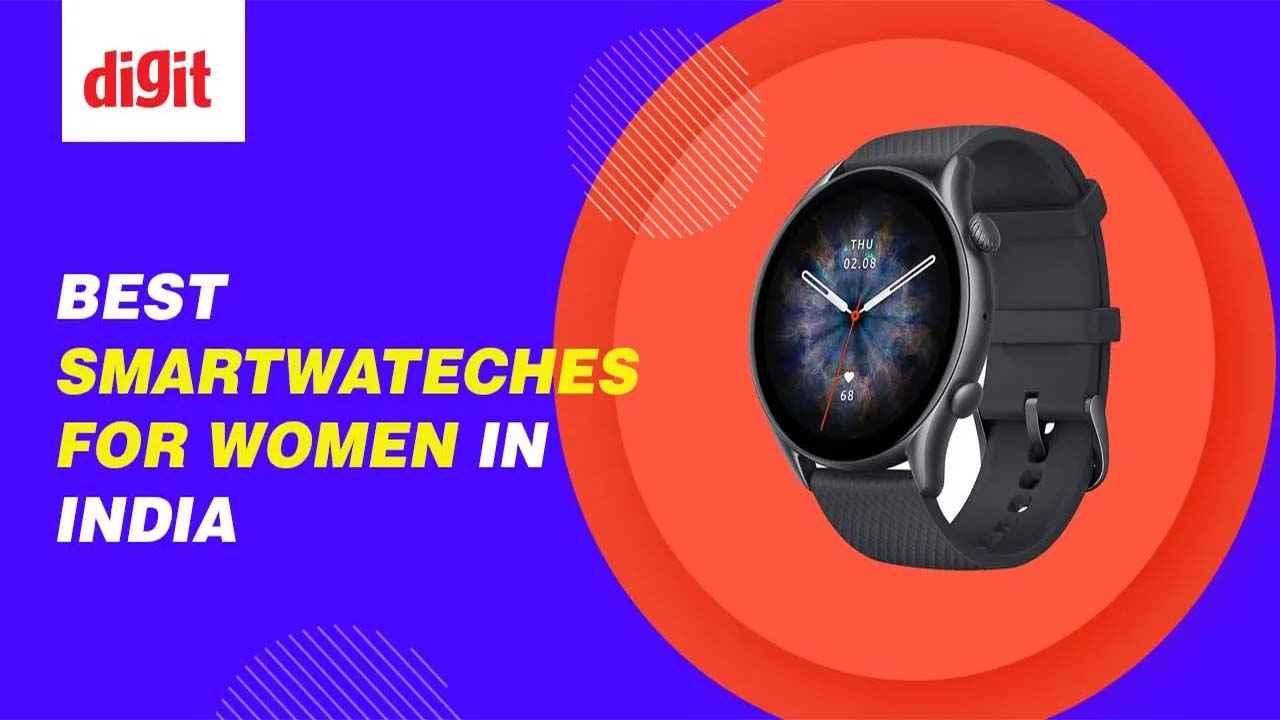 Although most smartwatches are unisex that both men and women can wear, there are some that are designed to attract the feminine gamut of users. These smartwatches would be more fashion-forward than rugged. Part of being fashionable means more colour options for the chassis and the bands. And since women, in general, tend to have slimmer wrist circumferences, women-centric wristwear is usually lightweight and slender. Say, something like the Garmin Lily falls in the kind we are talking about. Now, besides the style aspect of it, these days, most wrist wearables come with the menstrual cycle and fertility tracking functionality for women. So, here are some of the best smartwatches for women available in India.
Apple Watch Series 8's new set of features includes two skin temperature sensors which sample your average body temperature and compare it with a baseline. This nightly temperature log may not be absolute but it lets women know a change in temps probably because of ovulation.
Cycle tracking is one of the many key features of the Apple Watch Series 8. You also get a sapphire crystal glass screen, IP6X dust resistance, a WR50 water resistance, car crash detection, heart rate monitoring, SpO2 tracking, ECG, sleep tracking, fall detection, and a new Low Power Mode. You can pick it up in a GPS+ cellular model as well.
Rs. 37,999
Rs. 45,900
in stock
as of 29 Sep 2023 07:36 07:36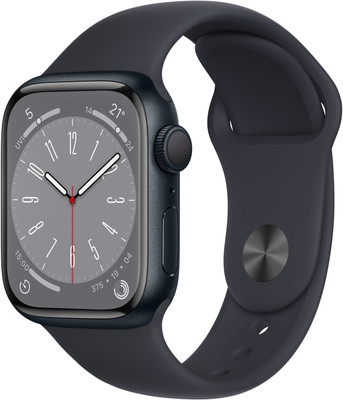 Rs. 41,999
Rs. 45,900
in stock
If you want something closely powerful as the Apple Watch but from the Android side, you have the Samsung Galaxy Watch 5. If you prefer a round dial, that could also be a reason to go for this one.
The watch also comes with an AMOLED display, a sapphire crystal glass screen, a rotating bezel, 5ATM water resistance, sleep tracking (with snore detection), heart rate monitoring, body fat percentage, step counter, SpO2 tracker, stress level logger, over 90 sports modes, 13-per cent improved battery life over its predecessor, several gorgeous watch faces, and Armor Aluminium build.
Fitbit Sense 2 is equipped with a body response sensor that checks skin temperature ( by a cEDA sensor), sweat levels and heart rate to tell you your stress levels. It then guides you with breathing exercises, and meditation sessions, and may even ask you to go out for a short stroll.
Those fitness tracking features aside, this smartwatch lacks the chops the watches offer like an app store or library. Even Google Assistant is absent. Instead, you get Alexa support. Other goodies in the mix include an AMOLED display, 5ATM water resistance, onboard GPS, and the option to take calls (but, not make them).
Rs. 23,999
Rs. 24,999
in stock
4 new from Rs. 23,999
as of 29 Sep 2023 13:11 13:11
Yet another fitness tracker in the guise of a smartwatch is the Amazfit GTS 4. However, it does give you predictions and reminders related to fertile and menstrual cycles.
It has also got a GUI with gesture-based navigation, tiles, watch faces, icons, etc. You even get some apps and games but nothing that can match a smarter watch like Apple, Google, and Samsung's timepieces.
There is Alexa smart assistant also present here. Furthermore, you get to track heart rate, stress levels, PAI health stats, SpO2, distance (with dual-band GPS), steps, etc. The watch promises a week-long battery life too.
The Titan Smart Pro smartwatch lets you be prepared for the first day of your menstrual cycle. It has a body temperature sensor.
It is armed with an AMOLED display that can be themed with over 100 watch faces. The watch is rated with 5ATM water resistance. You can take it to heights and know how high you are from the sea level thanks to a barometer altimeter.
The list of features also includes a built-in GPS, sensors for stress tracking, sleep monitoring, SpO2 monitor, heart rate tracker, step counter, calorie logs, 14 sports modes, controls for camera and music playback, hand-wash timer, weather alerts, and a 2-week battery life claim.
Rs. 11,995
Rs. 14,995
in stock
as of 28 Sep 2023 18:12 18:12
Pixel Watch from Google offers Fitbit integration, and although there are no full-fledged solutions for on-wrist period tracking. But, you can note periods and menstrual symptoms in the Fitbit app.
Besides that, the Pixel Watch ships with some Google Smarts, a proper app store, Google Assistant, and other Wear OS goodness. You also get GPS, 4G connectivity, 40 activity modes, an ECG app, Emergency SOS, etc. There is no blood oxygen monitor here.
However, the watch isn't officially available in India. You can still buy it from Amazon.in but the imported piece won't come with a warranty or support in the country.
Timex Metropolitan R's Blush/Rose Gold edition may be something that might interest female smartwatch buyers.
It has a 1.2-inch round display that can be personalized using over 25 watch faces. There is a minimal digital interface. You get onboard GPS for distance, speed, and pace tracking. You also get a barometer for measuring the height from the sea level, an optical heart rate sensor, and trackers for steps, distance, calories and sleep. The other health features include SpO2 and calorie counters.
The watch is water resistant up to 30m. It has got an aluminium chassis and silicone strap.
Rs. 29,935
Rs. 44,435
in stock
as of 28 Sep 2023 18:18 18:18
Disclaimer: Digit, like all other media houses, gives you links to online stores which contain embedded affiliate information, which allows us to get a tiny percentage of your purchase back from the online store. We urge all our readers to use our Buy button links to make their purchases as a way of supporting our work. If you are a user who already does this, thank you for supporting and keeping unbiased technology journalism alive in India.