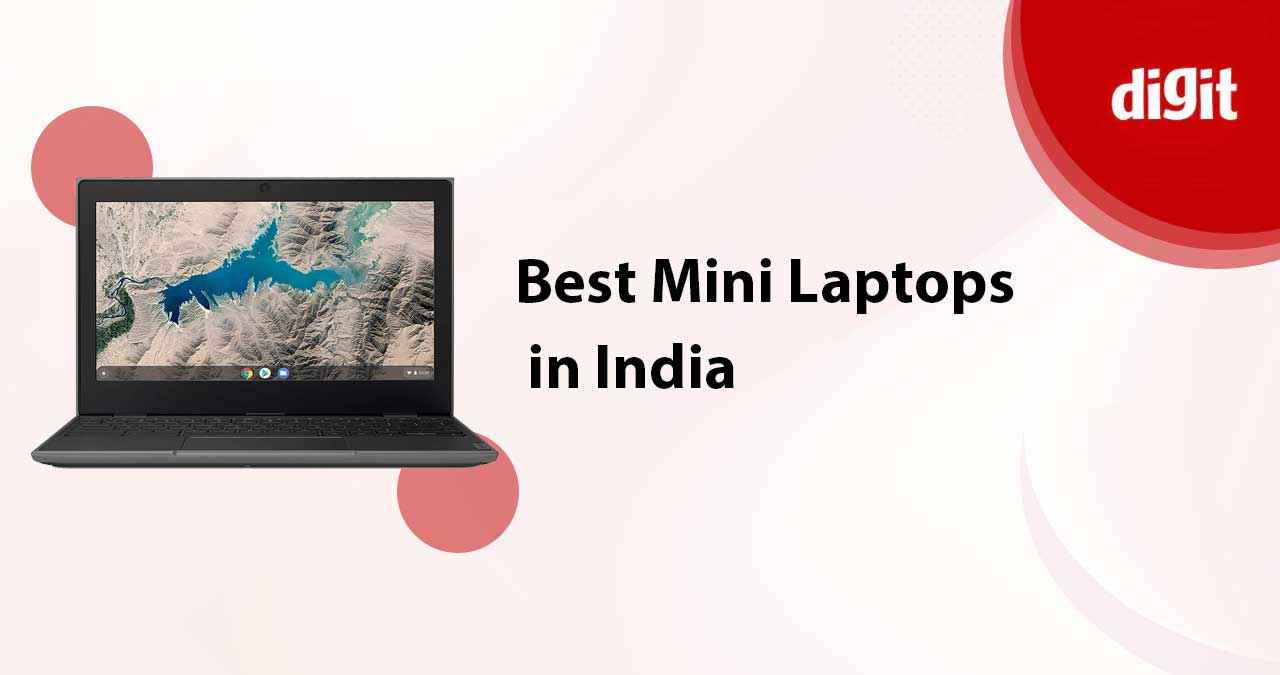 Nothing beats a mini laptop when it comes to portability. If you're someone who travels a lot, then it only makes sense for you to need a mini laptop. As a plus, mini laptops nowadays come with good performance and efficiency, all packed into their compact form factors. With all that in mind, if you're in the market for a mini laptop that comes with the benefits we've mentioned above, then take a look at this list of the best mini laptops in India that you can buy right now.
If someone asks you what are the best laptops to buy in terms of price to performance ratio, then the Apple MacBook Air is a very common recommendation. It is one of the world's most popular thin and light laptops, and for good reason. Its reliable performance for day-to-day tasks while delivering class-leading battery life are just a few of the factors. With the introduction of Apple's new M2 chips, the performance on the MacBook Air has only skyrocketed even further, making what was already a pretty powerful laptop into a spec beast when it comes to general usage.
The new MacBook Air with the M2 chip comes with increased GPU cores, higher unified memory, a better 1080p webcam, and more improvements, all while being lighter than the M1 variant.
Rs. 104,990
Rs. 119,900
in stock
as of 04 Dec 2023 17:47 17:47
If you're looking for a mini laptop that combines compactness, style and performance, then you might want to consider the MSI Modern 14. With a 14-inch display, it is on the larger side as far as this list is concerned, however it comes with top-of-the-line specs which include an 11th gen i7 processor, a FHD IPS display, 8 GB of DDR4 RAM, and 512 GB of storage NVMe SSD storage for superfast boot and load times. It also comes with a backlit keyboard. At 1.3kg, this is also a very lightweight laptop, making it easy to carry around every day without any unnecessary strain. The laptop also features an ergo lift design allowing for more air to pass through and keep the device cool.
If you are looking for portability, versatility, and a stylish and compact design, then the HP Chromebook x360 would be an ideal mini laptop for you! Powered by an Intel Core TM processor and Chrome OS, the device can boot up within a few seconds. Coming with a fan-less design, the mini laptop can deliver a quiet computing experience for hours. With a 360° hinge and a 12-inch touch HD and micro-edge display, the laptop can adapt to your needs, enabling a refined visual experience.
The speed of HP Chromebook x360 would remain the same throughout several years, thanks to automatic updates and built-in antivirus. Plus, as it is compatible with a stylus, you can unleash your creativity and design or edit videos! Offering seamless integration with Google Assistant, you could even set reminders or send emails with voice commands. Apart from these, some of its other notable features are a 3:2 aspect ratio, a metal keyboard deck, and a 4GB DDR4 RAM.
Rs. 55,775
Rs. 80,873
in stock
2 new from Rs. 55,775
as of 12 Nov 2023 10:42 10:42
Another mini laptop entry from Lenovo, the Lenovo Ideapad 3 11 Chromebook comes with comparatively more powerful hardware at the cost of some ruggedness. Powering the Lenovo Ideapad 3 11 Chromebook is an Intel Celeron N4020, paired with 4GB of DDR4 RAM and 64GB of SSD storage. The Intel processor also comes with an integrated GPU in the form of the Intel UHD 600 graphics, and while we'd still advise against gaming on this device, it should be able to accomplish some light gaming on very low settings. Coming to the display, you've got a 11.6-inch HD display, at a resolution of 1366x768p, and weighs only 1.1kg, making it very easy to carry around as should be the case for any of the best mini laptops that you are considering.
Rs. 18,990
Rs. 24,990
in stock
as of 25 Nov 2023 18:49 18:49
Disclaimer: Digit, like all other media houses, gives you links to online stores which contain embedded affiliate information, which allows us to get a tiny percentage of your purchase back from the online store. We urge all our readers to use our Buy button links to make their purchases as a way of supporting our work. If you are a user who already does this, thank you for supporting and keeping unbiased technology journalism alive in India.