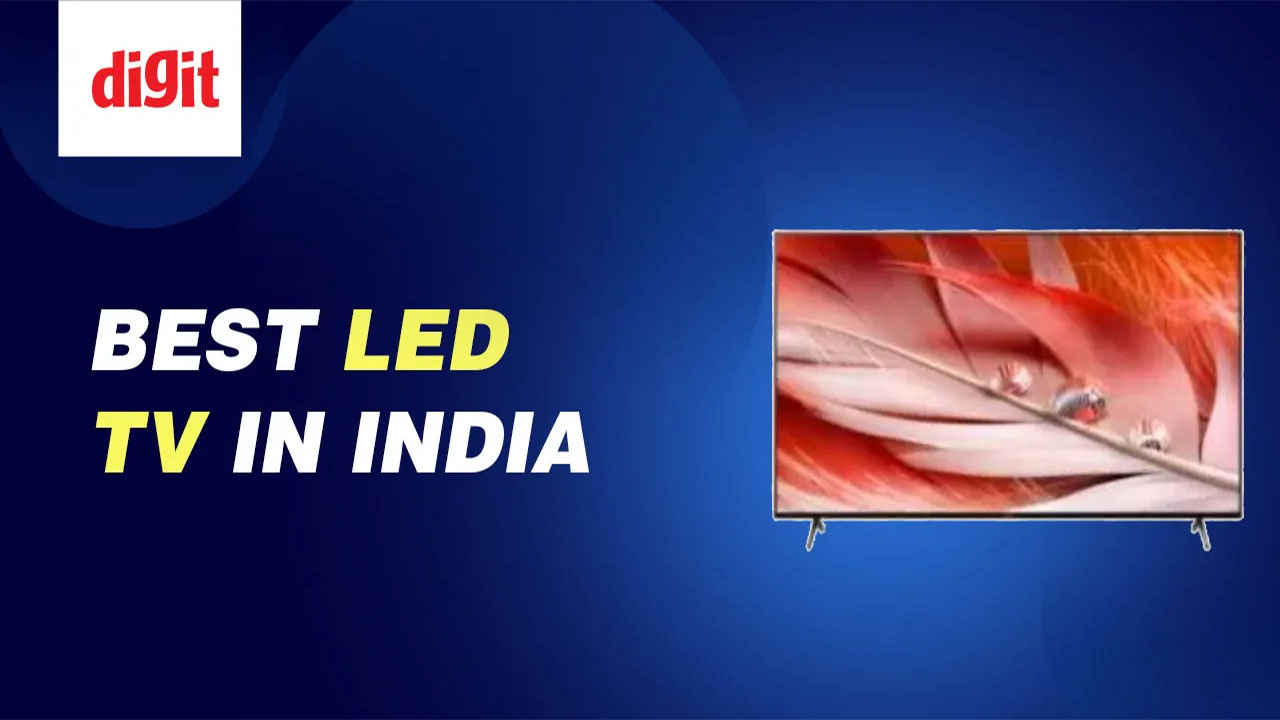 TV technology has evolved a great deal in 2023 giving consumers a variety of options to choose from. TVs can broadly be classified as OLED and LED LCD TVs. Compared to self-emissive OLEDs, LED LCD TVs can get much brighter and are generally considered more durable in the long run. Another factor to consider is the cost-effectiveness of LED LCD TVs, which makes them an appealing option for those who want a great TV without breaking the bank. Besides, with improvements in backlighting technology, modern LED LCD TVs such as the LG QNED 81, Sony BRAVIA X90K and more, are capable of delivering an amazing experience, especially in bright living rooms.
Samsung's QN95B Neo QLED 4K Smart TV is a premium mini-LED TV with full-array local dimming, which greatly enhances contrast. The speakers in this system are configured in a 4.2.2 channel setup and boast a power output of 70 watts
The QN95B has support for Apple AirPlay 2, but doesn't support HomeKit for home automation. Along with Samsung's Bixby voice assistant, the TVs also support Google Assistant and Amazon Alexa. Additionally, this TV offers various features aimed at gamers, such as support for a 144Hz refresh rate, HGiG for accurate HDR tone mapping, and easily accessible HDMI 2.1 ports with FreeSync Premium Pro VRR. The TV's TizenOS interface is also well-designed and quite user-friendly.
out of stock
as of 24 Sep 2023 13:09 13:09
The Sony X90K is a 4K LED TV that comes with a 120Hz VA panel and is available in three sizes – 55-inch, 65-inch and 75-inch. The TV doesn't have a mini LED backlight but has a full array of local dimming to boost contrast. It offers high peak brightness for an impactful HDR experience and benefits from Sony's mature image processing and motion-handling algorithms.
Like all premium Sony TVs, this one too runs the Google TV interface and supports Apple Airplay and Homekit. If you prioritize wider viewing angles over contrast and prefer an IPS panel, you could also look into the lower-tier Sony Bravia X80K or Bravia X80J. The mini LED TV from Sony, the Bravia X95K, is available only in 85-inch size and is quite exorbitantly priced.
LG's QNED 81 is a high-end TV with an IPS LCD panel. The QNED range uses LG's proprietary Nanocell technology that helps eliminate unwanted colour wavelengths in the light coming from the tv to reduce colour distortion. These TVs also use a Quantum Dot Enhancement Film (QDEF) in front of the backlight to achieve a wide colour gamut. However, unlike the higher-end QNED models, the 81 series lacks a mini LED backlight but does offer local dimming support.
The LG QNED 81 TVs come in 55-inch, 65-inch and 75-inch options. The TV supports several gaming features such as a 120Hz refresh rate, HGiG Mode, and HDMI 2.1 connectivity. On the downside, the HDR support is limited to only HDR10 and HLG.
The TCL C835 not only has a Mini LED backlight and full array local dimming but also comes with a VA panel with high native contrast. Apart from all popular HDR formats including Dolby Vision IQ, the TV supports IMAX Enhanced for a more immersive experience while watching supported titles. The panel is also complimented by a 60W Onkyo audio system with a 20W subwoofer.
Features like 144Hz refresh rate, ALLM, and VRR should make it appealing to gamers. The interface also has a handy Game bar that relays frequently needed information to gamers in one place. The TV ships with a tabletop stand and wall mount and TCL offers 2 years comprehensive warranty with the TV.
Samsung's Frame TVs offer sophisticated designs that resemble works of art and that you can further customize. This QLED TV has a VA LCD panel that supports a wide colour gamut. The Frame is available in multiple size options ranging from 43 inches to 75 inches.
Samsung also uses an additional set of warm LEDs in the backlight to further enhance contrast and colours. The TV can easily pair with Samsung Galaxy phones using Samsung's Tap View feature and it also works with multiple voice assistants. Samsung's SpaceFit Sound feature evaluates the acoustics of the room and the installation environment and applies the most suitable audio settings automatically..
out of stock
as of 24 Sep 2023 13:11 13:11
The Samsung Q60B is a QLED TV that sits at the lower end of Samsung's product lineup. Its VA panel can display a wide range of colours, and Samsung's "Dual LED" backlighting technology can optimize the backlight's tone to enhance contrast depending on the content being played. Unlike Samsung's high-end QLED options, this one doesn't have local dimming.
Samsung's Q-symphony technology allows for seamless integration between the TV's speakers and compatible Samsung soundbars, resulting in more detailed multi-channel audio. The Q60B features an adjustable stand and a remote that can be charged using solar power. Some notable omissions are HDMI 2.1 connectivity and VRR support.
out of stock
as of 23 Sep 2023 01:23 01:23
PROS:
Big display, Good colour accuracy, Feature rich
OnePlus Q2 Pro is the successor to the Q1 Pro and comes with a QLED panel TV and offers several enhancements over the previous model. The Q2 Pro has a 65-inch 4K panel with support for high-end HDR formats such as Dolby Vision and HDR10+. The TV also includes appealing gaming features like VRR and ALLM.
The Q2 Pro looks quite premium, with its brushed metal aesthetics, and has a complete on-system audio setup with a 40W Horizon Soundbar and a 30W subwoofer. The TV's performance is satisfactory, and its ability to boost colours and contrast on the fly for moving frames creates impressive visuals. However, some tweaking in the colour management profiles is required to enhance the picture quality.
This Hisense U7H series TV offers high-end features like a full array local dimming, a QLED display with a 120Hz native refresh rate and Freesync Premium VRR for a very reasonable price. The 10-bit panel is available in both 55-inch and 65-inch sizes with support for all popular HDR formats including Dolby Vision IQ and HDR10+ Adaptive. Hisense also claims a 6ms response time which again makes this a very appealing option for gamers.
The TV comes with the VIDAA operating system which has several limitations. Thankfully, Hisense bundles a FireTV stick 4K which is a great fix for all the UI troubles. The TV also includes a rich assortment of connectivity options including HDMI 2.1 connectivity and dual-band Wi-Fi. Hisense also provides a 2-year comprehensive warranty with the TV.
Disclaimer: Digit, like all other media houses, gives you links to online stores which contain embedded affiliate information, which allows us to get a tiny percentage of your purchase back from the online store. We urge all our readers to use our Buy button links to make their purchases as a way of supporting our work. If you are a user who already does this, thank you for supporting and keeping unbiased technology journalism alive in India.