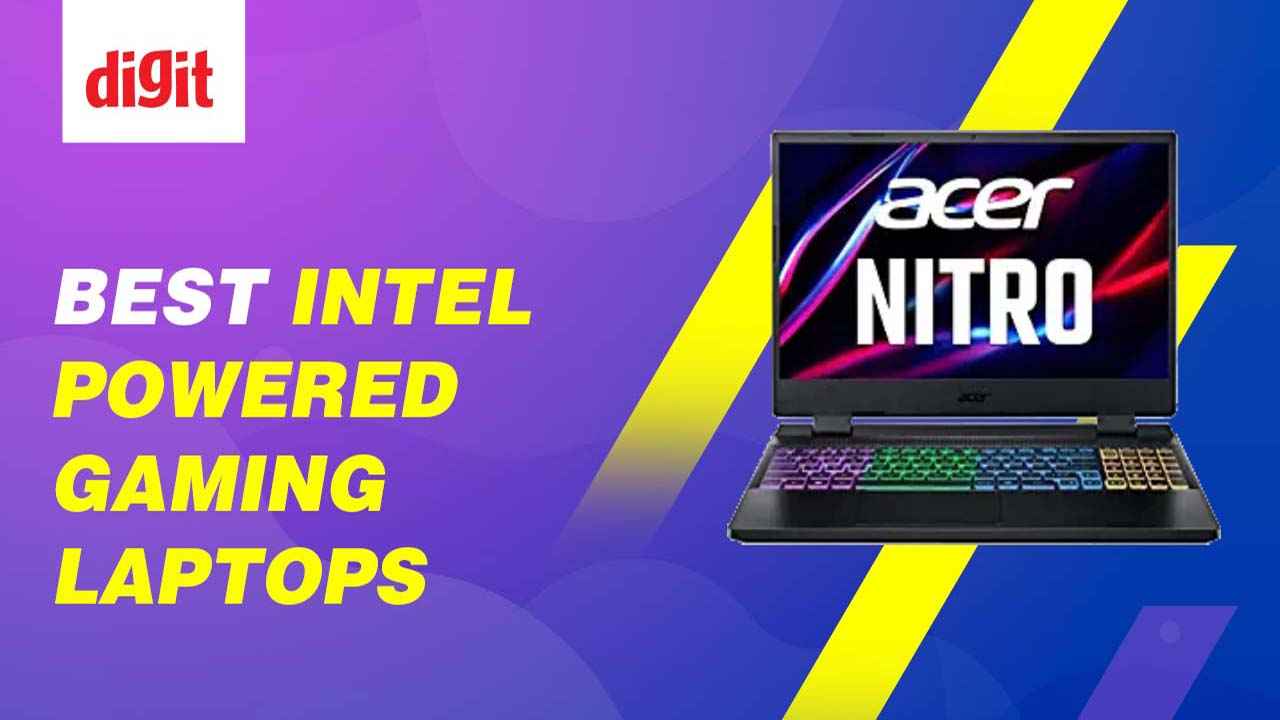 When you're in the market for a gaming laptop, the processor is one of the most important components that you should consider. Of course, there's the GPU as well, but the CPU plays an important role with many games like Valorant, Civilization VI, and more being CPU intensive titles. With such games, even a powerful GPU will be bottlenecked by weak CPU performance. When looking for a gaming laptop, you have two choices when it comes to which brand of processor to go for. While both team blue and team red have a great selection of gaming laptops to choose from, from a purely CPU performance standpoint when it comes to gaming, Intel has a leg up. This is because Intel usually tends to offer higher clock speeds per core, as opposed to more total cores. Most modern games do not use more than 4-6 cores, so having a processor with a high core count will not make a significant difference when it comes to gaming performance. That being said, we have here a wide selection of Intel-powered gaming laptops, across a wide range of budgets starting at around Rs 80,000 going all the way to Rs 1.8 lac, from the Dell G15 and ASUS TUF Gaming F15 featuring Intel Core i5 processors, to the MSI Katana GF66 and Acer Nitro 5 featuring Intel Core i7 processors. Hopefully, we have at least one Intel-powered gaming laptop on this list that will suit your needs.
1. Dell G15 5511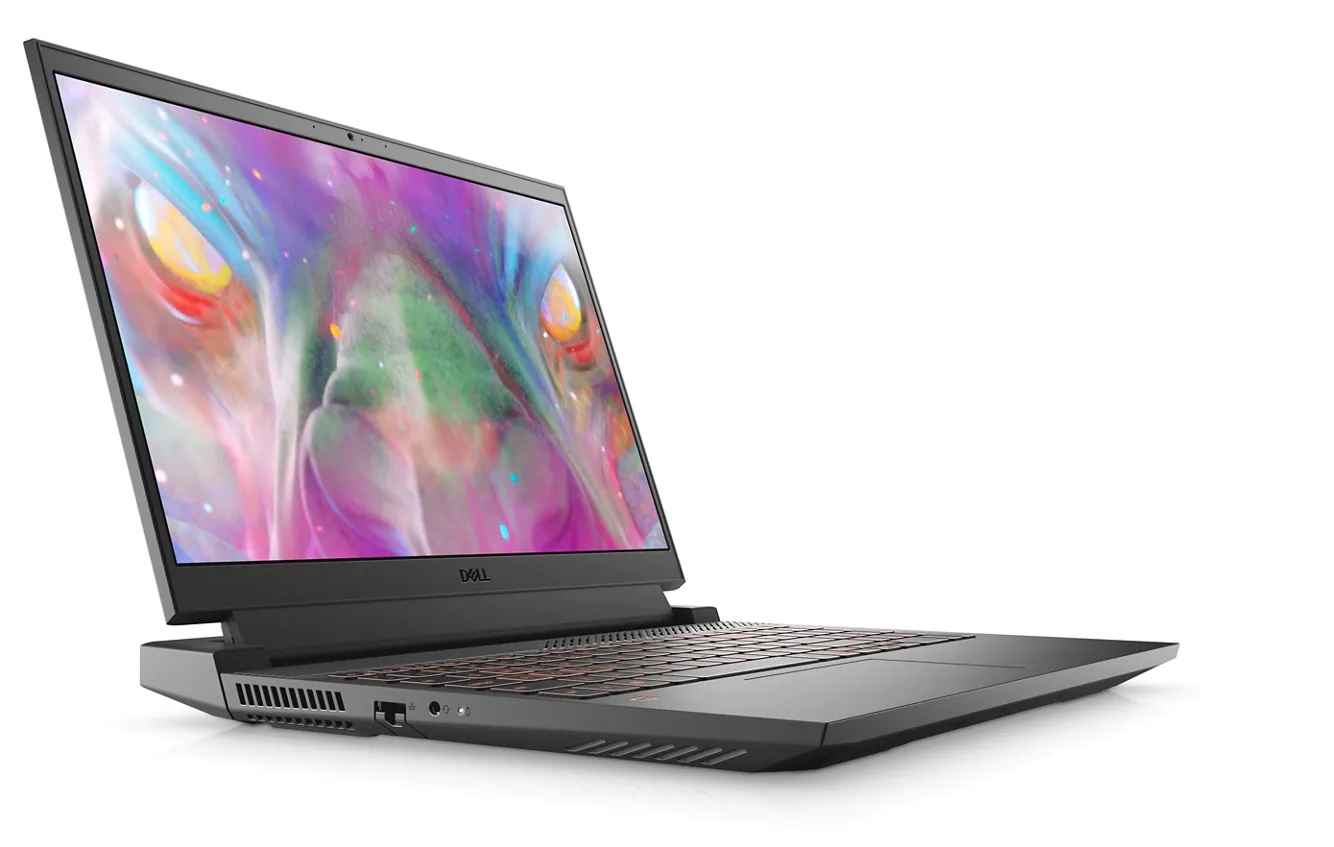 The Dell G15 packs an Intel Core i5 11400H processor with 6 cores and support for 12 threads. The processor has a base clock of 2.7GHz with a turbo boost clock speed of 4.5GHz. The processor is paired with an NVIDIA GEFORCE RTX 3050 Ti, a dedicated graphics processor with 4GB of DDR6 memory. This laptop is a good match for a gamer looking to extract maximum performance from the CPU and GPU combination, thanks to 16GB of RAM and 512GB of NVMe based storage. The high, 120Hz refresh display ensures you don't get bogged down when running intensive eSports titles, where every frame can make or break the game.
2. ASUS TUF Gaming F15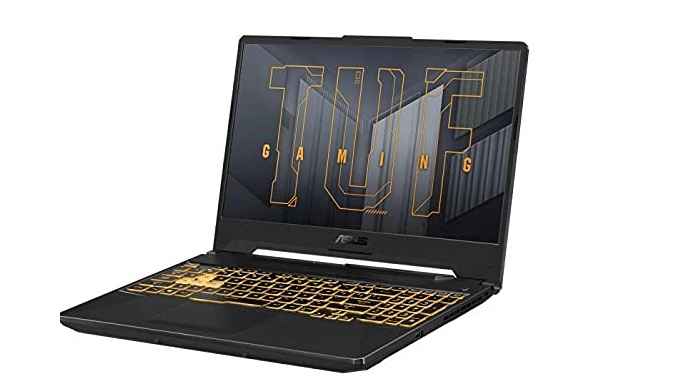 With an Intel Core i5 11400H processor, the ASUS TUF Gaming F15 is a good pick for gamers as well as creators/streamers. The fast Intel H45 based processor will ensure enough firepower for gaming as well as heavy multi-threaded applications. So, you can game as well as edit content on this one without breaking a sweat. The 1TB of fast NVMe SSD based storage provides for both speed and ample storage capacity.
3. Acer Nitro 5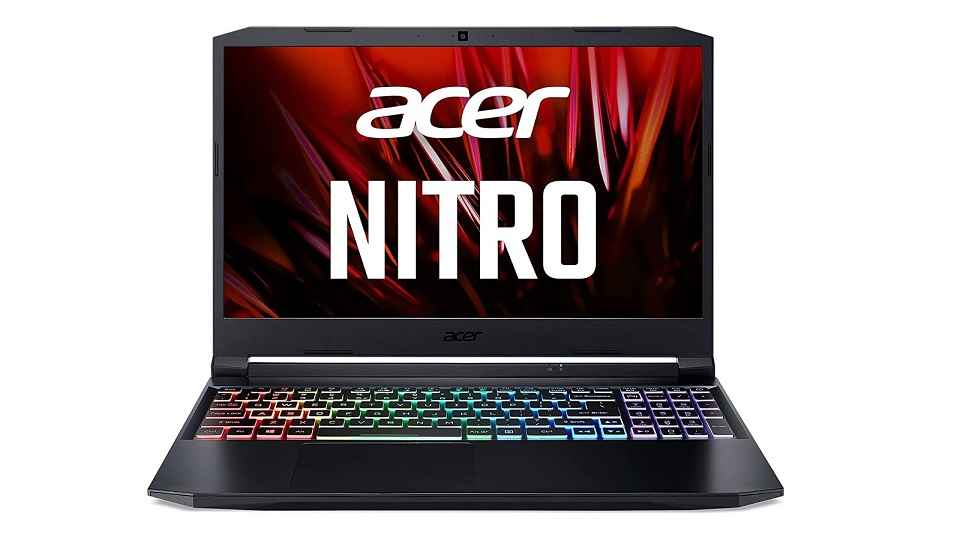 This Acer gaming laptop powered by an 11th Gen Intel Core i7-11800H processor is an amazing machine for gamers and content creators alike. The CPU packs in 8-cores with support for 12-threads to deliver exhilarating performance in every task ranging from editing documents and videos to gaming. Speaking of gaming, this Acer Nitro 5 gaming laptop also packs in an Nvidia Geforce RTX 3050 Ti with 4GB GDDR6 VRAM to deliver a smooth frame rate in several modern-day AAA titles. The laptop also comes with a 144Hz high refresh rate screen which further enhances the gaming experience.
4. MSI Katana GF66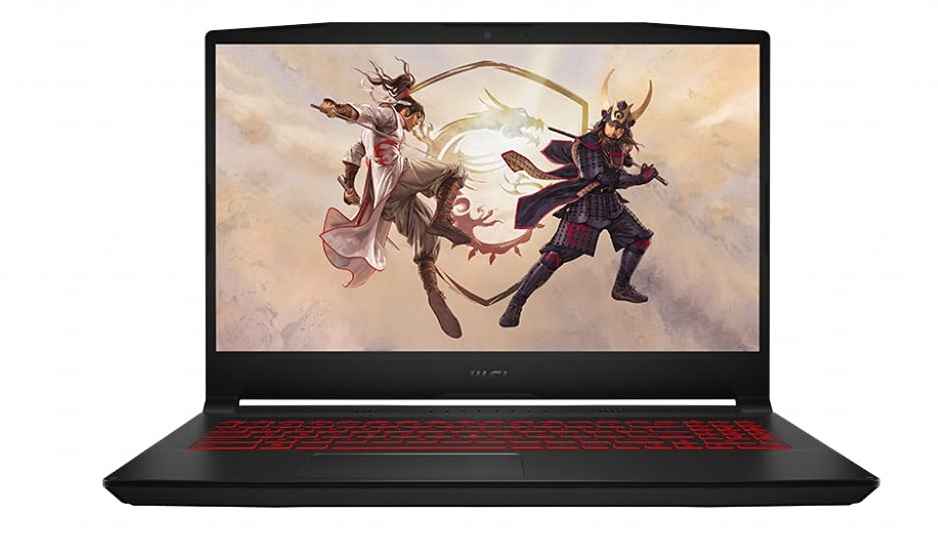 MSI Katana GF66 features a powerful 11th Gen Intel Core i7-11800H 8 Core CPU with support for upto 16 threads. It features a base clock of 2.30GHz and a boost clock of up to 4.6GHz, which is pretty impressive. The 15.6-inch laptop pairs the ultrafast Intel CPU with an Nvidia RTX 3050 GPU with 4GB GDDR6 VRAM. This MSI laptop also comes with a Resizable Bar which is an advanced PCI Express feature allowing the CPU to access the entire GPU buffer at once thus improving performance. MSI makes the experience even better with a 144Hz high refresh rate screen which makes high FPS gaming a sheer delight.
5. ASUS TUF Gaming F17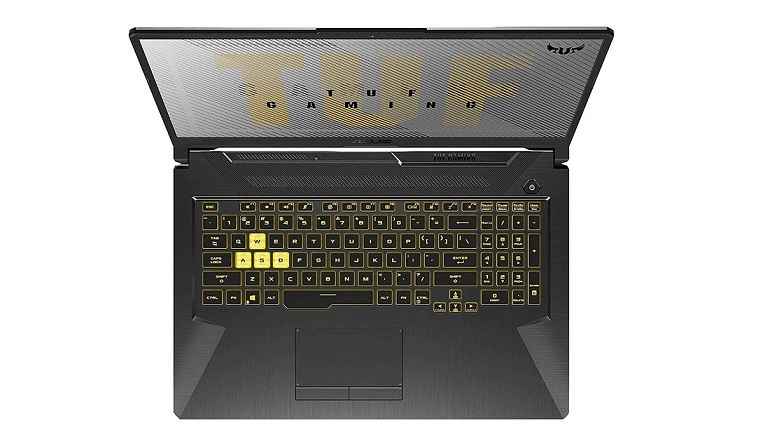 This one will appeal to those looking for a gaming laptop that comes close to a desktop gaming PC in terms of the immersive big-screen experience. This 17.3-inch display based laptop runs on the latest 11th Gen Intel Core i5-11400H processor that packs 6 cores and support for 12 threads. On the graphics side, this Asus laptop is powered by an NVIDIA GEFORCE RTX 3050 dedicated GPU with 4GB of GDDR6 memory. The display is not just larger than the standard 15.6-inch screens found on most gaming laptops, it also sports a 144Hz refresh rate, making it ready for those high FPS eSports titles. The large dimensions do add to the weight and hence this one is not the most portable gaming laptop around.
6. Acer Predator Helios 300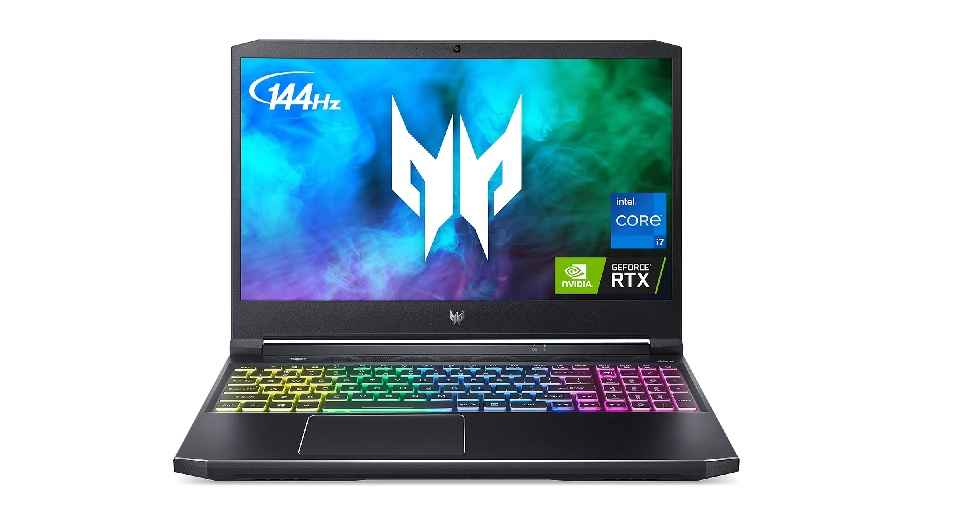 The combination of an 11th Gen Intel Core I7-11800H, an 8-core 16-thread processor and an Nvidia RTX 3060 with 6GB GDDR6 VRAM results in one of the best gaming laptops. Thankfully, Acer Predator Helios 300 offers the same pair of CPU and GPU in an irresistible package. The Acer Predator Helios 300 also packs in 16GB DDR4 RAM, 512GB SSD, a 144Hz high refresh rate display and Killer Wi-Fi 6. Like a sweet cherry on top, the Acer Predator Helios 300 also features an RGB keyboard which is sure to enhance your gaming experience. The laptop also comes with an upgradable RAM and storage option making it quite future proof as well.
7. Lenovo Legion 5 Pro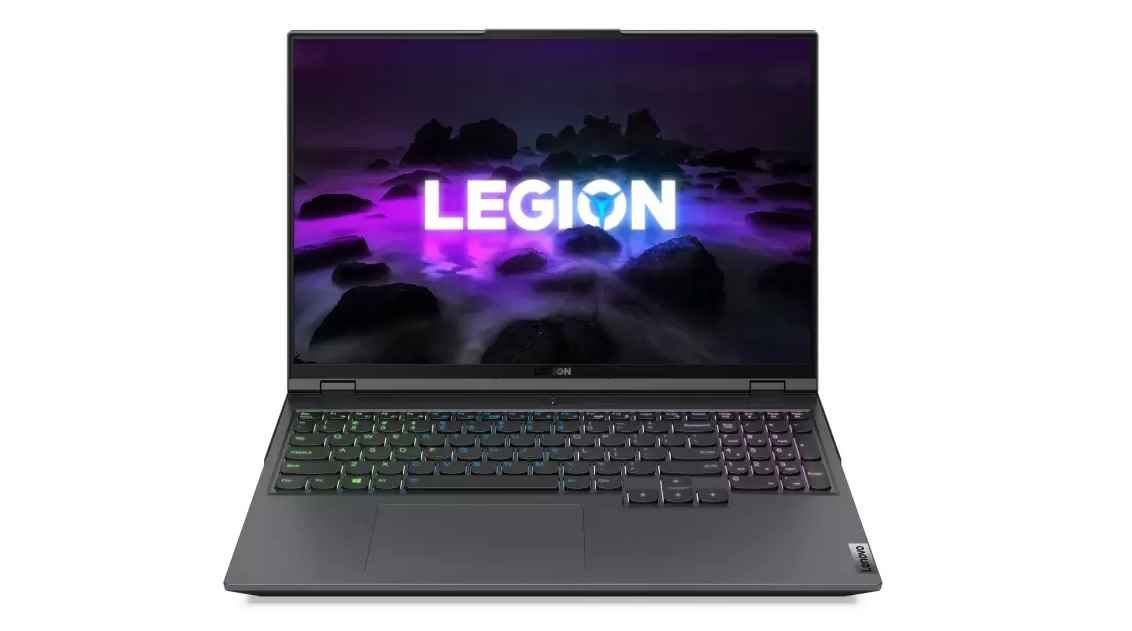 For an ultra-portable gaming experience, you can't get a better deal than the ASUS Zephyrus M16. The laptop features an 11th Gen Intel Core i7 11800H CPU and a powerful Nvidia RTX 3060 GPU with 6GB GDDR6 VRAM with 130W TGP. The laptop also comes with a MUX switch which adds a quick performance boost to your gaming experience. Additionally, the laptop features a gorgeous 16-inch 1440p QHD display which offers stunning visuals while gaming. Additionally, the laptop comes with 16GB DDR4 RAM and 1TB SSD ultra-fast storage, which is enough to handle demanding AAA titles. Lenovo legion 5 Pro comes with Coolfront 3.0 cooling technology which keeps your laptop at optimum temperatures during long gaming sessions.
Disclaimer: Digit, like all other media houses, gives you links to online stores which contain embedded affiliate information, which allows us to get a tiny percentage of your purchase back from the online store. We urge all our readers to use our Buy button links to make their purchases as a way of supporting our work. If you are a user who already does this, thank you for supporting and keeping unbiased technology journalism alive in India.