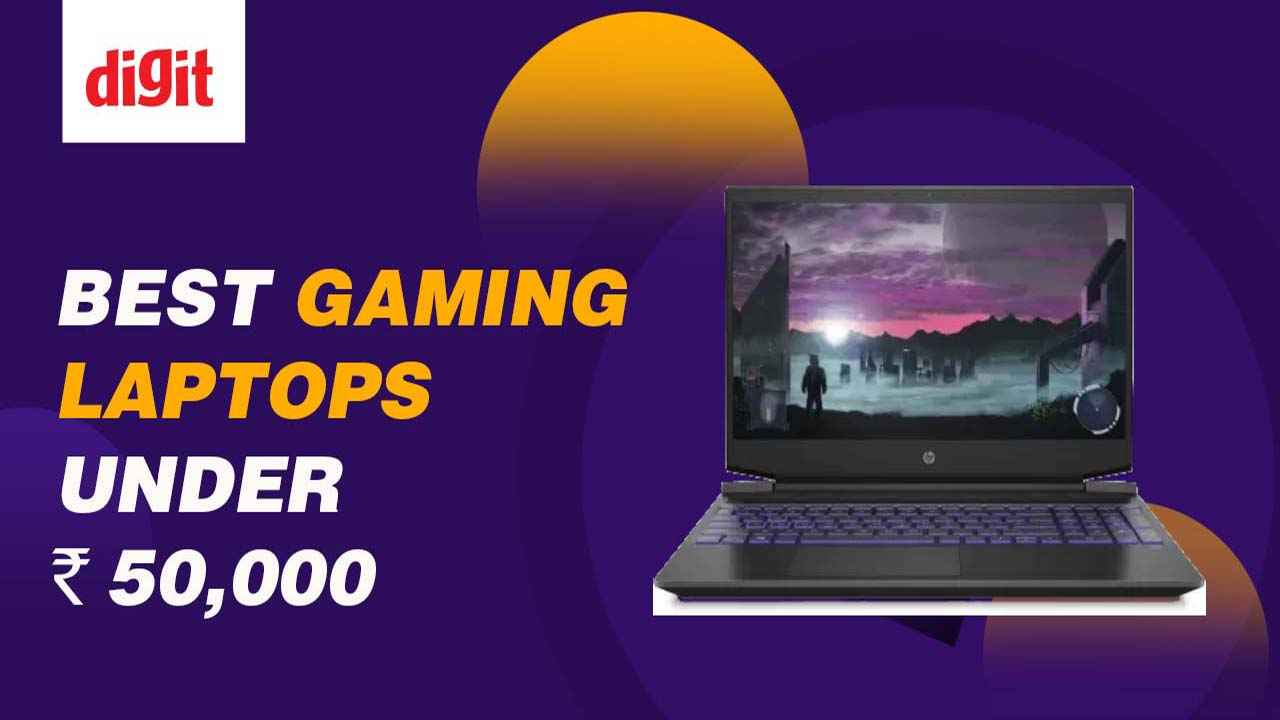 Gaming laptops in the Rs 50,000 price range always sell like hot cake. Primarily because of two reasons - they offer high value for money and OEMs have to pull all kinds of tricks to make such an affordable gaming device possible. The end result, most often than not, are devices with very unique configurations. For instance, instead of using a bigger SSD, an OEM like Lenovo would use a combination of a smaller SSD and a big HDD in RAID 0 mode in their IdeaPad Gaming 3 for faster read/write speed on a budget.
Likewise, MSI would go off the beaten path and make an all-AMD gaming laptop powered by a Ryzen 5600H and a Radeon RX 5500M on a budget. Moreover, a lot of the laptops in this price range are base models of higher configurations. Thus, allowing you to upgrade the RAM and the storage depending on your requirement. Most laptops on this offer the same functionality so you can rest assured and pick the best one suited to your budget.
There are two things for which you'd buy a Lenovo gaming laptop. The first one is build quality, these gaming laptops are very solid and can withstand daily wear and tear for a long time. The second reason to go for a Lenovo Gaming laptop is its thermal performance. The laptop I am recommending as a gaming device for Rs 50,000 is the Lenovo IdeaPad Gaming 3. The main reason to buy this laptop would be the combination of the AMD Ryzen 5 5600H and the Nvidia GeForce GTX 1650.
Meaning you can expect to easily run some older games like GTA V, Shadow of the Tomb Raider, and Gears 5 at 1080p resolution with high graphics and still deliver 60FPS. But you will have a hard time running demanding titles like AC Valhalla at similar graphics and resolution settings primarily due to the GTX 1650's limited 4GB GDDR6 VRAM. The laptop comes with 8GB DDR4 single-channel memory and 512GB SSD, both of which you can easily expand in the future. The gaming laptop also has a very stealthy look. So if you're buying a laptop to work in a serious environment the IdeaPad Gaming 3's understated design will blend right in.
The Acer Aspire 7 is another gaming laptop that looks very, dare I say, 'unpretentious.' But it is akin to a sleeper car as an AMD Ryzen 5 5500U and an Nvidia GeForce GTX 1650 sit at the heart of this laptop. The GTX 1650 is a similar 4GB GDDR6 VRAM unit, which delivers 1080p 60FPS gameplay in older titles but struggles to run newer games at a smooth frame rate at high graphical settings. The main star of the show here is the AMD Ryzen 5 5500U. Much like its cousin, the AMD Ryzen 5 5600H, the 5500U is also a six-core APU featuring support for 12-threads. But it distinguishes itself by having lower configurable TDP (cTDP), which ranges between 10-25W. For instance, the 5600H has 35-54W cTDP.
This difference makes the 5500U a relatively slower performer but it also makes the chip more power efficient. Meaning, when not playing games, the Acer Aspire 7 can work simply as a work laptop and deliver superior battery life. Which is a great compromise for people looking for the best of both worlds. Additionally, the Acer Aspire 7 also features 8GB DDR4 memory and 512GB SSD storage, both expandable if need be. And also features a power-off USB charging port, which can charge your device even if the laptop is turned off or in hibernation mode.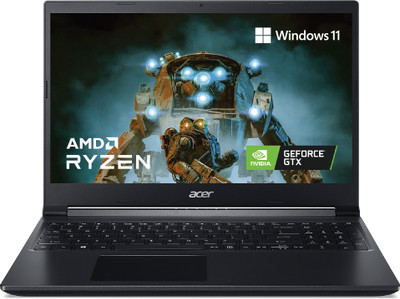 Rs. 59,500
Rs. 89,990
in stock
It is basically the same Lenovo IdeaPad Gaming 3 laptop I mentioned in the first entry but powered by an Intel processor instead of an AMD Ryzen chip. So all the good things about this laptop, like its great build quality and cooling performance, apply to this variant as well. The Intel chip powering this Lenovo IdeaPad Gaming 3 is the Core i5-11320H. Intel's 'H' series chips denote high performance and such is the case here as well. Although the Core i5-11320H is limited to just 4-cores with 8-threads, its max turbo frequency is 4.50GHz, which is pretty high.
The high-performance quad-core chip is paired with the Nvidia GeForce GTX 1650, which as I mentioned, delivers adequate performance depending on the game. The Lenovo IdeaPad Gaming 3 Intel variant also continues to cost the same as the AMD version, so the final buying decision comes down to the use case. While the Intel Core i5-11320H trumps the AMD Ryzen 5 5600H by having higher clock speed, the latter is better suited for productivity thanks to a higher number of physical cores.
The HP Pavilion Gaming 15 is on this list thanks to a combination of a great display, a highly functional design, and an effective cooling system. The HP Pavilion Gaming 15 courageously accepts the aesthetics of a gaming laptop with a purple-ish theme and edgy design. The laptop's screen has 300nits of maximum brightness, which is kind of rare to see in laptops in this price range.
Powering this laptop is an AMD Ryzen 5 5600H and an Nvidia GeForce GTX 1650. This processor and GPU combination is enough for productivity and gaming at 1080p resolution. The HP Pavilion Gaming 15 also features 8GB DDR4 memory and 512GB SSD, but you can upgrade both of them in the future very easily. Lastly, this laptop's cooling performance is pretty good and if you're looking for a reliable machine that can deliver sustained performance the HP Pavilion Gaming 15 will serve you well.
Rs. 58,744
Rs. 70,600
in stock
Rs. 62,999
Rs. 69,999
in stock
as of 25 Sep 2023 21:37 21:37
For users looking for the ultimate balance between battery life and gaming performance in an Intel-powered laptop, the Acer Aspire 7 featuring the Intel Core i7-1240P is the laptop to go for. What's special here is Intel's x86 hybrid architecture which features hybrid cores and performance cores. The combination of these two cores gives the laptop very high battery life and on-demand performance whenever it needs. Also, due to a higher core count, 12-cores in this case, the multi-core performance and in turn the productive capabilities of the laptop also become quite high.
The Acer Aspire 7 also features 8GB DDR4 memory, which can be expanded up to 32GB, and a 512GB SSD as well. Other features of this laptop, including the power-off USB charging port, a narrow bezel design, and an understated overall design are all present here.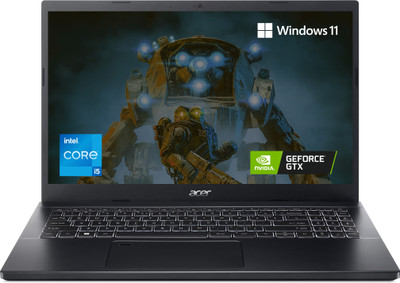 Rs. 57,990
Rs. 89,999
in stock
The size of modern games can easily exceed 100GB in many cases. Titles like Call of Duty Warzone, Red Dead Redemption, and GTA V are prime examples of these. So many users demand a laptop with high storage in this price range. The specific Lenovo IdeaPad Gaming 3 I am talking about comes under this category. It features a combination of a 256GB SSD and a 1TB HDD running in RAID 0 mode.
RAID 0, which stands for Redundant Array of Dependent Disk Level 0, splits data evenly across the two drives for faster speeds. Additionally, the laptop is powered by an AMD Ryzen 5 5600H processor and an Nvidia GTX 1650 with 4GB GDDR6 VRAM. Since it is a variant of the Lenovo IdeaPad Gaming 3 laptop I mentioned above in the list, it is quite well-made to handle most kinds of wear and tear.
While most laptops on this list feature an Nvidia RTX 1650 GPU, the MSI Bravo 15 comes equipped with an AMD Radeon RX 5500M. Both the GTX 1650 and RX 5500M have 4GB GDDR6 VRAM but the latter performs at least 1.5x better than the former. However, the Nvidia GTX 1650 has better driver support instead. So at the end of the day, it is a trade-off. Do you want outright better performance or do you want less GPU crashes and high stability, the choice is yours.
The MSI Bravo 15 also uses an AMD processor, the Ryzen 5 5600H, making this laptop a budget all-AMD device. But sadly, you don't get any additional benefits of having an AMD GPU and CPU as you'd with the Ryzen 6000 series processors they offer the proprietary Smart Access Memory tech. Another highlight of this laptop is its 144Hz refresh rate display, which is a notch up in this price range.
Disclaimer: Digit, like all other media houses, gives you links to online stores which contain embedded affiliate information, which allows us to get a tiny percentage of your purchase back from the online store. We urge all our readers to use our Buy button links to make their purchases as a way of supporting our work. If you are a user who already does this, thank you for supporting and keeping unbiased technology journalism alive in India.