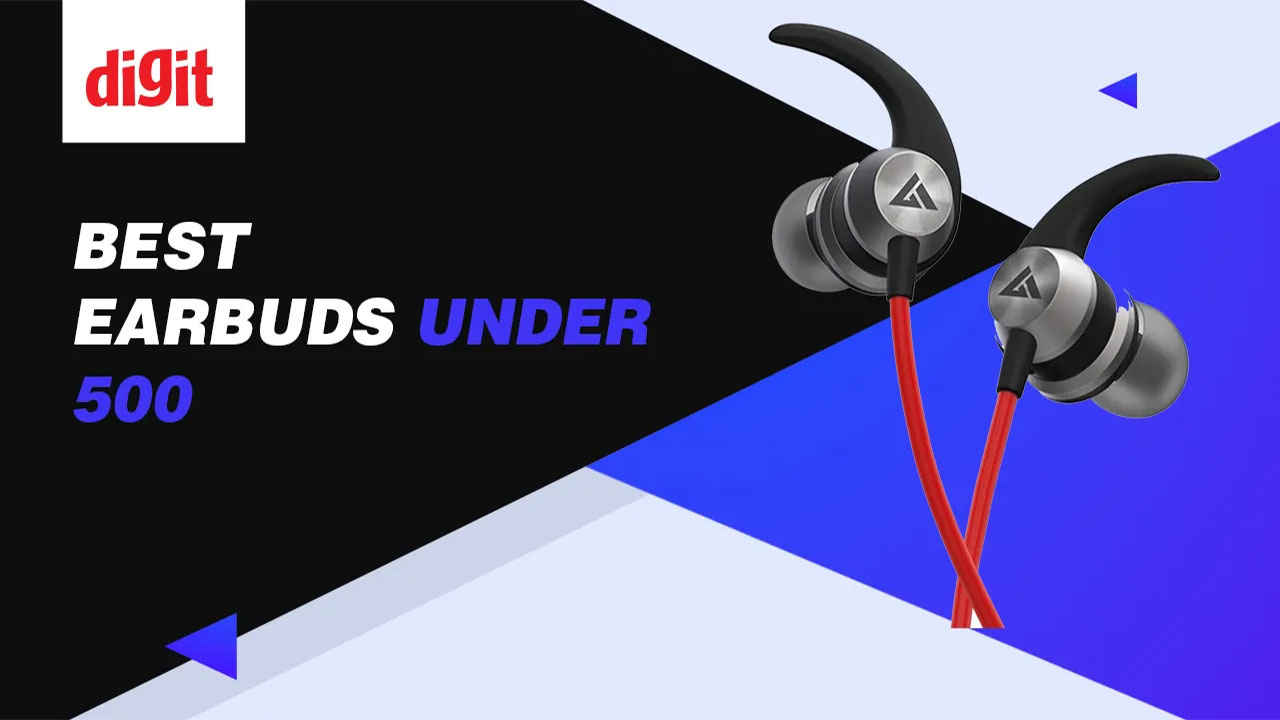 When you are out in the market with a budget of ₹500, you have plenty of choices. But weeding out the right pair of earbuds for your use is kinda hard. You have brands like JBL with their C50HI and C100SI offering a sound signature that has decent bass and build quality that will get you the value for your money. JBL's parent company, Harman has thrown another hat into the ring with Infinity By Harman Zip 100. And, standing against such veterans are brands like boAt, realme, Boult Audio, and others. All their offerings have a bass-forward sound signature, so purists, save up. At this price, it is all about balancing, especially in terms of sound signature, where too much bass can do more harm than good. So, to help you make your purchase decision, here's a list of the best earbuds under ₹500 in India.
Aligning in the same range, another pretty decent option is the Realme Buds 2. The brand advertises tangle-free cable, meaning that you won't be left untangling the wires after you pull them out of your pocket. As for the sound, you can expect the usual boost in bass. The brand even advertises that. The earphones come with 11.2 mm drivers, which are potentially capable of producing decent audio. The in-line control cluster features a single button that can be used to change tracks and a microphone for taking calls.
out of stock
as of 25 Nov 2023 04:48 04:48
From the looks, the boAt Bassheads 192 seems to be a robust pair of TWS earbuds, if anything. The earbuds are metallic, which means that they won't pick up scratches and scuffs that easily. The nozzle of the earbuds is at an angle, which in our experience, is indicative of the fact that they will fit well. This, in turn, would help the sound signature of these earbuds, which, if we say is warm, would be a massive understatement.
out of stock
as of 26 Nov 2023 09:39 09:39
boAt Bassheads 242 earbuds have an athletic look and style; the earphones flaunt their bass-forward sound signature. And, rightly so. The brand advertises and delivers. Although it is a bit too much in some cases, causing the tracks to lose out on vocals. To aid in getting a secure fit, especially if you are planning to work out while wearing them, the brand has included wing tips. Additionally, the earphones have IPX4 water and sweat resistance. The single-button in-line control assembly features the ability to trigger voice assistants like Siri and Google Assitant with a long press of a button.
out of stock
as of 23 Nov 2023 18:18 18:18
The Xiaomi Wired in-Ear Earphones are as basic as they come. You get a metallic housing on the earbuds, which is always better than plastic, three colour options to choose from – Red, Black, and Blue – along with a single button on the in-line remote, used to trigger all the actions. The earbuds are lightweight, and the angled tips on the buds makes sure that you get a tight and secure fit. Also, the sound has a lot of bass in it. And, from what limited experience I have with these earbuds, with limited tuning, it can be made serviceable for casual listening.
Rs. 799
Rs. 999
in stock
as of 24 Nov 2023 18:56 18:56
The cheapest earbuds in this list, priced at ₹249 (at the time of writing), the Mivi Rock and Roll E5 wired earbuds to make for a solid purchase for the money you are spending. The build quality is decent with the rubber ring at the base of the earbuds, where the wire connects to the housing, ensuring that you won't have a mono-channel pair even after the slightest jolt. The bass on these earbuds is a bit overpowering on the mids and the highs. However, for music genres like pop, Bollywood, and the like, they make for a decent pair, especially at a price that will get you a basic meal at a fast food chain restaurant (Hint: red and yellow).
Rs. 399
Rs. 799
in stock
as of 24 Nov 2023 19:12 19:12
I saved the best for the last. Why, you ask? Well, because these are slightly over budget. I'm talking about the JBL C100SI. These earbuds have the most balanced sound signature of the lot, with the bass registering its presence with authority but not overshadowing the other frequencies, ensuring that your listening experience is pleasant. Their design and build is something that is the best you will get for this price. The 3.5 mm jack on the buds is gold-plated, which ensures that you will also be protected against corrosion over long periods of time.
Rs. 599
Rs. 1,299
in stock
as of 29 Nov 2023 10:08 10:08
Disclaimer: Digit, like all other media houses, gives you links to online stores which contain embedded affiliate information, which allows us to get a tiny percentage of your purchase back from the online store. We urge all our readers to use our Buy button links to make their purchases as a way of supporting our work. If you are a user who already does this, thank you for supporting and keeping unbiased technology journalism alive in India.