Best 1.5 ton Air Conditioners to buy on Amazon in India (2022)
1.5-ton split ACs are the ideal choice for people with medium-sized rooms. While looking for the ideal air conditioner, make sure you pay special attention to models that come with inverters. This can help you save more energy (and money on your electricity bills) as inverter technology alters the power consumption based on the heat load so you should pay attention to the best 1.5 ton ac price as well. The best 1.5 ton ACs for home also have a lower noise level while operating when compared to other ACs. Here are a few good 1.5-ton split inverter ACs that you can find on Amazon.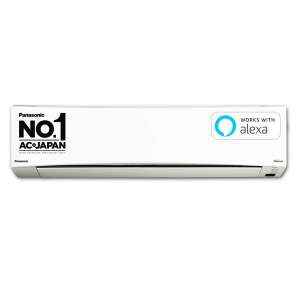 Power Consumption(watts)

840.75 W
Haier's known for making some of the best home appliances in India, and this window AC is a case in point. Equipped with Haier's innovative technology, this 1.5-ton AC has a 3-star energy rating and annual energy consumption of approximately 1359 KWH, which means it will be easy on your pocket and the environment. The low-maintenance grooved copper condenser, 15-meter long air throw capacity, dehumidifier and super anti-corrosion technology allow this air conditioner to bring down the temperatures effectively. It boasts an anti-bacterial coating, dust filter, 2-way auto swing and a high-efficiency rotary compressor with max air circulation of 800 CFM that ensures proper cooling. Last but not least, it uses R32 as a refrigerant that doesn't contribute to ozone layer depletion and an ergonomic design that'll blend in well with your room.
SPECIFICATION
Capacity (Ton)
:
1.5
Star Rating
:
5
Type
:
Split AC
Power Consumption(watts)
:
840.75 W
Power Consumption(watts)

NA
Hitachi's 1.5-ton Expandable AC gives you the option to expand its capacity in adverse temperature conditions and cuts down humidity ӏeveӏ inside the room to achieve the set temperature faster. You can enjoy uninterrupted cooling as this AC is specially designed with advanced microcontrollers that check indoor and outdoor conditions and vary the compressor speed accordingly. You can sit back and watch your favourite movie while the AC does all the work to cool your room and give you a comfortable experience quickly. Hitachi's inner grooved copper is claimed to deliver faster cooling with its turbulent refrigerant flow and quick heat transfer rate. Also, Hitachi's intelligent Penta sensor technology with its advanced microcontroller optimises cooling during a load variation and protects critical components of the AC.
SPECIFICATION
Capacity (Ton)
:
1.5
Star Rating
:
5
Type
:
Inverter Split AC
Power Consumption(watts)
:
NA
Type

Dual Inverter Wide Split AC

Power Consumption(watts)

NA
The Sanyo Inverter 1.5-ton AC auto-adjusts temperature for a comfortable night's sleep. It claims to save more on your power bills, meaning you can now stay cool without burning a hole in your pocket. No more waking up in the middle of the night to switch off the AC as it can turn on/off automatically at the desired time at the touch of a button. It comes with an ergonomically designed new remote that features glow-in-the-dark temperature control buttons for ease of operation, allowing you to switch temperatures without having to turn on the lights. The AC ensures superior protection against rust and salt damage with corrosion-resistant hydrophilic fins that promise a longer condenser life.
SPECIFICATION
Capacity (Ton)
:
1.5
Star Rating
:
5
Type
:
Dual Inverter Wide Split AC
Power Consumption(watts)
:
NA
Type

Inverter Split Copper Convertible 4-in-1 AC

Power Consumption(watts)

NA
The LG 1.5-ton Split AC comes with enhanced stabiliser-free plus operation preventing voltage fluctuations without compromising on safety, savings and comfort. It offers protection against dust, smoke and chemicals present in the environment and also offers protection against fin corrosion. The horizontal and vertical swing action ensures better airflow while delivering uniform cooling throughout your room. Along with this, the code CH 38 is clearly displayed on the air conditioner for timely maintenance and refilling if LG Air Conditioner detects low gas levels. So, you do not have to worry about knowing when to repair or refill the air conditioner as it self-diagnoses its defects and abnormalities. Moreover, LG's DUAL Inverter Compressor has a Varied Speed Dual Rotary Motor with a wider rotational frequency. This saves more energy along with delivering high-speed cooling.
SPECIFICATION
Capacity (Ton)
:
1.5
Star Rating
:
5
Type
:
Inverter Split Copper Convertible 4-in-1 AC
Power Consumption(watts)
:
NA
rk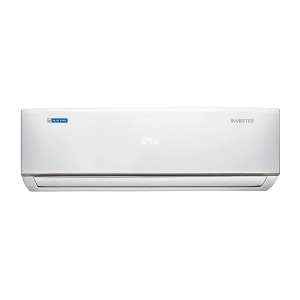 Power Consumption(watts)

NA
The Blue 1.5-ton Star Split AC comes with Precision Cooling Technology that uses an ultra-wide frequency microprocessor-based controller. The Air Conditioner intelligently varies the operating frequency and ensures precise control (+/-0.5 degree Celsius) to prevent indoor room temperature fluctuations, ensuring a comfortable cooling experience. The air conditioner is designed with seven filters to minimise airborne pollutants and ensure maximum comfort. This will allow users to enjoy the air from the AC without being exposed to any sort of dirt or pollutants. With the powerful mode, one wouldn't have to wait longer to enjoy the cool ambience of their surroundings. Moreover, the iFeel feature and the in-built sensor in the remote should help you have a more comfortable experience.
SPECIFICATION
Capacity (Ton)
:
1.5
Star Rating
:
5
Type
:
Inverter Split AC
Power Consumption(watts)
:
NA
Power Consumption(watts)

NA
The Daikin 1.5-ton Split AC comes with Coanda Airflow produces 'radiant cooling', which in turn enhances the overall cooling by evenly distributing air in every corner of the room. With the help of one click on your remote control, you can experience enhanced comfort. The Econo mode in the AC enables efficient operation by limiting the maximum power consumption. It is useful when using the air-conditioner and other electrical devices simultaneously on a shared electrical circuit. This mode also helps you in reducing your electricity bills. The smell-proof operation ensures there's no foul smell in the air whenever you start the AC. This feature also helps remove moisture in air conditioners and prevents mould growth in the Indoor units.
SPECIFICATION
Capacity (Ton)
:
1.5
Star Rating
:
5
Type
:
Inverter Split AC
Power Consumption(watts)
:
NA

List Of Best 1.5 Ton Air Conditioners To Buy On Amazon In India (May 2022)
| Product Name | Seller | Price |
| --- | --- | --- |
| Panasonic 1.5 Ton 5 Star Wi-Fi Twin Cool | Amazon | ₹ 38,990 |
| Hitachi 1.5 Ton 5 Star Inverter Split AC | Amazon | ₹ 48,376 |
| Sanyo 1.5 Ton 5 Star Dual Inverter Wide Split | Amazon | ₹ 31,990 |
| LG 1.5 Ton 5 Star Inverter Split AC | Amazon | ₹ 40,999 |
| Blue Star 1.5 Ton 5 Star Inverter Split AC | Amazon | ₹ 44,700 |
| Daikin 1.5 Ton 5 Star Inverter Split AC | Amazon | ₹ 49,990 |
Sanyo 2 Ton 3 Star Dual Inverter Split AC (Copper, PM 2.5 Filter, 2020 Model, SI/SO-20T3SCIC White)
₹ 48,999

|
LG 2 Ton 3 Star Inverter Split AC (Copper, 2019 Model, KS-Q24ENXA, White)
₹ 51,990

|
Hitachi 2 Ton 5 Star Inverter Split AC (Copper RMOG524HCEA Gold)
₹ 58,500

|
Panasonic 2 Ton 3 Star Wi-Fi Twin Cool Inverter Split AC (Copper CS/CU-SU24WKYW White)
₹ 46,097

|