Lemon Trio 320 - When three�s not a crowd detailed review
Whenever we unpack a new gadget, we try not to peek at its specifications and photos emblazoned all over the packaging. Looking at a gadget in such a way gives us a clean, unfettered opinion sans any associated PR purple prose. At first glance, the Trio 320 looks like a solid little brick. And we mean solid – this phone is made of plastic, but it's well constructed. For such an entry-level device, it feels unnecessarily large and quite thick. For one, the bezel surrounding the display is thick, adding to the dimensions. The phone is also as thick as Nokia's N95 8 GB; the only reason we can think of, is the huge (for a phone of this range) battery, rated at 1500 mAh. Sound overkill? This phone supports three simultaneous networks. Remember that constant antenna scanning and maintaining a signal is a power hungry process. Therefore, with three SIM cards, this sort of battery is very much needed.
Wait a minute – did we just say three SIMs? In case you're wondering if that was a typo – it wasn't. The Trio 320 (name's a hint!) supports two GSM SIM cards and one CDMA UIM SIM. Now you might ask yourself – why three SIM card slots? Well, a lot of people use more than one phone number – one office number and another personal number, for example. This phone will allow you to use multiple numbers in a single handset, which, in our opinion is a lot more convenient than lugging two (or three) cellphones around.
Look and Feel
The Trio 320 belies its price and entry-level status with a solid overall build. The body has a dark grey and silver colour that is appealing without being excessive. The display looks small in comparison to the body, but in reality at two inches it doesn't feel small in use. The keypad is tacky – the keys are loose and move around a bit when you press them while not exuding good feedback i.e. they're not tactile. This is a major shame because the key spacing and bevelling is decent. The centre button on the joypad and the music and browser shortcut keys are finished in metallic pink, a nice contrast to the silver used on the remaining keys. The four-way joypad also exudes minimal feedback and isn't intuitive while feeling tacky. Call accept and reject buttons are about the only ones to feel reassuringly solid and intuitive.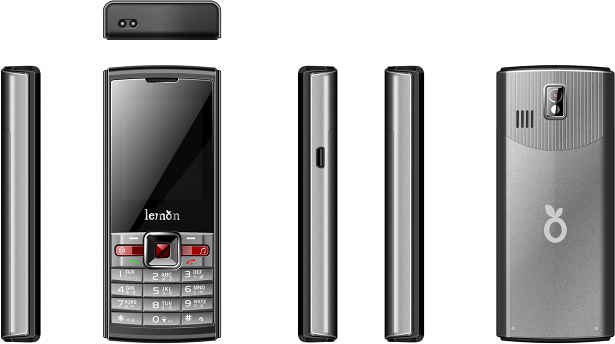 The menu system is quite simple and uncomplicated, while retaining the basic functionality and intuitiveness one would expect from such a phone. Quite simply put, there are too few options available to mess up, and if Lemon did, it would be a crime most foul. One of the little additions is a flashlight on the top of the phone. Unlike most phones where the flash doubles as a torch, the Trio 320's camera makes do without a flash unit. The torch isn't as half as bright as the one on the Nokia E72, but it's there for the odd emergency. Oddly, you can only operate the flashlight with the keypad unlocked. Additionally, even a simple action like disconnecting a call requires you to first switch the screen on, and hitting the call reject button once will do nothing; this simple gesture requires two key hits – badly thought out ergonomics.
Three small games are bundled, although we lament the lack of inbuilt space. We couldn't even copy a single five-megabyte, MP3 file to this phone simply because only 558 kilobytes of space was available. What's cool is that while on a call on a GSM network, you can still receive calls on the CDMA network, which appear as a call waiting. However, the second GSM SIM is not active, (reachable), while on another GSM call. Even when sending an SMS, with three SIMs installed, you can choose which of the three numbers to send it from – nifty, although as an extra couple of steps to be performed each time, this could get annoying.
Performance
One of the most important aspects a phone is the usability of its keypad and the Trio 320 is pretty usable. In fact, aside from the rather scary issue with the loose, shaky keys we had no problems. Thanks to the simple interface the phone is pretty fast, although some common tasks like switching Bluetooth on takes around three seconds. The camera is snappy with no noticeable shutter lag, but then with a resolution of a mere 640 x 480 pixels, we weren't expecting any.
Next came the call tests. We tried the phone with all three SIM slots loaded. The GSM performance in terms of signal reception and call clarity is slightly better than CDMA performance. Obviously, testing this was tough, as the signal strength of two service providers is never the same at the geographic location. However, in zone three we got disconnected three times on the CDMA network and there was a lot of interference, whereas with GSM we had a single disconnected call and the voice was a little more coherent on both sides. In zone two we had issues with voice clarity and at times the other person couldn't hear us. A simple action as cupping the phone would cause this. Zone one had no issues under either GSM or CDMA networks.
Music quality via the headset is mediocre – the treble gets a little sharp, and the bass is sorely lacking. The loudspeaker while not the clearest around is very loud, in fact, you will rarely not hear an incoming call, even with your helmet on – it's that loud. Calls on loudspeaker are pretty clear and loud, in fact, almost at par with the handsfree unit. The camera is a tiny little VGA affair without any autofocus, but the images are pretty decent for such a miniscule resolution. Make no mistake, this is no serious clicker, and cannot compare to even a decent two megapixel unit, but the blurriness we expected from it was absent, so we were surprised, if not impressed. Despite the relatively huge battery, it's obvious that three cellular signals are quite a drain – battery life isn't great and you'll get two days on a single charge, if you utilise all three SIM cards. If you use a single SIM, expect to get a lot more – at least three days.
Conclusion:
When we saw the price (Rs. 3,800), we were pleasantly surprised, shocked even. The Trio 320 is a lot of phone for that cost, and given the amount you pay for one, most of its harsher qualities can be forgiven – a very basic camera, mediocre audio performance, mediocre antenna performance and a tacky keypad. There are very few tri-SIM phones around, and this is a very decent option for someone looking to use three phone numbers. It's price is pretty unbeatable too – a very good buy in the entry-level segment if you use three SIM cards.
Specifications: Bands: GSM CDMA, tri SIM (900, 1800 MHz); display: 2-inch, 240 x 320 pixels, 65K colours; Camera: 0.3 megapixels; Battery: 1500 mAh; weight: 100 grams
Rating:
Features: 4.5
Performance: 6
Build: 7
Value: 8
Overall: 6.5
Contact: Lemon India
Phone: 91-22-65206161/ 91-22-65207171
E-mail: lopa.mohanty@lemonmobiles.com
Website: www.lwmonindia.com
Price: Rs. 3,800
| | |
| --- | --- |
| Brand | Lemon |
| Model | Trio 320 |
| Features | |
| Physical Specs | |
| Form Factor | Bar |
| 2G Network Bands | 900 / 1800 (GSM CDMA) |
| 3G Network Bands | NA |
| Screen Resolution | 240 x 320 |
| Screen Size | 2-inch |
| Maximum Screen colours | 65K |
| Touchscreen / Dual Screen (Y/N) | - |
| Battery Rating | 1500 mAh |
| Dimensions (L x W x H) | 110 x 46.5 x 15.9 mm |
| Weight | 100 grams |
| Expandable Memory Type | microSD |
| Hot Swappable | N |
| Available Colours | Grey/silver |
| Other Features | |
| Operating System | Proprietary |
| Charging via USB (Y/N) | Y |
| Hardware Keypad (Regular/QWERTY) | Regular |
| Accelerometer (For auto rotate) | N |
| Address Book Capacity | 1000 |
| No of calls in register | 10 dialled, 10 received, 10 missed |
| Talk Time / Standby Time * | 6 hrs / 168 hrs |
| No of Profiles # / Customisable | |
| Offline Opearability (Y/N) | Y |
| Inbuilt GPS / A-GPS support (Y / N) | N |
| Connectivity | |
| Browsing (GPRS/EDGE/3G) | GPRS |
| EDGE max speed | - |
| 3G max speed | - |
| Connectivity (WiFi/Bluetooth/IR/USB) | N / Y / N / Y |
| Bluetooth Version/A2DP support | 2.1 / Y |
| Accessories | |
| Bundled Accessories | Charger, data cable, handsfree |
| Size of memory card provided | - |
| Overall Build Quality (So 10) | 4.5 |
| Overall Ergonomics (So 10) | 6 |
| Keypad Design (So 10) | 5.5 |
| Camera Specs | |
| Camera Resolution (Mega Pixels) | 2 |
| Video Capture Resolution | 320 x 240 |
| Dual Cameras / Auto Focus / Flash (Y/N) | N / N / N |
| Mirror for self portrait (Y / N) | Y |
| Camera Settings (So 10) | 4.5 |
| Zoom (Optical/Digital) | Digital |
| Multimedia | |
| Music Formats supported | MP3 |
| Video formats supported | 3GP, MP4 |
| FM Radio (Y/N) | Y |
| Performance | |
| Signal Reception and Voice Clarity (So 10) | |
| Zone 1 | 6 |
| Zone 2 | 5 |
| Zone 3 | 3.75 |
| Device Earpiece Volume | 5 |
| Device Loudspeaker clarity | 6.25 |
| Handsfree Clarity | 6.75 |
| Speaker Volume (on call) | 6.5 |
| Bluetooth Transfer Speed | 48.3 kbps |
| WiFi signal strength (Zone 2) | - |
| Captured Photo Quality (So 10) | |
| Captured Photo Colour | 3.5 |
| Captured Photo Crispness | 4.25 |
| Captured Video Quality | 2.5 |
| Loudspeaker Audio Quality | 6.5 |
| Bundled Earphones Quality | 6.75 |
| Video Playback Quality (So 10) | 4 |
| Price (MRP, Rs) | 3,800 |
| | |
| * Manufacturer Rated | |