Karbonn K1414 � Dual sim phone with good looks detailed review
Long gone are the days when budget phones had to look like the price. And the Karbonn K1414 is certainly walking down that line. However, looks apart, the performance on offer is something that is vastly different from phone to phone. And the consumers buying phones in that price bracket seem to be more sensitive to the performance offered by the phone, if the queries/feedback we receive are anything to go by.
Look and Feel
When the Karbonn K1414 is placed in front of you, we will forgive you for thinking that it is actually the Sony Ericsson Vivaz! The similarity is uncanny. But then again, we think that isn't a bad idea anyway, since these looks will stand out in the midst of the sub Rs 4k rivals. While it is plastic all around, the build quality is quite good. No rough edges or creaks anywhere. Even the battery opener doesn't pose a rick to your nails!
The 3.2-inch display and three hardware keys take up the front panel. On the rear panel is the 3MP camera.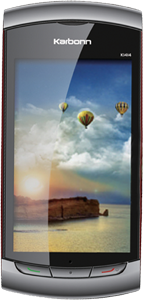 Features
This one is a dual sim phone, which makes the K1414 a very good deal for someone who wants the touchscreen goodness and the dual sim convenience. The memory card slot is capable of holding up to 16GB of storage. The 3MP camera is an okay clicker. The biggest attention grabbing point is the interface, which has multiple effects in terms of the layout and effects.
The menu has been given a 3D-esque-look option as well. However, we did not really like it, since it just makes navigation painful, thanks to the iffy touchscreen. In standard layout, the menu looks very clean and uncluttered.
Performance
The touchscreen response on offer here is an absolute disappointment. There will be times when even half a prompt will complete the command you had desired for, and at other times, even multiple stabs at the screen wont make the phone budge. This makes typing out an SMS a bit of a project. Quite disappointing considering touchscreen quality even on the inexpensive phones has become pretty good quality off late.
While the touchscreen is a disappointment, the call quality is very good. While the earpiece is treble heavy, the clarity is impressive. And so are the loudness levels. The speaker is quite loud, but does tend to become very judicious with clarity if the volume is pushed too high.
The 3.2-inch WQVGA display is very good, considering it has a steady mix of colour depth and sharpness. However, it doesn't hold together very well in bright sunlight, and the brightness needs to be set to maximum to make text readable. The resolution of 320x400 pixels isn't enough if you want to use this for watching a lot of videos, but then again, for this price we cannot really complain.
Battery life is quite good. This one lasts about 2 days, full charge to complete discharge. Considering this isn't a smartphone OS with a million data chewing apps running on the background, this backup time was quite expected.
The 3MP camera is a very basic clicker, and the images are passable. Videos feel jerky at most times. This camera is there because it is value adds to a phone at this price, and not much else.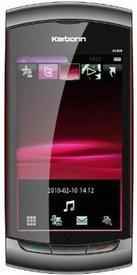 Our Take
At a price of less than Rs 4k, the K1414 offers a lot of features. However, the touchscreen's shortcomings are something that is hard to look beyond. You may still end up buying this phone for its looks and/or the feature set, but the sense of disappointment will linger on, long into the future.
Price: Rs 3,990
Specs:
Tri-band GSM, dual sim, 3.2-inch display, WQVGA type, 320x400 pixels resolution, 3.15MP camera, microSD card slot, GPRS, Bluetooth
Ratings
Features: 7
Performance: 5.5
Build: 7
Value: 6
Overall: 6
Brand

Karbonn

Model

K1414

Price (MRP, Rs)

3,990

Features

Physical Specs

Form Factor

Bar

2G Network Bands

GSM 900/1800/1900MHz

3G Network Bands

N.A.

Screen Resolution

320 X 400

Screen Size (inches)

3.2

Maximum Screen colours

16M

Touchscreen / Dual Screen (Y/N)

Y/N

Battery Rating

1050 mAh

Dimensions (L x W x H) (in mm)

109 x 52 x 12.8 mm

Weight

80 grams

Expandable Memory Type

microSD

Hot Swappable (Y/N)

N

Available Colours

Silver, black

Other Features

Operating System

Proprietory

Charging via USB (Y/N)

Y

Hardware Keypad (Regular/QWERTY)

N

Accelerometer (For auto rotate) (Y/N)

N

Address Book Capacity

Unlimited

No of calls in register

Unlimited

Talk Time / Standby Time *

5 hrs / 260 hrs

No of Profiles # / Customisable

N

Offline Operability (Y/N)

Y

Inbuilt GPS / A-GPS support (Y / N)

N

Connectivity

Browsing (GPRS/EDGE/3G)

Y/N/N

EDGE max speed

N

3G max speed

N

Connectivity (WiFi/Bluetooth/IR/USB)

N/Y/N/Y

Bluetooth Version/A2DP support

2.1/Y

Camera Specs

Camera Resolution (Mega Pixels)

3.15

Video Capture Resolution

240 x 320

Dual Cameras / Auto Focus / Flash (Y/N)

N/N/N

Mirror for self portrait (Y / N)

N

Camera Settings (So 10)

5

Zoom (Optical/Digital)

Digital

Multimedia

Music Formats supported

MP3, MIDI, WAV, AMR

Video formats supported

3GP, MPEG4, RMVB

FM Radio (Y/N)

Y

Accessories

Bundled Accessories

USB cable, wall charger

Size of memory card provided

None

Build and Ergonomics (So 10)

Surface materials used

7

Overall build and in-hand feel

6.5

Quality of moving parts

6

Design and ergonomics

6

Keypad design (on-screen or hardware)

6.5

Menu and interface

5.5

Settings and ease of navigating menus

6.5

Camera menu options

5.5

Performance

Signal Reception and Voice Clarity (So 10)

Zone 1

7

Zone 2

5

Zone 3

4.5

Handsfree Clarity

7

Loudspeaker Clarity

5.5

Earpiece Clarity

7

Handsfree Volume

6.5

Loudspeaker Volume

6.5

Earpiece Volume

6

Imaging and multimedia tests

Captured Photo Colour

5.5

Captured Photo Crispness

6

Captured Photo Detail

6

Captured Video Quality

5

Effectiveness of integrated flash

0

Music Quality (loudspeaker)

5.5

Music Quality (handsfree)

6.5

Volume levels (loudspeaker)

6.5

Volume levels (handsfree)

6.5

Display (So 10)

Crispness

7

Colour

6.5

Font rendition

6

Legibility in bright sunlight

5

Video playback

5

* Manufacturer Rated
Contact: Karbonn mobiles
Phone: 080-41378858
Email: N.A.