iBall Andi 5c detailed review
When Samsung came out with the 5-inch Note, it was only a matter of time before which the Indian players would also get on that bandwagon. The iBall Andi 5c is one of them thanks to its affordable 5-inch Android 4.0 handset the Andi 5c. So is this the answer to those of you who are pondering over getting a large screen budget Android phone. We will find out.
Design and Build
On first glance it looks very similar to the Note line of phones. The Andi 5c has an edge to edge glass screen with the standard one button in the centre surrounded by the contextual menu and back softkeys around it. There is a 3.5-mm audio jack and a microUSB port on the top and the bottom edge is clean. On the left hand side you have the volume rocker and on the right hand side there is the power switch / stand-by button. One thing that we really liked about the Andi 5c was its textured back cover. The 5MP camera pops-out very slightly. You have the iBall and Andi 5c embossed on the rear side. The speaker section is present on the lower right hand side in the thanks to two slits in the back cover. The iBall Andi 5c is definitely on the heavier side of things when compared with the Note.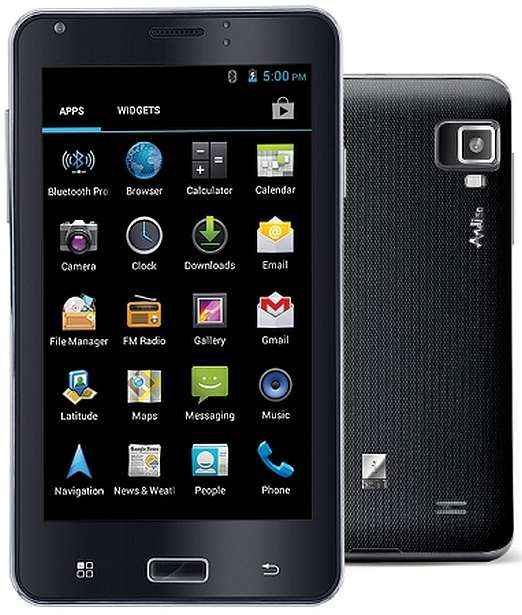 On opening the iBall Andi 5c battery cover, you will find a massive 2300 mAh battery, two SIM slots just above is and a microSD card slot on the extreme left hand side. While you may hotplug the microSD card, you will have to remove the battery to insert the SIM cards. The build quality of the phone is quite good and the chrome finish on the edges is a good touch. The textured finish on the rear side, gives the phone a very good grip. It fits well in the palm, but your thumb will not be able to touch all portions of the phone without you having to shift the phone in your palms.
Features and Specifications
The Andi 5c is a 5-inch phone and is powered by a 1 GHz Cortex A9 single-core processor. It sports an IPS panel with a highly reflective capacitive touchscreen. For a 5-inch phone, its resolution of 480x800 is quite less. It can take in two SIM cards (2 x GSM or 1 GSM 1 WCDMA). You will get a stock Android ICS (4.0.3) with no customizations, which is a big plus.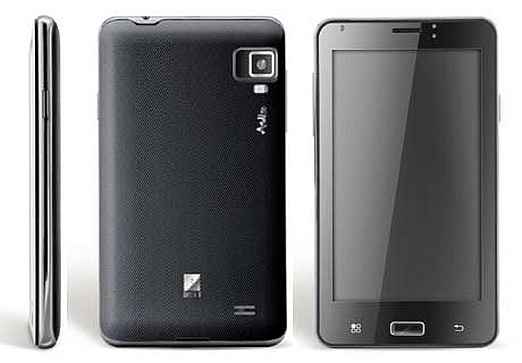 On the rear-side you have a 5MP camera with a flash unit just below it whereas on the front you have a VGA camera. It comes with 4GB of internal storage of which only 2.8 GB is available to the user. It provides you the option to add up to 32GB of microSD storage.
As far as connectivity goes, it comes with all the regular options expected from such a phone, including 3G, EDGE and GPRS, Wi-Fi 802.11 b/g/n and Bluetooth with A2DP.
Performance
It beat Karbonn A18 and Spice Stellar MI 425 in most of the benchmarks. The graphs below explain it better:
The onboard keypad wasn't that great and you will be better off using SwiftKey 3. One hand typing is slow and will lead to thumb-ache. Typing in the landscape mode is quick though.
Call quality was quite good except in Zone 3 where you have just one bar on the signal. We did not face any dropped calls as such, but the phones default audio profiles don't seem to work. Despite being in the general or outdoor modes, and on full volume, we couldn't really hear the ringer. Finally on adding a user-defined profile, were we able to make the ringtones audible. Even while using WhatsApp and Messaging apps, you can hear the clicks if you are currently using the phone, else it just vibrates.
Backlight bleeding is very prominent along the edges if you view the screen at eye-level. Visibility in sunlight is horrible. We tried adjusting the brightness levels, but it did not help much. While scrolling text on websites, we noticed visible ghosting if you scrolled slowly and the page had images on it. Text does not look very crisp thanks to the resolution, but is quite readable.
Most of the standard definition content played back quite smoothly without any glitches. It could also playback 720p content but 1080p content was difficult to playback. Even in the 720p videos, in heavy action scenes, we noticed a jittery output and some definite frame-dropping.
Natively, it could not play .FLV and .MOV files but with .MP4 files we noticed that it could not playback 720p videos in MP4 format but SD videos were no problem. You can of course download apps which playback different file formats such as Mobo Player, so that is a non-issue really.
Coming to the camera, it tends to take quite a while to focus and it gets worse in low lit conditions. The images taken outdoors were actually pretty decent for this category of phone. Yes, the dynamic range isn't great and you will see pixillation when you transfer images to your PC. But let's face it, who ever wants to print out photos from a cellphone camera? The outdoor images look great on the phone screen and you shouldn't expect anything more from this phone. Video quality is not at all good. You are limited to a 640x480 resolution and framing is very conspicuous.
The 2300mAh battery lasts for a decent 8 hours on regular usage which includes calling, messaging, a bit of gaming, watching movies and surfing the web.
Bottom Line
At a maximum retail price of Rs. 12,999 but an MOP of Rs. 11,000, the Andi 5c is still expensive for its performance. But under Rs.10,000 this can make for a great buy for someone looking at a budget large-screen phone. We would however, advise prospective buyers to wait for our reviews of more budget 5-inch smartphones before jumping the gun.