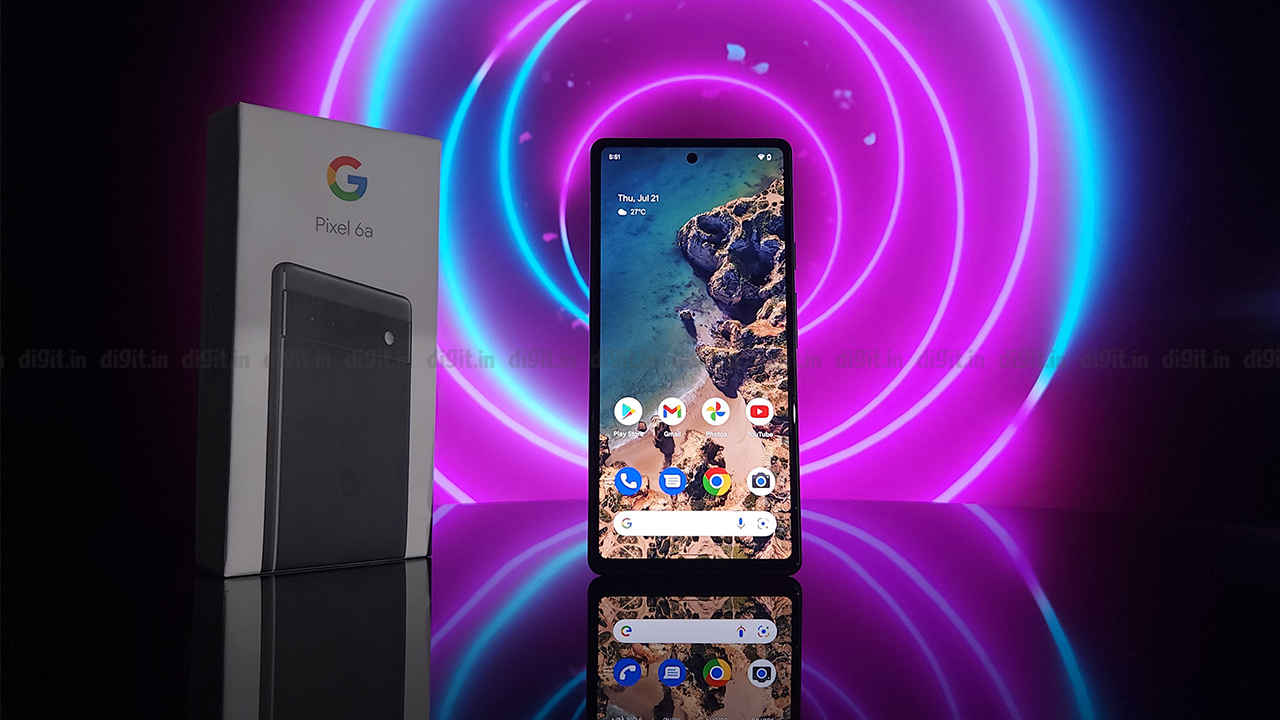 PROS:
Stock Android experience, Solid battery life, Reliable camera system
CONS:
Low internal storage, no expansion, No wireless charging, 60 Hz refresh rate is dated
VERDICT:
The Google Pixel 6a provides nothing short of stellar performance in two areas – software and camera. For the price, this is pretty much the best software and camera experience you can get. Add to that a clean and classy design, moderately powerful hardware with Google's Tensor chip, and great battery life, and you get a phone that proves to be a solid contender in the Indian smartphone market. However, the phone does have some downfalls – what phone doesn't? You have a dated 60 Hz refresh rate panel, slightly chunky bezels, some heating issues, and meagre 18 W charging owing to which the ₹43,999 price tag may start to feel less than reasonable.
It's been a hot minute since Google brought one of its beloved Pixel phones to Indian shores. The last Pixel phone fans enjoyed in the Indian market was the Pixel 4a – the company's then mid-range offering. Now, a couple of years since, we finally have a glistening new Pixel phone in our midst – the Google Pixel 6a. Whether it was Indian fans verbalising their disappointment about Google skipping out on bringing the Pixel 5a to India, or simply Google's decision it was an opportune time to set its mark in the Indian smartphone market once again – we're glad the Pixel 6a has arrived. Boy, has it arrived to rife competition though.
The Pixel 6a is priced at ₹43,999, and while it is Google's mid-range offering, the phone's price tag evidently competes with the higher-end phones in India. The competition includes formidable options such as the Samsung Galaxy S21 FE, Nothing Phone (1), and iPhone SE 2022. So, will the Pixel 6a make a solid mark in the high-end smartphone segment in India or will it fade into users' peripheral vision? Let's find out that and more in our review.
Google Pixel 6a Review: Build and design
The Pixel 6a carries over the same design language as the Pixel 6 and Pixel 6 Pro, so if you were a fan of their aesthetic, you'll be pleased with the Pixel 6a's minimalist look as well. The black camera bar on the back of the phone breaks up the coloured area of the Pixel 6a's rear panel providing a pretty clean look overall. There's a minimalist G or Google logo on the rear PMMA (plastic) panel that looks deceptively like glass.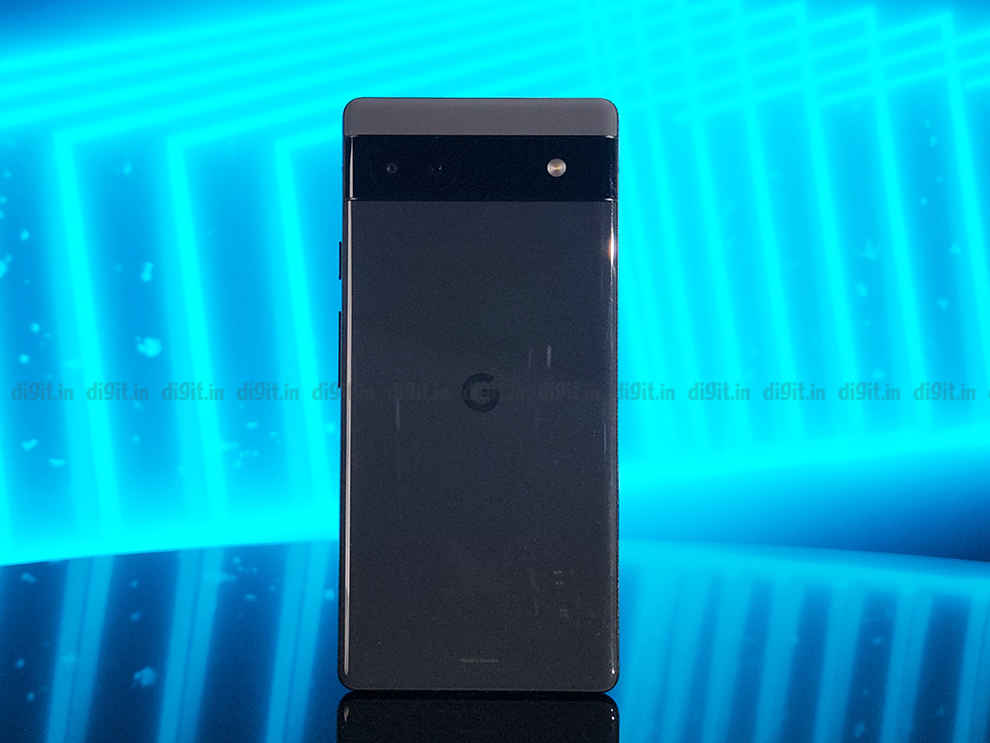 The back finish, however, is a notorious fingerprint and smudge magnet and we constantly found ourselves wiping off the smears. The camera bar protrudes from the frame slightly which stops the phone from lying flat on a surface. The Charcoal coloured variant we received for review looks a bit dull; we're bigger fans of the Chalk variant that has a bit more contrast. The gorgeous Sage Green colour that's available in global markets, unfortunately, hasn't made its way to Indian shores.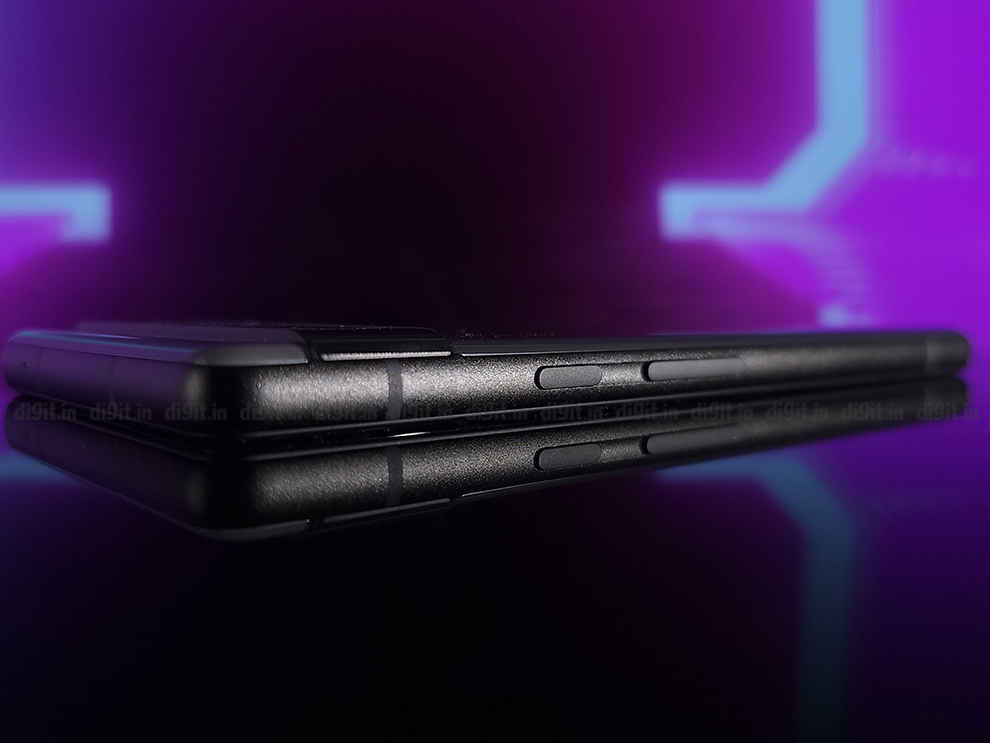 The phone carries an IP67 dust and water resistance rating which means it can resist dust ingress and withstand temporary submersion in water up to 1 meter for 30 minutes. A SIM tray sits on the left side with support for one nano SIM while the volume and power buttons are placed on the right. All buttons are easily reachable one-handed and pretty tactile but don't feel quite as buttery smooth as high-end or flagship phones. The phone also houses stereo speakers and a USB C port but no 3.5mm jack or microSD card slot. The speakers are considerably loud but we've heard louder at this price and lower. However, they don't crackle even at maximum volume, which is a plus. Sadly, the lack of a microSD card slot means that you can't expand the memory past the 128 GB internal storage capacity you get, which is a shame. 128 GB storage can feel insufficient to many and we would have preferred at least an option for a 256 GB variant.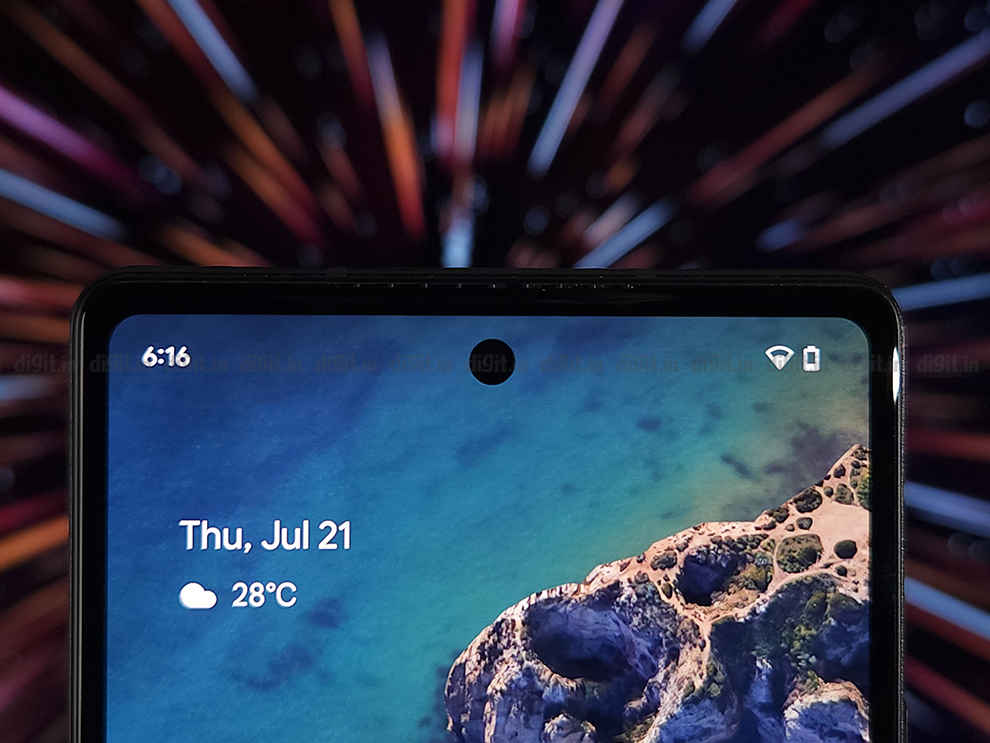 The Pixel 6a is a compact phone with a screen measuring 6.1-inches; putting it against the likes of other compact devices such as the iPhone 13 Mini, iPhone SE 2022 and Samsung Galaxy S22. The front has a small punch hole cutout for the selfie camera and fairly thick bezels with a thicker chin bezel. The display is flat with no curves, which we quite liked, but the chunky bezels do diminish the glamour quotient. The display is topped with Corning Gorilla Glass 3 for protection, which is a bit dated for a 2022 phone costing above ₹40K. The phone comes with an in-display optical fingerprint sensor which was moderately speedy as well. Overall, we're fans of the Pixel 6a's clean and classy aesthetic in a sea of pretty garish phones, especially in the mid-range market.
Google Pixel 6a Review: Display
As for the display, the phone sports a 6.1-inch OLED panel with Full HD+ resolution. You also get HDR support and a High Brightness Mode on the device. The display has a fairly commonplace 20:9 aspect ratio with support for 24-bit colour. The panel provides Widevine L1 support as well for HD viewing on streaming platforms. The display's performance impressed us with true blacks, vivid colours, excellent viewing angles, and good sunlight legibility. It is definitely not the brightest display, even at this price, but in most conditions, you won't have an issue with the screen being too dim. We recorded a maximum brightness of 502 nits, which is pretty decent and the display is capable of going higher on High Brightness Mode.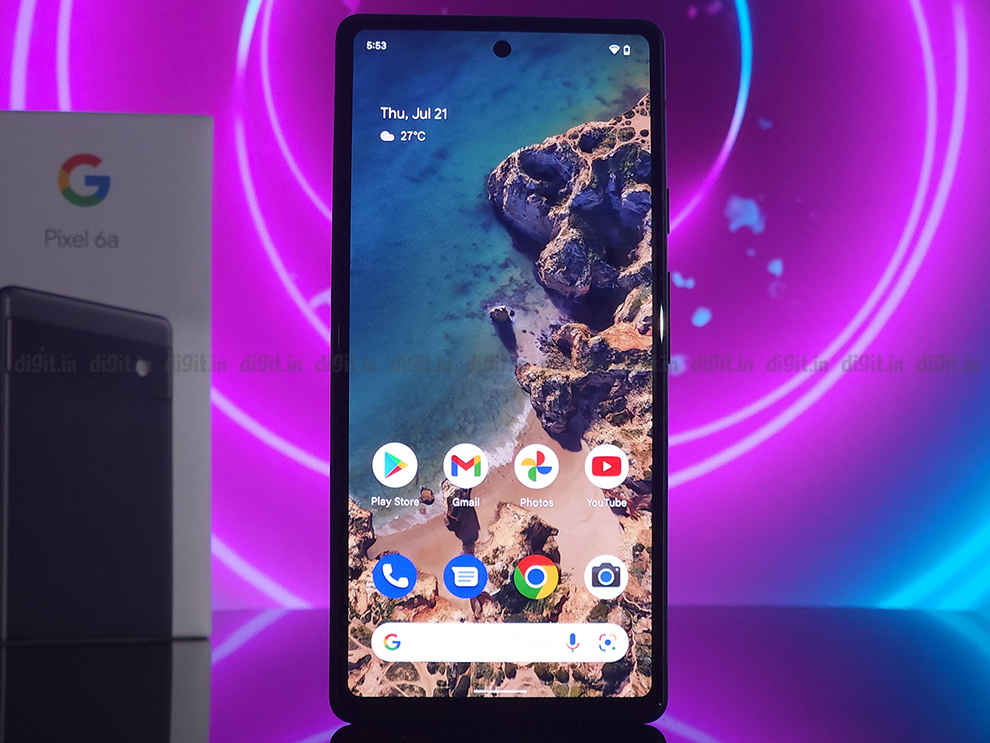 All is good in the display department so far, but where the display stumbles in comparison to the competition is the refresh rate. The Pixel 6a supports only 60 Hz refresh rate which seems downright comical for a phone pushing ₹40K. Especially since competition provides panels with 90 Hz, 120 Hz and even a whopping 144 Hz refresh rate support. Scrolling and navigation are visibly and painfully slower than what most people would expect in this price bracket. Overall, this is a display that offers a pretty good movie and video watching experience but the lack of a high refresh rate does hurt how responsive the phone feels.
Google Pixel 6a Performance Review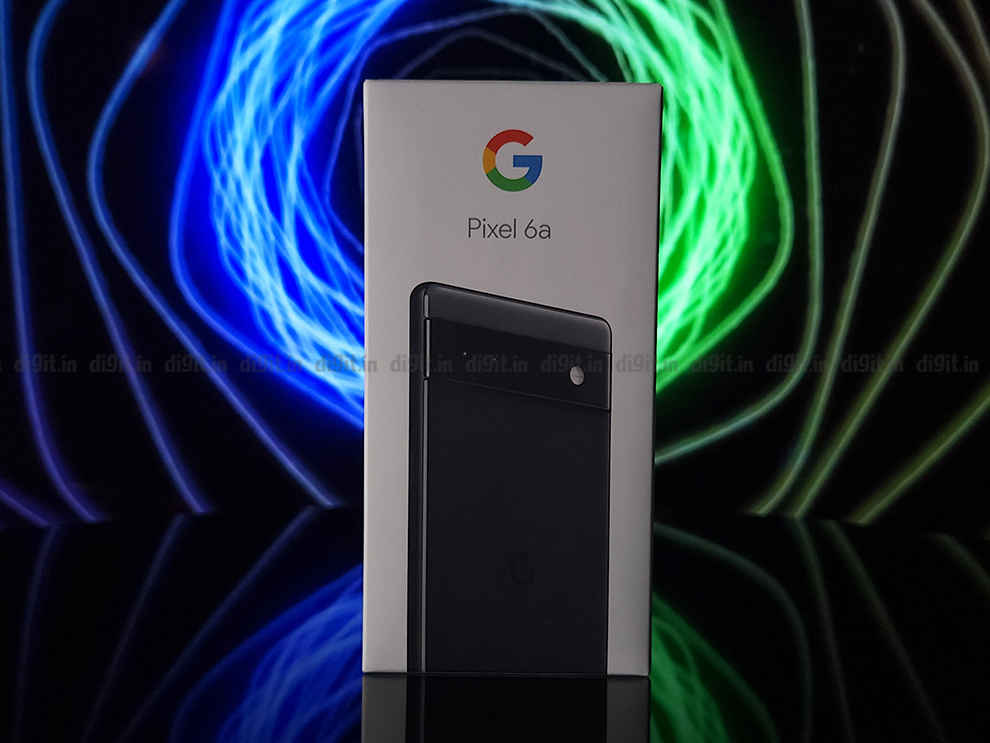 The Pixel 6a houses Google's in-house developed Tensor chipset paired with 128 GB UFS 3.1 storage and 6 GB LPDDR5 RAM. The phone performs well as a daily driver with barely any hitches when carrying out tasks such as calling, texting, social media surfing, web browsing, and more. While the performance was solid for the most part, there were instances where the phone did heat up considerably (touching 45 degrees Celsius) when clicking photos, shooting videos, and updating apps. This caused some minor lags and stutters which did take away from an otherwise close-to-flagship experience.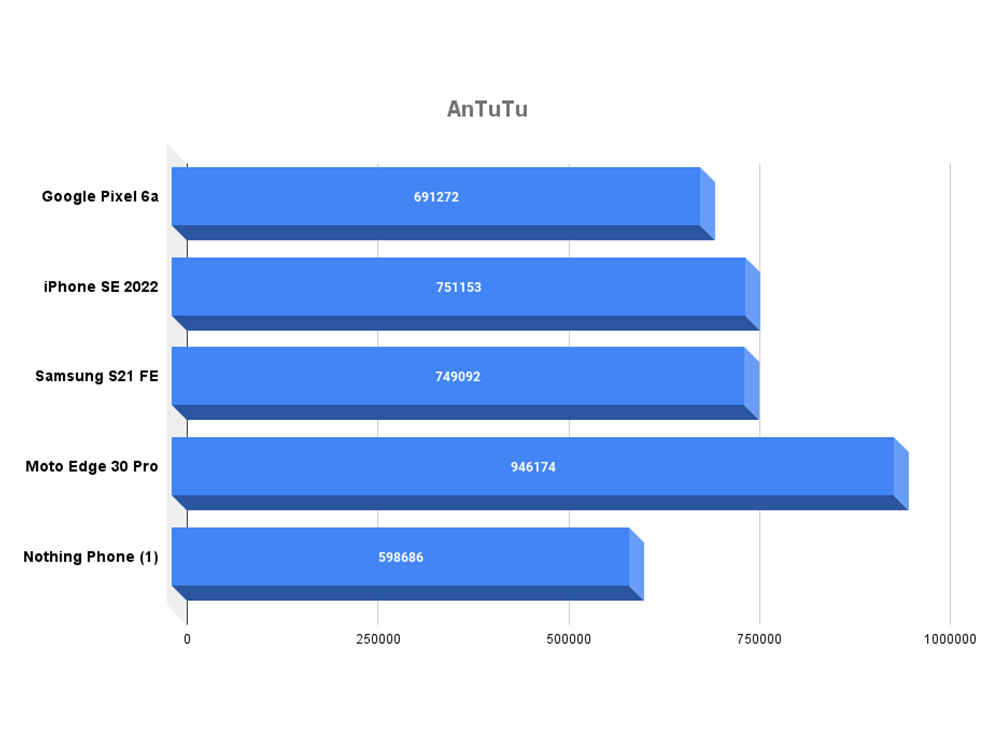 In benchmarks, the Pixel 6a does decently with the phone consistently clocking in higher scores than the Nothing Phone (1) in most tests but it did lose out, in multiple benchmarks, to the Samsung Galaxy S21 FE, Motorola Moto Edge 30 Pro, and iPhone SE 2022. The phone clocked in a score of 691272 in AnTuTu which was considerably lower than the iPhone, Samsung and Motorola devices we mentioned above.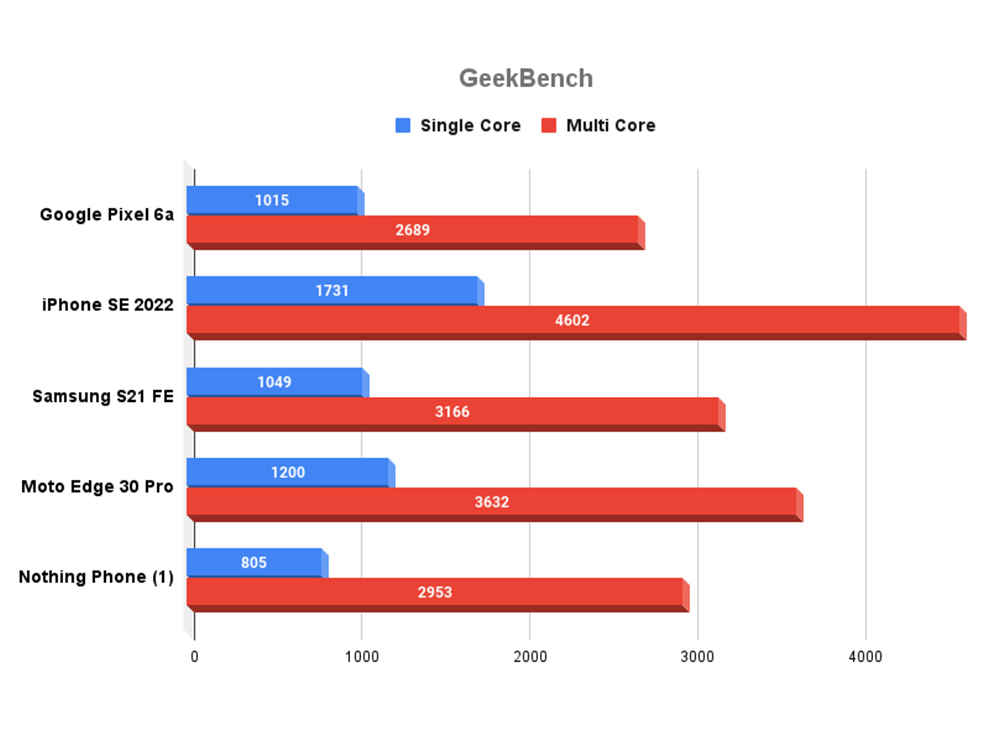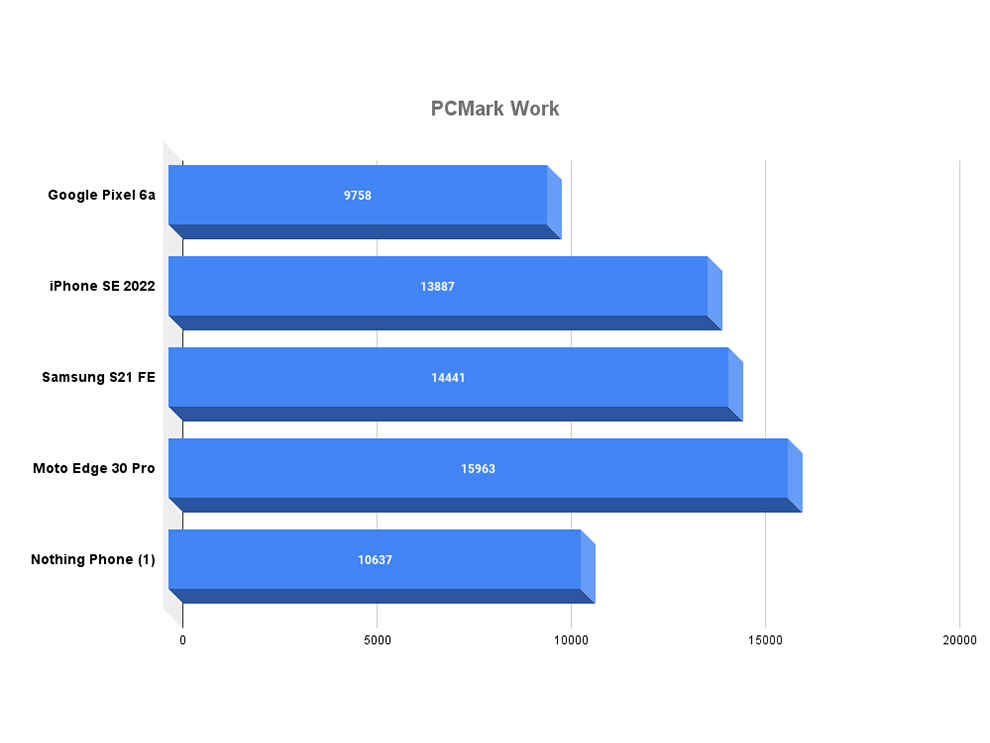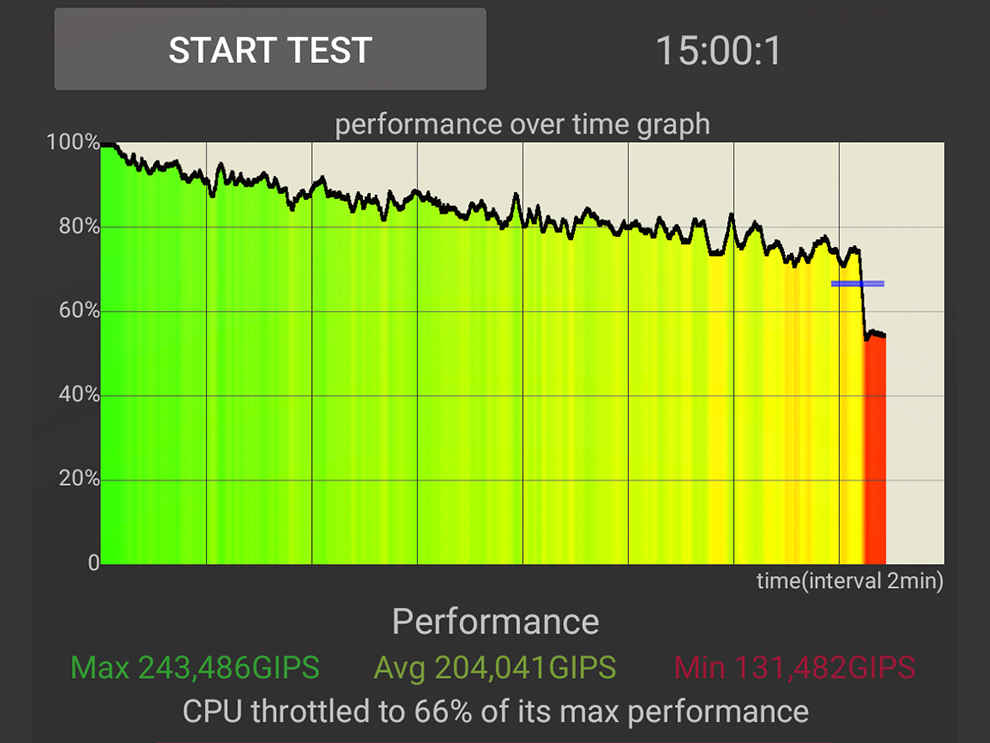 The phone also lagged behind the competition in GeekBench with it scoring 1015 in the Single Core test and 2689 in Multi Core. In PCMark Work, the trend continues with the Pixel 6a even losing out to the cheaper Nothing Phone (1) with a score of 9758. Moreover, in the CPU Throttling Test, we found that after 15 minutes, the phone throttled to 66 per cent of its peak sustained, which shows that the Pixel 6a has issues with maintaining sustained performance during intensive tasks.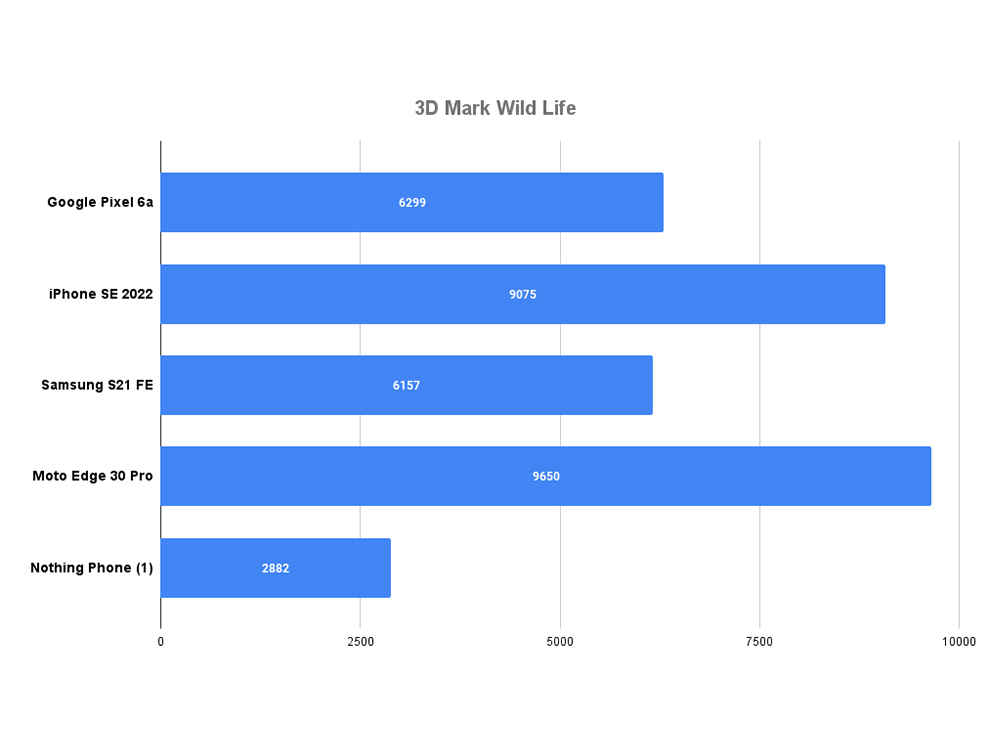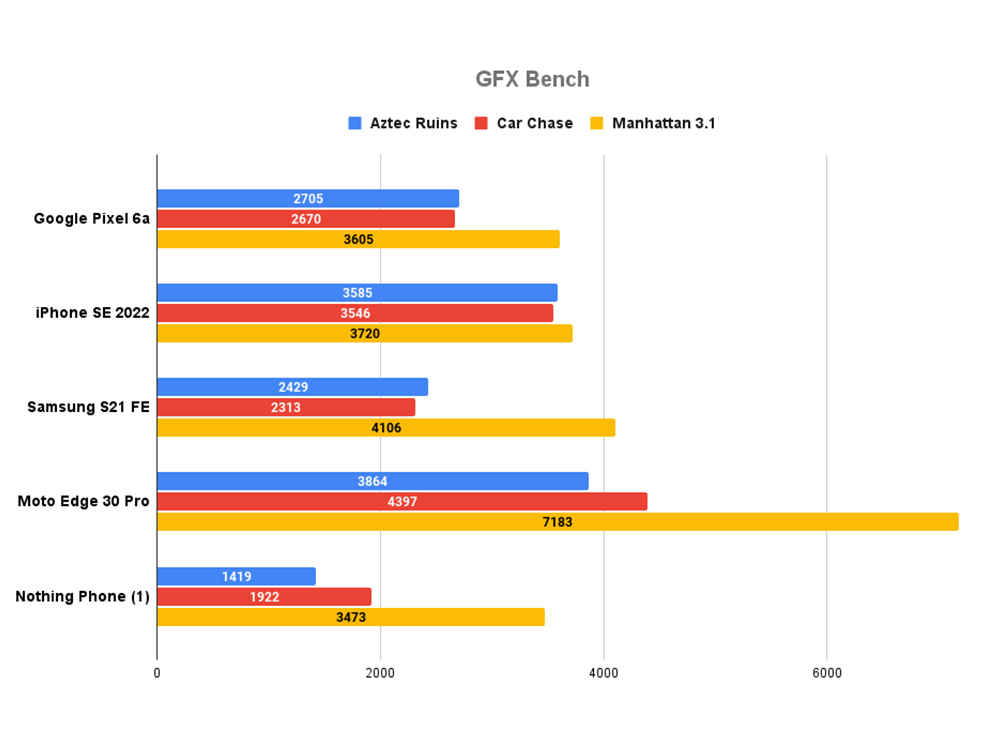 The phone, however, does do slightly better in GPU benchmarks with it beating out the Nothing Phone (1) and the Samsung Galaxy S21 FE in 3D Mark Wild Life but it continues to lag behind the iPhone SE 2022 and the Moto Edge 30 Pro. You can see the pattern repeat in most GFX Bench tests as well. This does hurt the Pixel 6a's value proposition a bit since these phones are all almost similarly priced.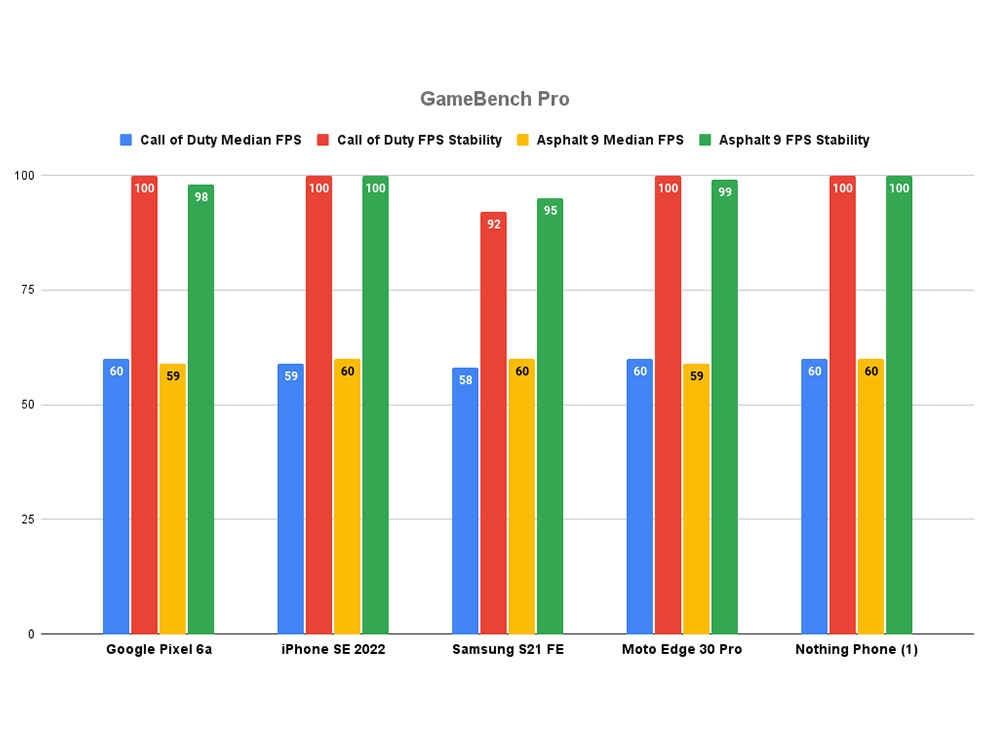 However, in gaming tests using GameBench Pro, the Pixel 6a did shine quite a bit. In Call of Duty Mobile, the phone played at average fps of 60 with a whopping 100 per cent stability and in Asphalt 9, we got 59 fps at 98 per cent stability. The gameplay was mostly smooth and jitter-free barring the instances when the phone heated up after longer periods gameplay, which is when we experienced a sliver of stutter. Overall, the Pixel 6a offers solid day-to-day performance but does lag behind some competitors in terms of heat management and smoothness.
The Pixel 6a also comes equipped with Google's Titan M2 security chip that stores your sensitive data such as passwords and keys within the device. So, you don't need to store such data on any server, thereby reducing the risk of a security breach. It also handles processes such as encryption and secure transactions within apps. Of course, we couldn't fully put this chipset to the test during our brief testing period, so we can't make any claims about how well it works. Nevertheless, it's good to see Google putting in the work to try and ensure user security and privacy.
Google Pixel 6a Review: Software
This is the bread and butter of a Pixel device – stock Android Pixel experience. Any Android purist will jump with glee experiencing the bloatware-free, clean Android 12 UI that the Pixel so unabashedly provides. And this is where the phone races ahead of most competition. While other devices from OnePlus, Xiaomi, and Oppo are rife with third-party apps and even ads, the Pixel 6a provides a pure Android 12 experience devoid of any of these deterrents.
The user interface is clean and completely hassle-free and Google's Material You theming options look fantastic. Apps barely ask for unnecessary permissions and it was a true joy experiencing Stock Android after the barrage of custom UI skins OEMs slap onto their Android devices. Of course, some other phones from companies such as Motorola do provide a near-stock experience but the Pixel provides so much more. You get a fully unlocked Google Photos editing app, numerous Google Assistant features, unique features such as Magic Eraser, Live Translate, and much more.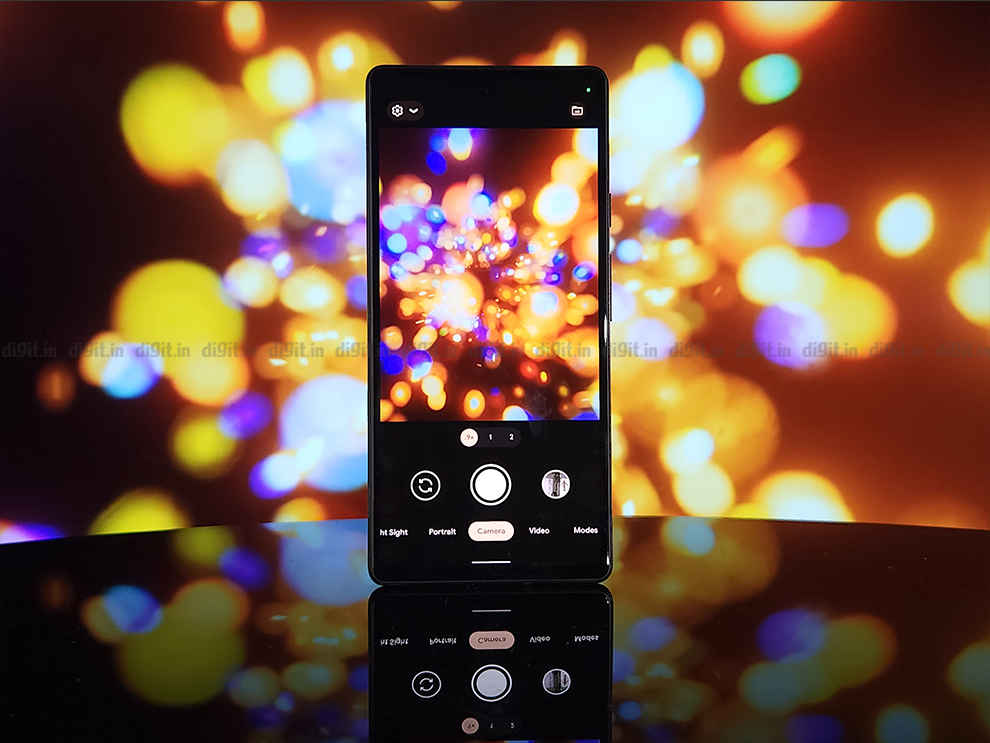 The phone also provides users with three years of guaranteed software updates and five years of security updates. However, three years is slightly low for a Pixel phone, especially, since many Samsung phones now provide 4 years of OS updates, so it is beating Google at its own game, in a way.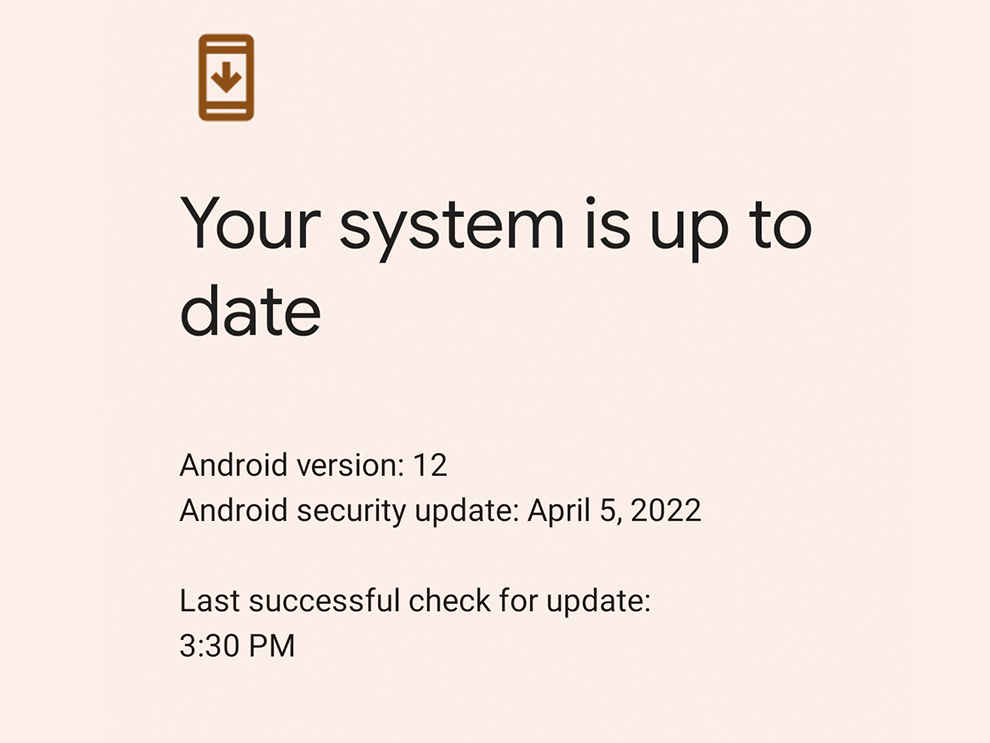 Also note, when testing the phone, we strangely found that our review device was still on the April security patch, which is just odd. We spoke to Google about this and they assured us that the device will get an update in August with the latest security patch. We hope this doesn't translate to retail units and is just an issue with the review one.
Google Pixel 6a Review: Battery life
Some global reviews of the Pixel 6 and 6 Pro have complained about mediocre battery life. Thankfully, this didn't translate to the Pixel 6a, in our experience. We got pretty fantastic battery life during our testing period of over a week. The phone routinely lasted a day with ease with normal usage consisting of occasional gaming, clicking photos, social media, web browsing, and editing photos. We got a screen-on time of about 5 hours which is pretty good for a 4,410 mAh battery. In our video loop test, the phone lasted about 14 hours from 100 per cent to empty, which is pretty good.
GPS navigation for an hour dropped the battery by 5 per cent from 85 to 80 per cent and 15 minutes of COD: Mobile drained the battery by 6 per cent from 79 to 73 per cent. If you're a power user, you may need to charge the phone towards the evening but if you're a light to moderate user, you should end the day with about 15-20 per cent battery.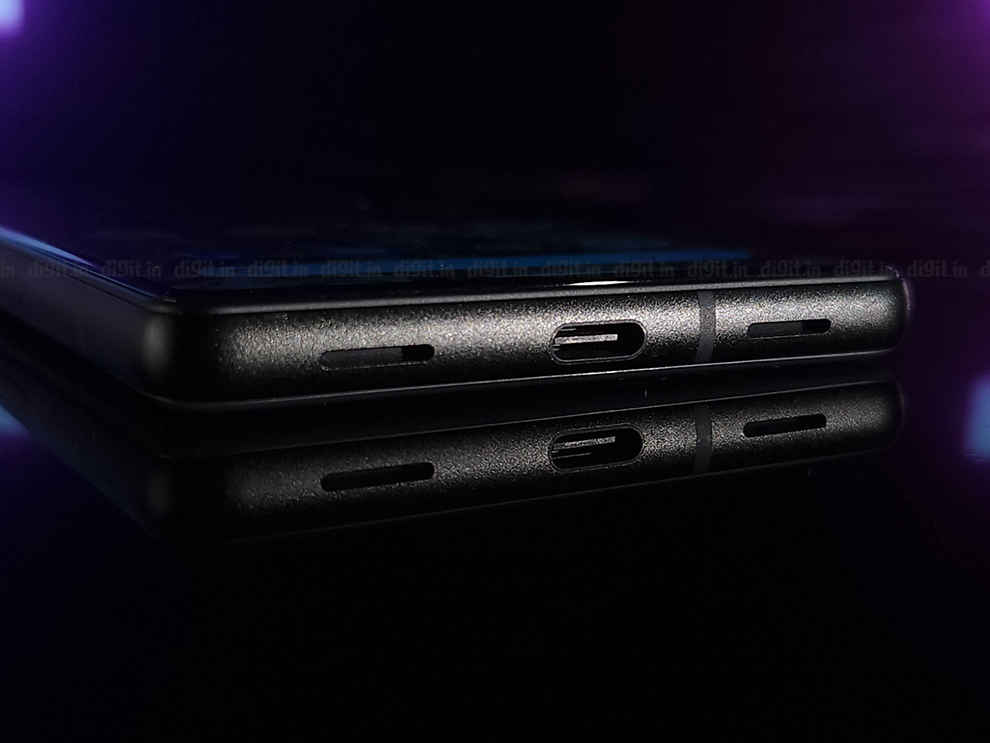 Now, while the battery life experience was pretty great on the Pixel 6a, the 18 W fast charging speeds is nothing to write home about. In the age of 67 W, 80 W and 120 W fast charging in mid-range phones, 18 W charging just feels awfully slow and dated. The phone took a whopping 1 hour and 49 minutes to go from zero to full. Also, there's no wireless charging on the phone, if that's something you prefer to have on your phone. The company also hasn't packaged a charging adapter in the box, so you will have to fish for your own USB PD 3.0 compatible charger.
Google Pixel 6a Camera Review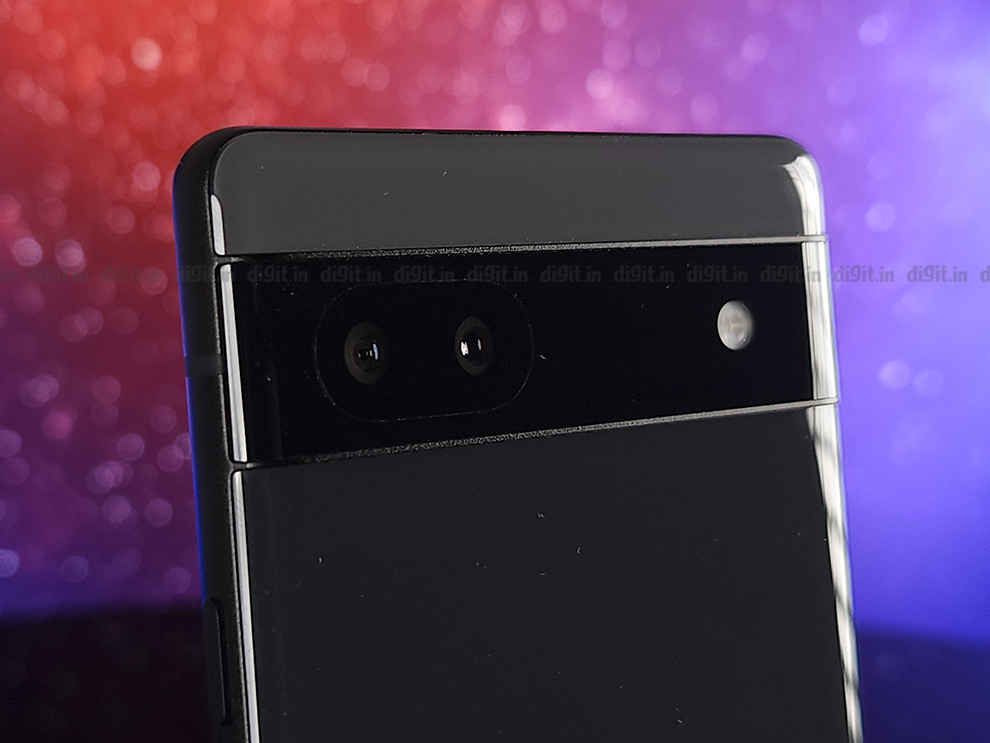 Two things almost always seem to stand out on a Pixel device. First, the software experience, which we've already spoken (raved) about, and second, the camera experience. So, naturally, our expectations were high and the Pixel 6a didn't disappoint. The device houses two rear camera sensors – a 12.2 MP primary sensor – which has been tried and tested since the Pixel 2 days – and a 12 MP ultrawide shooter. The Pixel 6 and 6 Pro got 50 MP sensors, but honestly, there's not much to complain about even with the older sensor we have got here. Primarily because of Google's tuning and exceptional computational photography.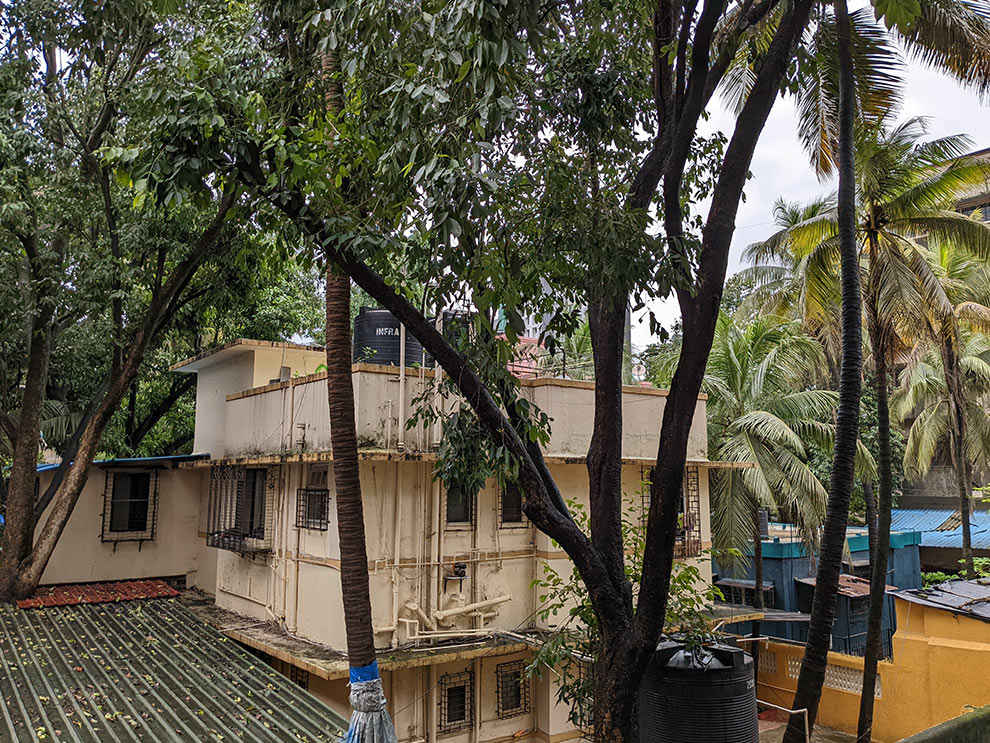 Photos in daylight look nothing short of fantastic with crisp details and realistic colours. The dynamic range is also excellent. In tricky lighting conditions, while the viewfinder showed blown-out highlights sometimes, the end result achieved after some computational photography magic was brilliant. Shadows were rarely crushed and highlights remained perfectly exposed in most shots. The ultrawide camera also shone in a similar fashion but the main sensor definitely had more detail, especially at the edges of the photo.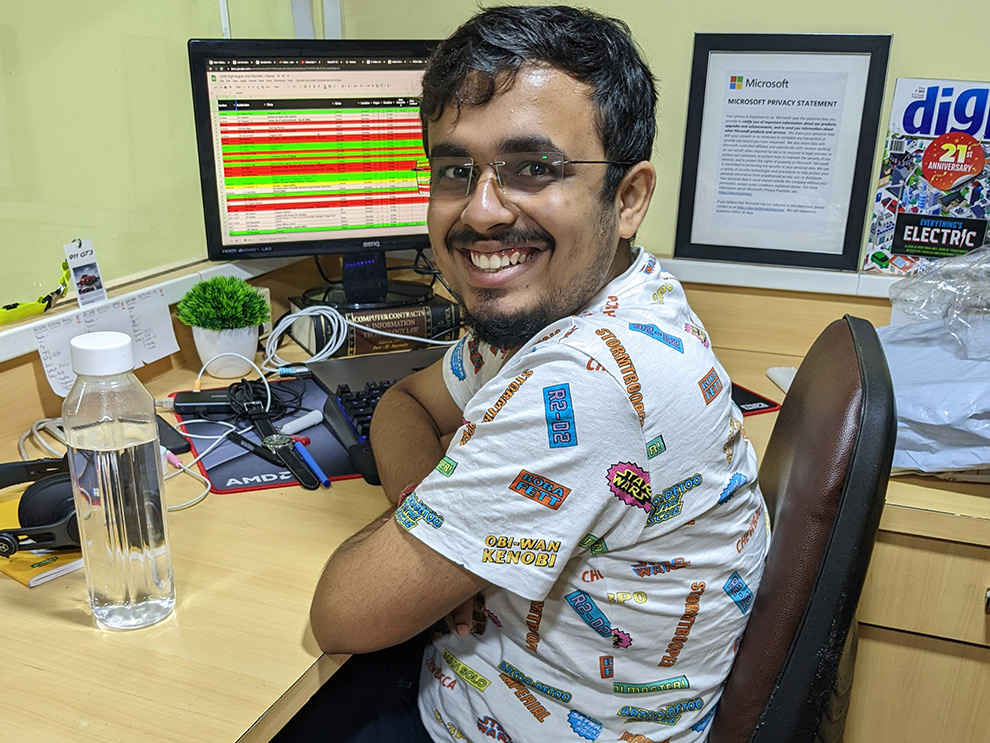 In low light, Google's exceptional Night Mode worked wonders – clicking photos that you could barely tell apart from well-lit ones. If you pixel-peep, you will see some instances of grain but it's minimal compared to the night mode performance offered by other mid-rangers and even some high-end phones. Human tones are true to life with great colour reproduction, something that we struggle to see on even high-end phones.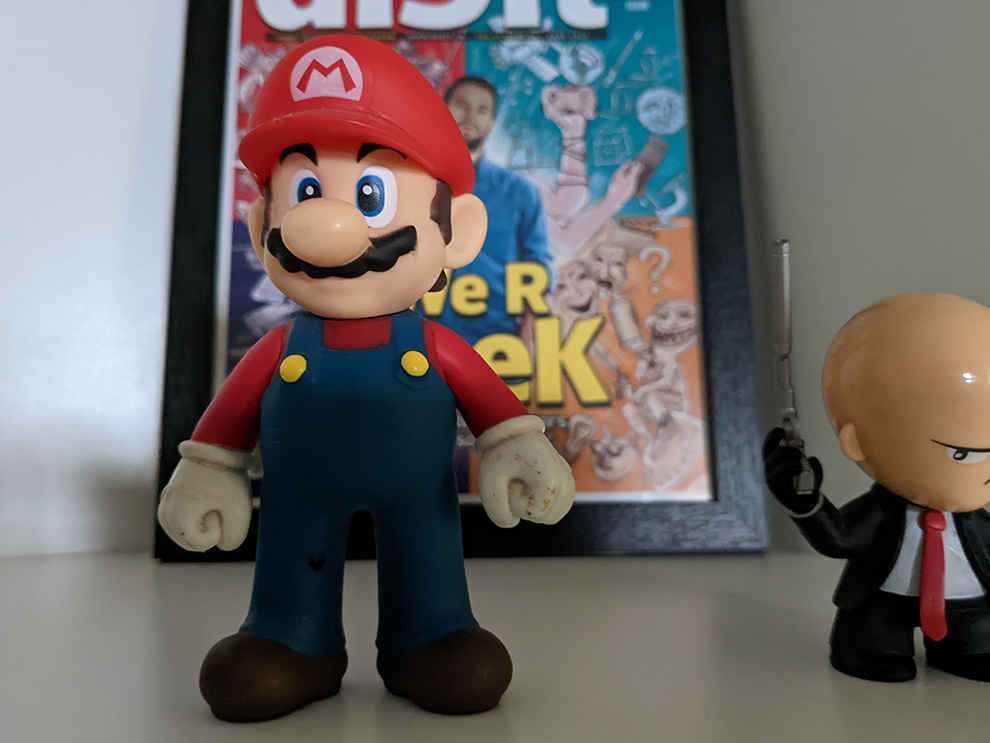 Taken in Low Light with Night Mode active
The 8 MP selfie camera also clicks some good pictures with true-to-life colours and decent detail but they appear softer than the primary sensor. Portrait mode on both the selfie and rear camera provided great photos with solid edge detection, although at times, in harsh lighting, the blurring and edge detection did look a bit aggressive.
Add to this stellar performance Google's editing features such as Face Unblur, Magic Eraser and more, and you get a reliable and well-rounded camera performance matched by almost no phone at this price. The closest competitor in regards to photography at this price is the iPhone SE 2022 but the Pixel 6a still clicks slightly more detailed and crisp pictures. Video recording is also pretty good on the Pixel 6a with the phone supporting up to 4K at 60 fps. You even get OIS to keep videos looking smooth. To see all the full resolution camera samples, visit this Drive link.
Google Pixel 6a Review: Verdict
The Google Pixel 6a provides nothing short of stellar performance in two areas – software and camera. For the price, this is pretty much the best software and camera experience you can get. Add to that a clean and classy design, moderately powerful hardware with Google's Tensor chip, and great battery life, and you get a phone that proves to be a solid contender in the Indian smartphone market. However, the phone does have some downfalls – what phone doesn't? You have a dated 60 Hz refresh rate panel, slightly chunky bezels, some heating issues, and meagre 18 W charging. Owing to this, the ₹43,999 price tag may start to feel less than reasonable.
Google has marketed this phone as a mid-ranger, but its pricing makes it more of a high-end device in the Indian market, and at this price, the competition is ferocious. You have fast-charging monsters such as the OnePlus 10R, uniquely designed phones such as the Nothing Phone (1), and power beasts such as the iPhone SE 2022 or the Motorola Moto Edge 30 Pro. That's when the Pixel 6a's value starts to crumble a tad bit. However, this phone isn't meant for a power user or a feature seeker – it is meant for those who truly enjoy the Pixel experience and want a set of reliable shooters for every occasion. And for those individuals, it is truly a Pixel Perfect smartphone.
Google Pixel 6a Key Specs, Price and Launch Date
| | |
| --- | --- |
| Release Date: | 21-07-2022 |
| Market Status: | Launched |
Key Specifications
Screen size (in inches)

6.14

Rear Camera Megapixel

12.2

Battery capacity (mAh)

4410