Champion Wpad 10250 - slate-mode tablet PC with multi-touch capability detailed review
The Champion Wpad 10250 is a 10.1-inch, slate-mode tablet PC with multi-touch capability. Weighing in just 1056 grams, it is an ideal lightweight substitute for a laptop and is most suitable for business executives and professionals on the move. It includes a complete package of multi-touch inputs including pinch-zoom, dual-hand QWERTY-touch keypad, drag select, drag & drop, hold-click (equivalent of mouse right-click) and bar scrolling.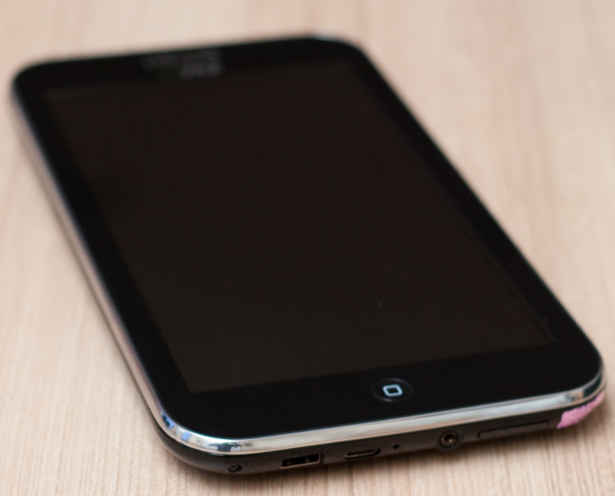 Look and Feel
[RELATED_ARTICLE]The Champion Wpad is solidly built with thick, harder than normal plastic on the rear panel. The front panel comes with a glossy LCD screen that makes it vulnerable to smudges. The glossy black finish on the bezel gives it a classic touch. The real estate on the tablet will surely make you feel like it is an upgraded touchscreen smartphone. Weighing in 1056 grams, the Wpad is definitely heavier and a lot less sleeker than the 7-inch Samsung Galaxy Tab (362 grams). The specifications resemble a hybrid of netbook and smartphone - 3 USB ports, a power port, a volume rocker button, a 3.5mm audio jack, multi-format card reader and a mini HDMI port. The only hardware button on the front panel is the 'select/back' button, which mimics the front panel design of the touchscreen smartphones. The touch keypad comes in handy for typing lengthy text with support for QWERTY style dual-hand operation. However, the keypad lacks accuracy and the input fails to register sometimes, particularly while holding the shift key. The smaller shift-key on the right makes it even more tedious while typing the special characters.
Features
The Wpad is designed to run on both Windows 7 and Linux operating system. Its USPs are the multi-touch interface and the handwriting recognition software. The handwriting recognition software adds a new dimension to the touchscreen device, by allowing you to write text onto the screen as if you were using a pen and a paper. In addition, the integrated auto-correction tool corrects any input errors and displays them in a legible standard font. If you are in a business meeting and want to scribble something important, then it is the right tool for you. However, the handwriting tool misinterprets certain lower-case characters, if it is not legible enough while you are writing them.
Read on to know the performance, our take, specifications and ratings on the next page...
Performance
[RELATED_ARTICLE]The Champion Wpad's interface isn't as snappy as an iPad, but still gets the job done. The audio quality of the speakers lacks both loudness and clarity at medium to high volume levels. It isn't ideal for playing music or video songs. However, the video playback yielded crisp and clear frames with neither stuttering nor artifacts of any sort. The display has limited viewing angles and picks up blurred, washed out images when viewed at any angle other than right angles. The battery-life on uninterrupted video-playback is hardly 53 minutes, which is poor even for a tablet PC. Overall, its performance is typical to an entry-level Windows netbook and poses no challenge to the iPad.
Our Take
The Wpad is not in the league of the iPad, Galaxy Tab or the HP slate in terms of their feature set and higher price bracket (Rs. 35,000 to Rs. 40,000). However, it poses a stiff competition against the likes of OlivePad VT100 which is priced around Rs. 22,599. The rich feature set including dual-hand QWERTY touch keypad, handwriting recognition software and multi-touch gesture support are its vital selling points. We can forgive its pedestrian performance, as there are very few tablet PCs with such feature set in its price category. If you are not an iPad fan or a power user and looking for a budget tablet PC, then the Wpad is definitely recommended at a selling price of Rs. 23,000.
Specifications: Processor: Intel Atom N450; Memory: 1GB DDR3 333MHz; Chipset: Intel NM10 Express; Graphics: Intel Graphics Media Accelerator 3150; Hard drive: 160GB; Display: 10.1-inch LED, Screen resolution: 1024 x 576; Weight: 1.06 Kilograms;
Ratings
Features: 6.5
Performance: 5.5
Build Quality: 6
Value for money: 7
Overall: 6
Contact: Champion Computers Pvt. Ltd.
Phone: 91 11 26214751
E-mail: champion@usa.net
Website: http://www.championindia.com/
Price: Rs. 29,990