Sony HT-IV300 5.1 Home Theatre detailed review
The Sony HT-IV300 is a 5.1 home theatre system with a prime focus on DTH, and one of the few systems that aim to improve your daily TV watching experience. If you're not interested in building a premium component home theatre system from the likes of Yamaha or Onkyo, you can opt for pre-built home theatre setups which may not be as 'premium' or meant to please 'purists', but are easy to set up, offer multiple outputs and deliver good audio performance suited for your regular entertainment needs. The HT-IV300 is one such home theatre setup that's selling today for a surprisingly modest price-tag of Rs. 17,500.
Let's take a look if it deserves your money.
The Features
One of the first things about the Sony HT-IV300 that will grab your attention is its 1000W output rating. That's a big number and we can attest to the fact that the speaker system is very, very loud. The other big feature touted by Sony is the HT-IV300's ability to connect directly to your DTH box through the HDMI or Optical ports without requiring a receiver. This is great because it makes it incredibly easy to just setup the system, plug it into your set top box and start enjoying the 5.1 output.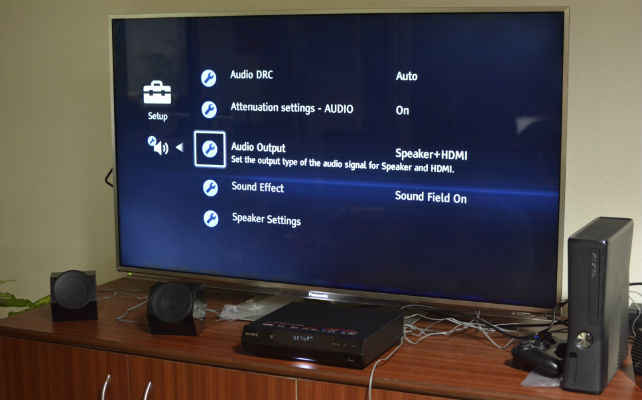 The HT-IV300 comes with a veritable bounty of wired and wireless connectivity options especially for its price. In terms of ports, the setup has 2 HDMI-ins and 1 HDMI-out port, a USB port, an Optical port, coaxial output ports and ports for the system's speakers. The two HDMI in ports will allow you to hook up two audio sources to the system (for instance, a DTH set-top box and a Blu-Ray player) and switch between the two easily. When it comes to wireless, the Sony setup offers support for Wi-Fi, Bluetooth, Miracast and NFC.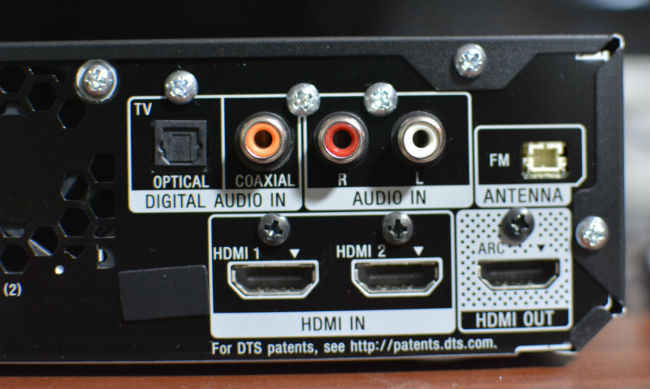 The Design
The Sony HT-IV300 is a very good looking setup and will not look out of place in even the most premium and meticulously designed living rooms. Its five satellite speakers have a unique hexagonal shape that definitely make them look different from your usual box or cylindrical speakers. The satellite speakers have plastic bodies with metal grills and a reflective metallic silver plate on the side with the manufacturer's name. The subwoofer is a wooden box painted completely black with a foam cover on the front. The main unit is a rectangle box with an angular front. Like the rest of the components, it's completely black and relies exclusively on touch based controls and the remote except for the main power button. The front panel also has a digital display that shows what system menu you've accessed. However, the display itself is small and quite dim, so if you're sitting at a distance, you will have to rely on the menus that show up on the TV and not on the HT-IV300's display.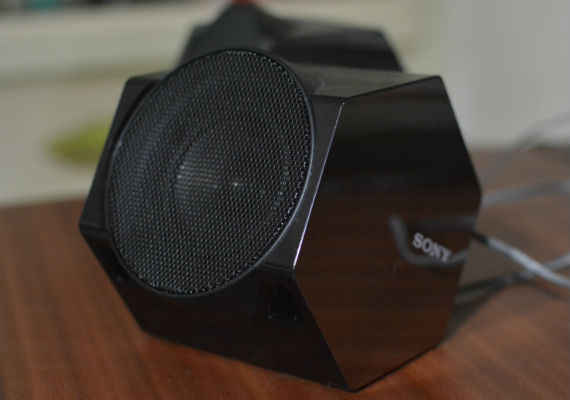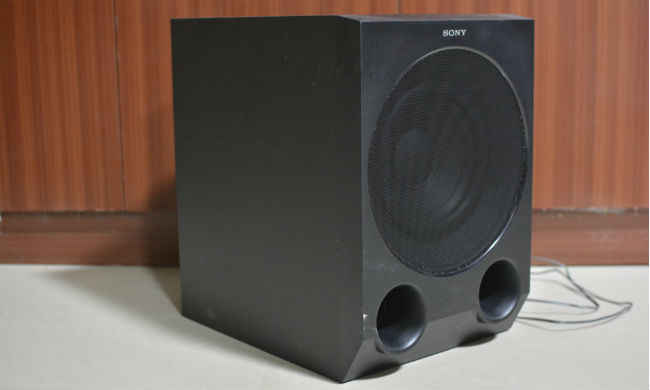 The remote that comes with the HT-IV300 is unfortunately (or fortunately, depending on you) packed with dozens of buttons that makes it look quite intimidating. If you already own a TV filled to the brim with features, expect to be annoyed with the presence of another complicated remote control in your living room.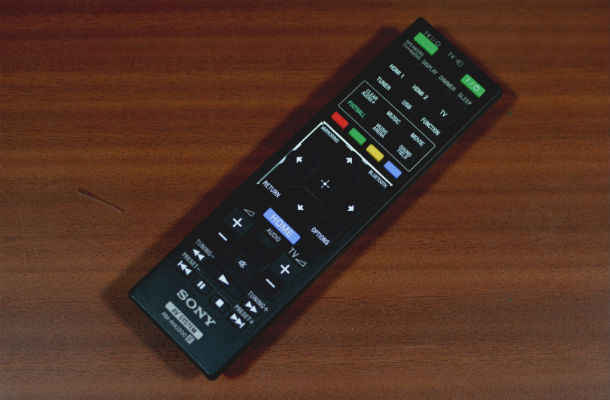 The Performance
Right, so, the performance. The Sony HT-IV300 is an all-rounder when it comes to its performance as a home theatre system, that is, it's comfortable with all forms of visual media including movies, Internet video, DTH video and games. One of the big reasons for that is the excellent surround experience that the setup delivers, something that belies its relatively affordable price-tag. Provided you set it up in a room with decent acoustics and correctly, you will not be disappointed. Of course, the fact that the system is also very, very loud adds to the experience and will ensure that you soundproof at least one room in your house to enjoy its full effect (and to prevent your neighbours from complaining).
And then, there are the annoying issues, the first of which is the max volume to which you can push the system. While it's great that the system is so loud, after a certain threshold (about 65%), the sound output completely loses its clarity. The system is also very biased towards bass, the boomy and not the punchy kind, and unless you turn on the ClearAudio+ feature, dialogues delivered in movies during action scenes become extremely difficult to discern. This issue is only compounded by the fact that the HT-IV300 offers no custom EQ options, only presets geared towards the type of content you're playing. If you have an issue with bass, you may find yourself annoyed quite often.
All of this also means that the Sony HT-IV300 is only good for listening to music genres that depend on overpowering bass. If you consider yourself a purist and listen to a lot of rock, jazz, blues or classical music and want clear mids and highs, this is NOT the system for you.
The system also lets you play music from your phone easily over Bluetooth or NFC and even lets you mirror your display over Wi-Fi direct. Weirdly, the system refused to mirror Sony's own Xperia phones (we tested it with the Xperia Z1 Compact and the Xperia L) but worked effortlessly when it came to the Motorola Moto X.
The Bottomline
Anyone looking for an affordable home theatre system for regular use with their DTH set top box or to watch movies or play console games, should seriously consider the Sony HT-IV300. For Rs. 17,500, this is a setup that offers great value for money and even the issues that it faces does not detract from that fact.
On the other hand, if you consider yourself a purist, and intend to listen to a lot of varied music genres on your home theatre system, then you'd be better off looking at other options.