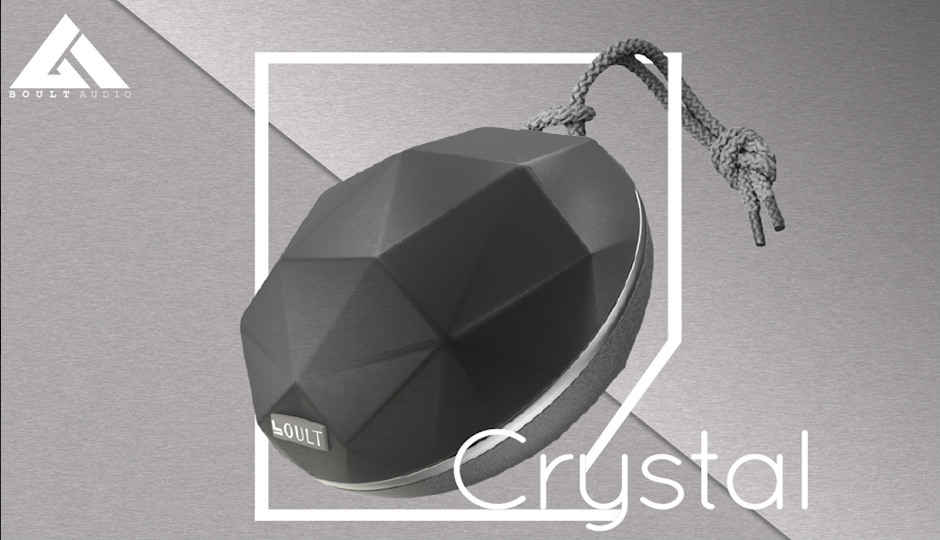 HIGHLIGHTS
The Boult Crystal speaker works on Bluetooth 4.2 protocol and sports 32 facets.
Boult Audio has launched its latest Boult Crystal Bluetooth speaker that features a faceted design with 32 facets. The company claims that these facets direct the sound in different directions to produce a "multi-dimensional 360 degree sound." The portable speaker is said to deliver up to 8 hours of audio playback on a single full charge. Priced at Rs 1,328, the device is up for purchase at www.myntra.com/boult.
Read the complete press release below
Boult Audio, an Indian premium audio brand which is known for its out of the box designs and best in class audio technology for its price range, has introduced their new and improved offering 'Crystal in the wireless speaker category, priced at Rs.1328 including taxes. The product is available at www.myntra.com/boult
This latest addition to the company's line of high-performance products provides music lovers a completely unique listening experience with its 32 different facets all directing the sound to 32 different directions producing perfect HD sound.
The Bluetooth speaker comes with a sturdy cord made up of premium nylon fibers that makes the speaker stylish, portable and versatile. This ultra-portable design makes this speaker the perfect companion to take everywhere. The Crystal comes with an in-built condenser mic that provides a hands-free experience. Crystal may seem compact but don't go for its looks, the Crystal is packed with technology that'll make your tunes sound crisp and clean. With its dual microphone system and superior sound quality, 6 hours of high quality audio, seamless low energy consuming Bluetooth 4.2 technology that'll keep you in sync with your music.
32 Facets: Crystal has 32 different facets all directing the sound to 32 different directions producing perfect multi-dimensional 360 degree sound in all the directions.
Core Features
Portable: A nylon carrying cord makes the Bluetooth Speaker both portable and versatile – hang it clip it lay it toss it or lay it flat.
Surprisingly BIG Sound: This compact yet powerful speakers packs a really powerful punch enough to light up an entire room. It comes with an inbuilt subwoofer producing Extra Bass.
Deep & Punchy Bass: Crystal's inbuilt subwoofer in conjunction with it's ergonomically designed shape delivers truly exceptionally powerful sound with crystal clear highs and deep bass.
Adjustable Clip : the Adjustable clip on the nylon chord allows you to place it anywhere at a customized height and angle.
Usage: A strong, sturdy and unique facet design, makes these speakers perfect for house party or taking them out on an adventure.
Battery: Crystal is a powerhouse, charge it once and enjoy uninterrupted music 6-8 hours of runtime or 2 days standby
Compatibility: Works with all OS, all Bluetooth enabled Smartphones, Laptops, PCs, Tablets, Smart TVs, from all the brands.