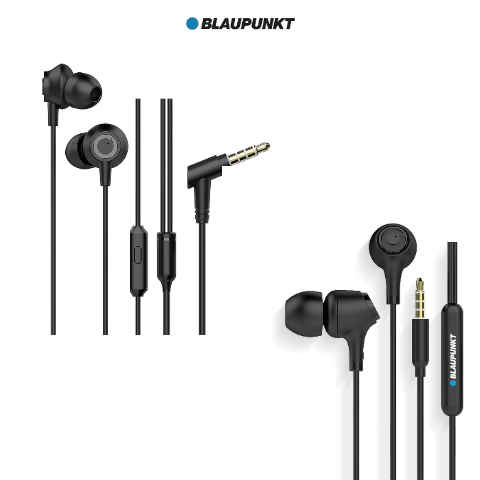 Blaupunkt has launched its wired earphones EM10 and EM01 in the Indian market. Both these earphones are equipped with 10mm audio drivers, and come with a multifunctional button with which users can control calls and music. The EM-01 and EM-10 are available on Amazon.in and are priced at Rs 499 and Rs 699, respectively.
Read the complete press release below
Blaupunkt has launched their wired earphones EM10 and EM01 for the Indian market. The German audio products brand entered India with its Personal Audio range of products in February 2019.
The new wired earphones are being launched for a price of Rs 699 and Rs 499. The earphones are equipped with features like Call Disconnect, and a Multifunctional button which will help you to control call and music functions.
Andrzej Cebrat, Managing Director, Blaupunktsays, "In a highly competitive market as ours, the product experience is the future as compared to design In India. Blaupunkt has already achieved a benchmark asa leading player in the range of home audio products. With our century-old legacy of impeccable innovation and 20+ years of experience in India, we are certain that our audio products have raised the bar in the audio products market and we will continue to add high quality products that meet the consumer demands. I am confident; our latest additions of wired earphones EM01 and EM10will be equally praised and accepted in the market".
He further added- "With Envent as our India partner for Audio products, we believe that our earphones are a perfect companion for the millennials and Gen Z, with versatile features, advanced technology and above all available at a price range that fits every pocket."
Available at:
Amazon –EM01- https://www.amazon.in/Blaupunkt-EM01-Wired-Headset-Black/dp/B07MFKYK9M?tag=thinkdigitjung89-21
EM10-
https://www.amazon.in/Blaupunkt-EM10-Earphone-Multi-Functional-Remote/dp/B07R7T6ZLW?tag=thinkdigitjung89-21