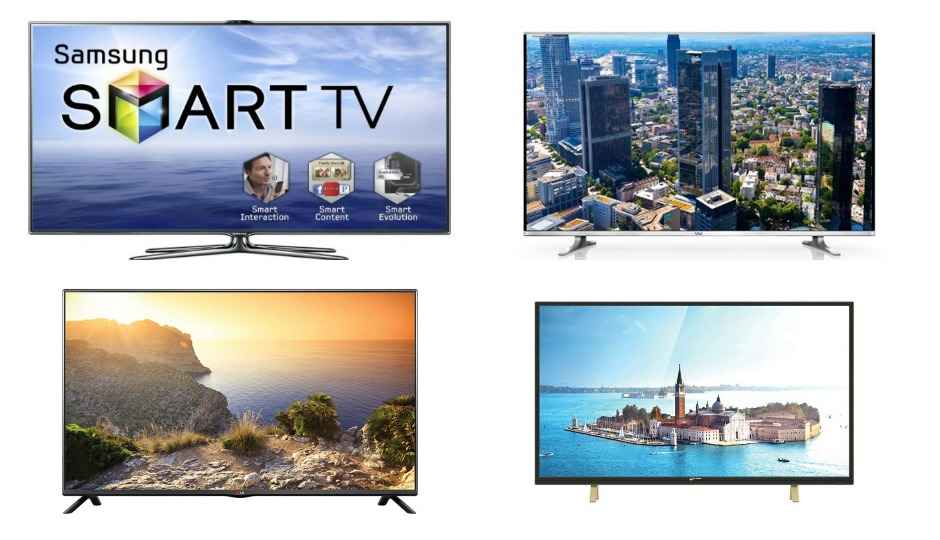 HIGHLIGHTS
It seems televisions are the only electronic product that are on substantial discounts today. Take a look at these!
It's deal time on e-commerce portals right now. The festive season is upon us and e-commerce websites are trying their best to cash in on the shopping spree that people are known to go on. Like all of you, we've also been scouring Flipkart, Amazon and Snapdeal for the past couple of days, and we've realised that TVs are the best electronic products to buy from their deals right now. So, here's a compilation of the seven best deals on televisions that we found worth looking into.
Vu 40D6575 40inch LED TV FHD
Vu has always been known for its inexpensive televisions, but the deal prices on Flipkart and Amazon makes them seem even more attractive. It's a good buy for those who need a decent TV for streaming content etc.
Price: Rs. 19,990
Available on: Flipkart
Micromax 50B6000FHD inch Full HD
We liked Micromax's FHD TV when we reviewed it, and it's a good buy for anyone who has a collection of quality content.
Price: Rs. 33,488 and Rs. 34,990
Vu 55K160GAU FHD LED TV
If it's a big screen you want, the 55 inch TV from Vu may be worth considering.
Price: Rs. 44,990
Available on: Flipkart
Samsung 50J5570 50 inch LED FHD Smart TV
When brand matters, you have to pay a little more. That said, this Samsung television would cost you much more without the deal price.
Price: Rs. 71,942
Available on: Flipkart
LG 49LF540A LED TV FHD
The same can be said about this LG television, which is good for anyone looking for a quality TV at a comparitively lower price.
Price: Rs. 52,990
Available on: Flipkart
LG 43LF540A LED FHD
Continuing with LG, this 43 inch FHD TV edged out another from Panasonic on our list. It's a good choice for watching regular television, gaming and streaming.
Price: Rs. 35,990
Available on: Flipkart and Amazon
LG 40UF670T LED UHD
If you need higher resolutions, this UHD TV from LG can play 4K content at 50Hz, making it a better, albeit pricier, choice than Micromax's UHD TV.
Price: Rs. 50,990
Available on: Flipkart