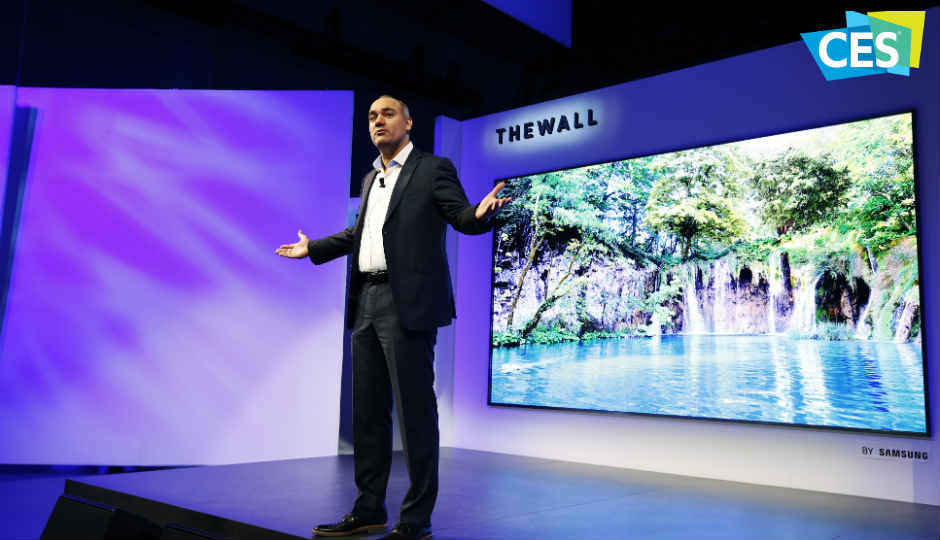 HIGHLIGHTS
Samsung is all set to rival LG's 88-inch 8K OLED TVs with its easel-shaped offering at CES 2018. It has also announced a gigantic 146-inch modular MicroLED television that can transform into any size as per a customer's preference.
It's a fight for the biggest, most outrageous televisions at the ongoing Consumer Electronic Show 2018. The world's largest tech event is seeing some world firsts being introduced by the most important tech companies in the world. The announcement spree has already started and in focus today is Samsung, which just announced a mammoth 146-inch modular MicroLED television called 'The Wall'. The South Korean company also unveiled an easel-shaped 85-inch 8K television with AI smarts.
Let's start off by telling you about 'The Wall'. Samsung's latest TV offering, 'The Wall', uses micrometer (µm) scale LEDs that serve as their own light source so no backlighting is required. mLED displays are expected to offer better contrast, energy efficiency and faster response times. The 'Wall' offers 4K resolution with a bezel-less experience. Samsung calls the design 'module-based' and says that it will allow consumers to "customize their television sizes and shapes to suit their needs."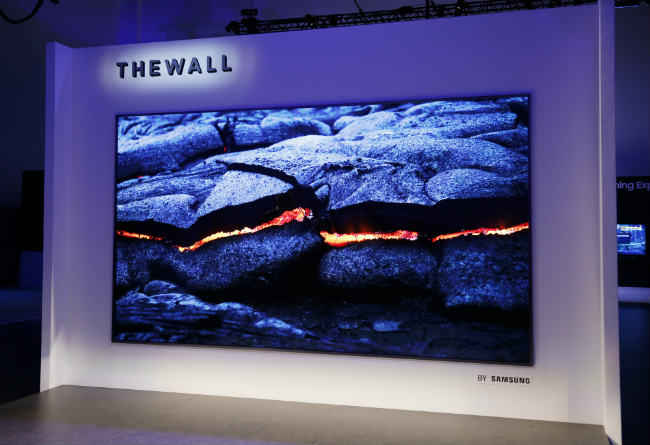 Samsung 'The Wall'
"At Samsung, we are dedicated to providing consumers with a wide range of cutting-edge screen experiences," said Jonghee Han, President of Visual Display Business at Samsung Electronics. "As the world's first consumer modular MicroLED television, 'The Wall' represents another breakthrough. It can transform into any size, and delivers incredible brightness, color gamut, color volume and black levels. We're excited about this next step along our roadmap to the future of screen technology, and the remarkable viewing experience it offers to consumers."
Although Samsung's Wall TV can transform into any size, the company has not revealed how the TV will do so exactly. One can expect Samsung to share all the details about The Wall at its Press Conference slated for tomorrow at 3:30AM IST.
Besides 'The Wall', Samsung also announced an 85-inch 8K QLED TV called the 'Q9S'. This could be seen as a rival to LG's 88-inch 8K OLED TV, also announced at CES 2018. The Samsung Q9S is shaped like an easel. One should note, though, that there is no 8K content available as of now, hence Samsung claims that the Q9S uses a proprietary algorithm to upscale any content being viewed on the television to 8K.
"The Q9S incorporates AI technology to deliver clear and pristine 8K resolution for any type of content. Using a proprietary algorithm, the Q9S continuously learns from itself to intelligently upscale the resolution of the content it shows — no matter the source of that content — to gorgeous 8K," the company said in a press release.
Samsung's 2018 range of smart TVs including The Wall and the Q9S will house the company's voice-activated assistant Bixby. The TVs will also include Samsung SmartThings for sharing and IoT connectivity options as well as a new feature called Universal Guide, an advanced program guide which automatically recommends TV programs and content according to a user's preferences.
The prices and release dates of the Samsung's 2018 TV range is not known yet.
Catch The Latest From CES 2018 Here