The Korean electronics giant, Samsung has unveiled some juicy details about its TV lineup. The F8000 will be the world's first Smart LED TV that boasts of a quad-core processor. The TV lets users seamlessly switch between Air TV, apps and online services up to three times faster. Samsung says that the TV will have "more vibrant and richer colours, higher contrasts and a brighter picture quality than ever before."
The F8000 will be available in four different sizes -- 46-inch, 55-inch, 60-inch, 65-inch, and 75-inch. The TV's will be available as early as March and the pricing details are yet to be announced.
Samsung is also bringing voice control to their TV's with Samsung's S-Recommendation. Users will be able to talk to their TV - ask if there is anything good on and it will reply. The reason the TV is being called smart is because it can suggest relevant programmes based on your viewing habits.
The S-Recommendation feature is a part of the all-new Samsung SmartHub. The SmartHub gives users access to easily switch between on-air TV, stored photos, music and video, apps and social media.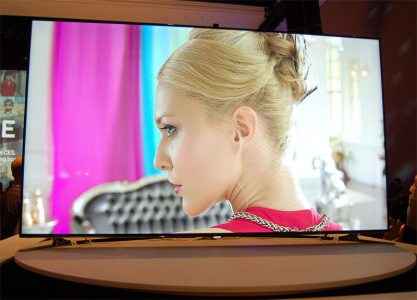 Samsung-UN55F8000
The Korean giant also announced a new feature for Smart TVs - 'T-Commerce' function. This feature basically allows users to turn their favourite TV shows into shopping sessions. If you like the clothes or accessories worn by your favourite protagonist in a TV show, you can pick it up for yourself in a jiffy.
Samsung also unveiled the S9000 4K TV at CES 2013. The TV is a whopping 85-inches in size, which makes sense, since the true beauty of the 4K resolution can be felt on a display larger than 80-inches. The TV has a built in 120W speaker system and has a very unique design. It looks like a glass frame suspended in a bezel and surprisingly, the design looks very appealing.
Not only does the TV offer 2D to 3D conversion but it also offers HD to UHD up scaling as well. The S9000 also offers the same Smart TV functionality as the F8000. Under the hood, the beast is powered by an A15 quad-core 1.35GHz processor.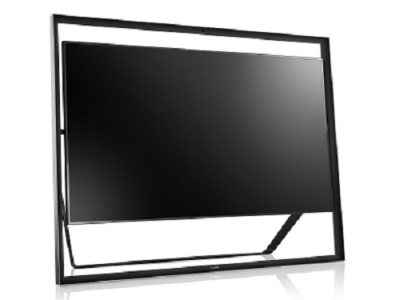 SamsungS9000