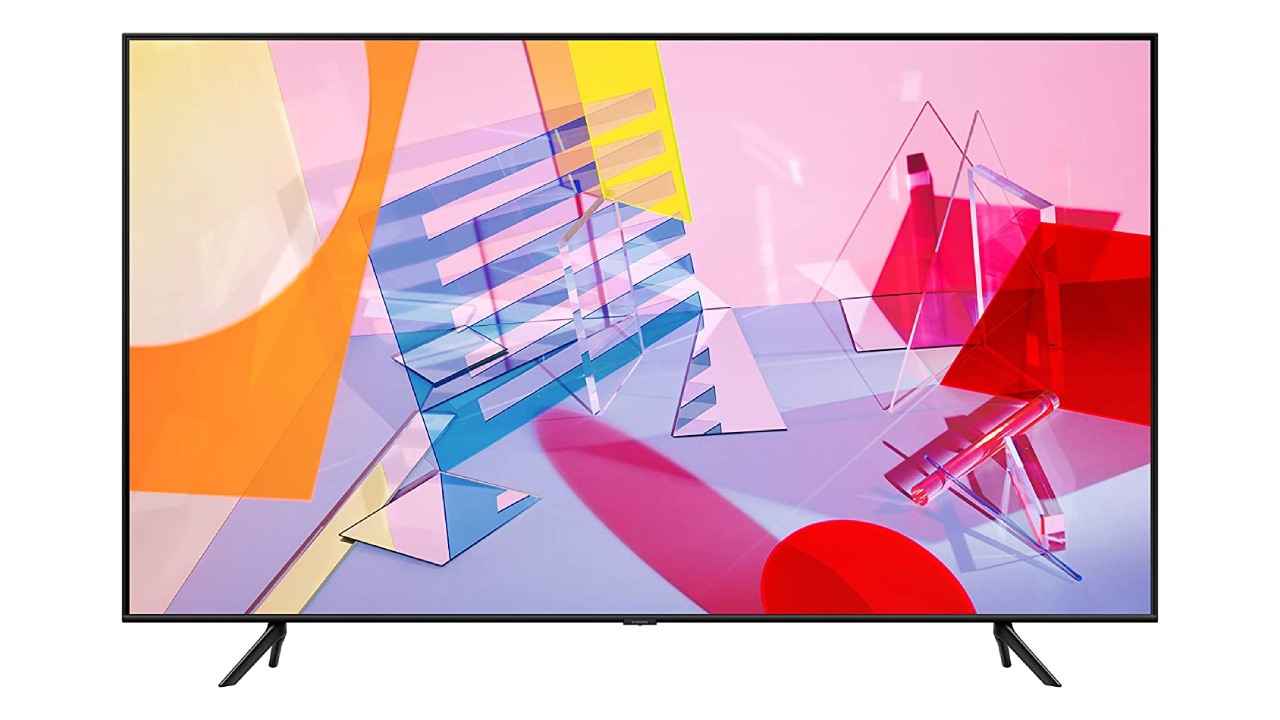 Many content services and apps now have sufficient HDR content that can preserve more details in bright and dark areas of a scene for a lifelike experience. In the mid-range segment, QLED TVs are your best bet for a high-quality HDR experience. These TVs employ a Quantum dot film to improve the quality of LCD backlight, resulting in better dynamic range and support for broader colour space. If you want to buy a 55-inch QLED TV but don't know which one to settle on, this list will easily help you pick one. Read on to know more about some of the best 55-inch QLED TVs with HDR support that can be purchased from Amazon!
Samsung QA55Q60TAKXXL
Samsung QA55Q60TAKXXL is a 55 inch QLED TV with a resolution of 3840 x 2160 pixels (Ultra HD) and a refresh rate of 60 Hertz. This 4K TV from Samsung is equipped with 3 HDMI ports to connect your set-top box, media players, PC and gaming consoles, and it also has 2 USB ports so you can hook up any USB device of your choice. Its 20-watt speakers combined with Dolby Digital Plus technology results in sound performance that's second to none. The dual-LED backlighting technology, along with Quantum HDR and Quantum Dot technology, results in great visuals. Its 3-side boundless design, when combined with ambient mode, helps the TV to blend into your decor elegantly. Operating the TV is a piece of cake thanks to integration with multiple voice assistants like Bixby, Alexa and Google Assistant.
TCL 55C815
TCL 55C815 is a smart QLED TV with a screen size of 55-inches, a refresh rate of 60 Hertz and a resolution of 3840 x 2160 pixels. This smart TV is powered by the latest version of Android TV (Android Pie) and has 2GB RAM and 16 ROM for all your memory needs. When it comes to sound, TCL has made sure to leave no stones unturned by adding a 20-watt soundbar to its already powerful 30-watt speaker setup, while technologies like Dolby Atmos and DTS help in keeping the sound crisp and clear even at high volume. It supports HDR10 and Dolby Vision HDR formats. This Android TV from TCL has three HDMI ports and two USB ports to help you connect all your drives and devices without any issue. You can download and run thousands of apps and games on this TV, and all credit goes to the latest Android TV OS.
TCL 55C715
Another TCL TV made it to this list – the TCL 55C715 – which supports Dolby Vision, HDR10+, and HDR10 formats. This 55-inch smart TV runs on the latest Android OS, i.e., Android Pie and has a resolution of 3840 x 2160 pixels resulting in crisp and clear picture quality. TCL has equipped it with three HDMI to help you hook up any multimedia device of your choice and two USB ports to connect external hard drives and other USB devices. It has a sound output of 30-watts (dual 15-watt speakers) which supports Dolby Atmos audio as well as DTS audio to make sure your listening experience is immersive. Android operating system and 2GB RAM + 16 ROM combo gives you access to thousands of apps and games. You don't even need a remote to operate this TV as you can operate it via your voice using google assistant from afar or through your smartphone thanks to Magic Connect.
iFFALCON 55H71
iFFALCON is another brand that has a reputation for manufacturing good quality TVs. The iFFALCON 55H71 is a 4K Ultra HD (3840 x 2160 pixels) TV with a screen size of 55 inches and a refresh rate of 60 Hertz. This TV runs on the Android TV (Android Pie) OS and packs 2GB RAM and 16GB ROM to help you download and install numerous apps and games on your smart TV. iFFALCON has used a QLED panel with IPQ Engine combined with HDR 10+ and Dolby Vision support for quality visuals and true to life picture quality. While on the audio side, iFFALCON has dual 15-watt speakers with Dolby Atmos audio and DTS audio processing support. The TV has three HDMI ports and two USB ports to help you connect a number of peripherals.