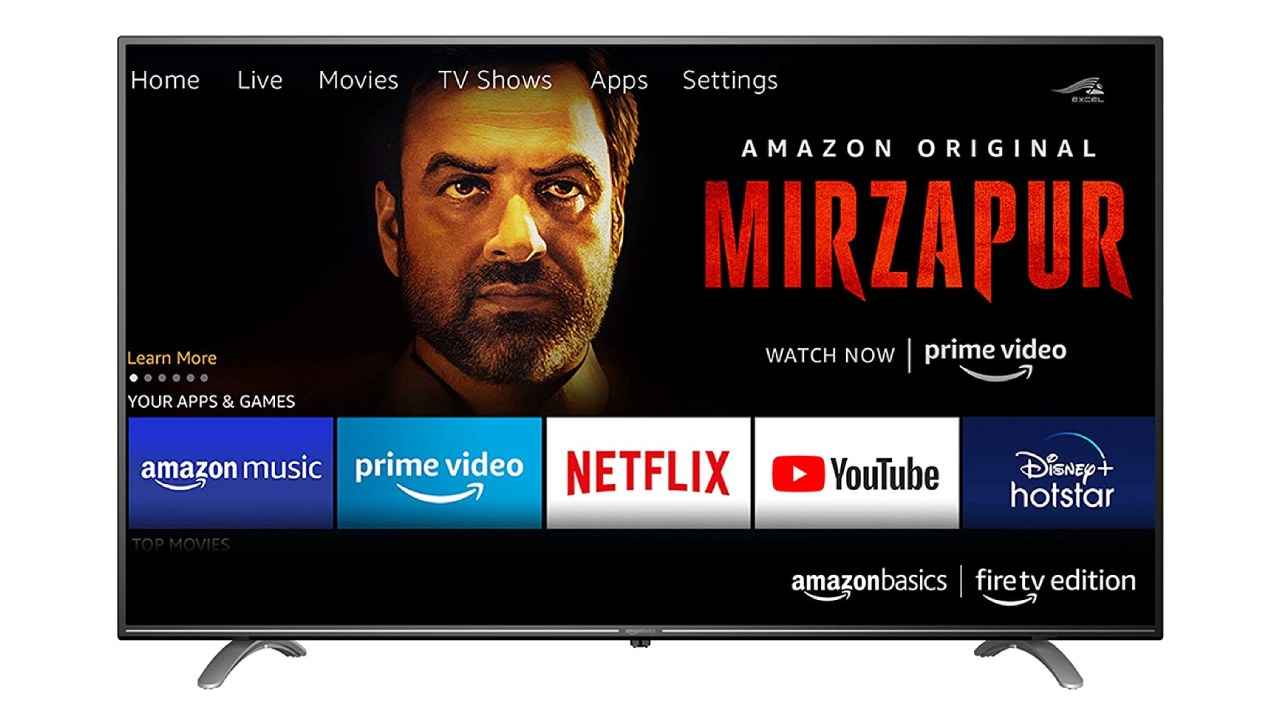 A TV needs to fulfil multiple roles in every house today. In addition to showing your favourite live TV channels, it must have certain features like streaming apps, ample connectivity and more. However, it also needs to match your room just right. If you're looking for a TV to put in a small room, what you need is a good 43-inch model. The one you pick should be packed with the latest features and promising specification. Here are some models available on Amazon that meet both of those requirements.
LG 108 cm (43 inches) 4K Ultra HD Smart LED TV
If wireless connectivity is a priority for you, then the LG TV is a good choice to go with. It supports Apple's Airplay 2 standard for seamless connectivity with Apple devices. Two way Bluetooth connectivity also allows you to use Bluetooth audio devices with the LG TV. It also packs a wide range of smart features, such as Google Assistant and Alexa built-in for easy voice commands. The model can be used as a dashboard for your smart home with the Home Dashboard feature. Its visual prowess is powered by a fast Quad-Core processor that ensures noise-free crystal clear entertainment for you.
Kodak 108 cm (43 Inches) 4K Ultra HD Certified Android LED TV
The Kodak TV's performance is powered by the Amlogic chipset that features a Quad-Core Processor and a capable GPU. This is complemented by 1GB of RAM and 8GB of storage space on the TV. The display on the TV aims to be 30% brighter than the competition, making your favourite visuals pop off the screen. Its 178 degrees wide viewing angle can ensure that everyone in the room has an equally good view of the TV. The audio on the TV is powered by 24W speakers that deliver an impactful sound experience. Android 9.0 with Google Assistant rounds up the package with smart features.
AmazonBasics 109cm (43 inches) Fire TV Edition 4K Ultra HD Smart LED TV
The 4K Ultra HD display of the AmazonBasics TV supports a refresh rate of 60Hz, delivering smooth and seamless visuals with supported content. Using an IR emitter cable, the model integrates your DTH Set-Top Box content with your favourite OTT app content. This allows you to switch between the two without changing the input source. The TV runs on the Fire TV OS platform with inbuilt Alexa, bringing a wide library of apps and voice commands at your disposal. It features multiple visual standards such as Dolby Vision and HDR10+HLG to ensure great visuals. Additionally, advanced image processing technologies like Anti-aliasing, Dynamic contrast, backlight and MPEG noise reduction further enhance your experience.
Hisense 108 cm (43 inches) 4K Ultra HD Smart Certified Android LED TV
The Hisense TV uses an Ultra Vivid Display backed by Ultra Dimming technology, making it capable of delivering great contrast performance with deeper blacks, brighter whites and vibrant colours. This is further enhanced by the Dolby Vision HDR support on the TV. Additionally, Dolby Atmos support makes this a well-rounded experience. Its superior audio-visual performance is well complemented by the bezel-less design, which makes a high degree of immersion possible on the Hisense TV. To ensure consistent visual quality in all your content, the TV comes with a UHD AI upscaler. For the gamers looking for a lag-free experience, Hisense offers the Game Mode on this TV.
TCL 108 cm (43 inches) 4K Ultra HD Certified Android Smart LED TV
The Dynamic colour enhancement on the TCL TV can make every scene vibrant and vivid regardless of the source. Its micro dimming technology allows finer control over the contrast, particularly for low-light scenes. The model also comes with 4K upscaling for your low-resolution content. With a combination of 2GB RAM and 16GB of storage, you can forget the chance of any memory issues with this one. Support for Google Assistant makes voice-based commands a reality. The TV also supports Dolby Audio for immersive entertainment. The TCL AI-IN platform offers a wide range of smart features like universal search, smart on-off controls and more.
Shinco 109 cm (43 inches) 4K Ultra HD Smart LED TV
If you want to bring the theatre experience home, the Shinco LED TV's Cinema Picture Mode offers you a way to do that. This feature enhances the picture quality and colour reproduction for a theatre-like feel in your living room. It also puts a high priority on delivering good audio for you with its dbx-tv technology. It optimises the sound output to fill the room and automatically adjusts the volume during loud commercials. With the Quantum Luminit Display Technology, the Shinco TV aims for visuals rich in colour and detail. This is further upgraded by support for HDR10 on the TV.