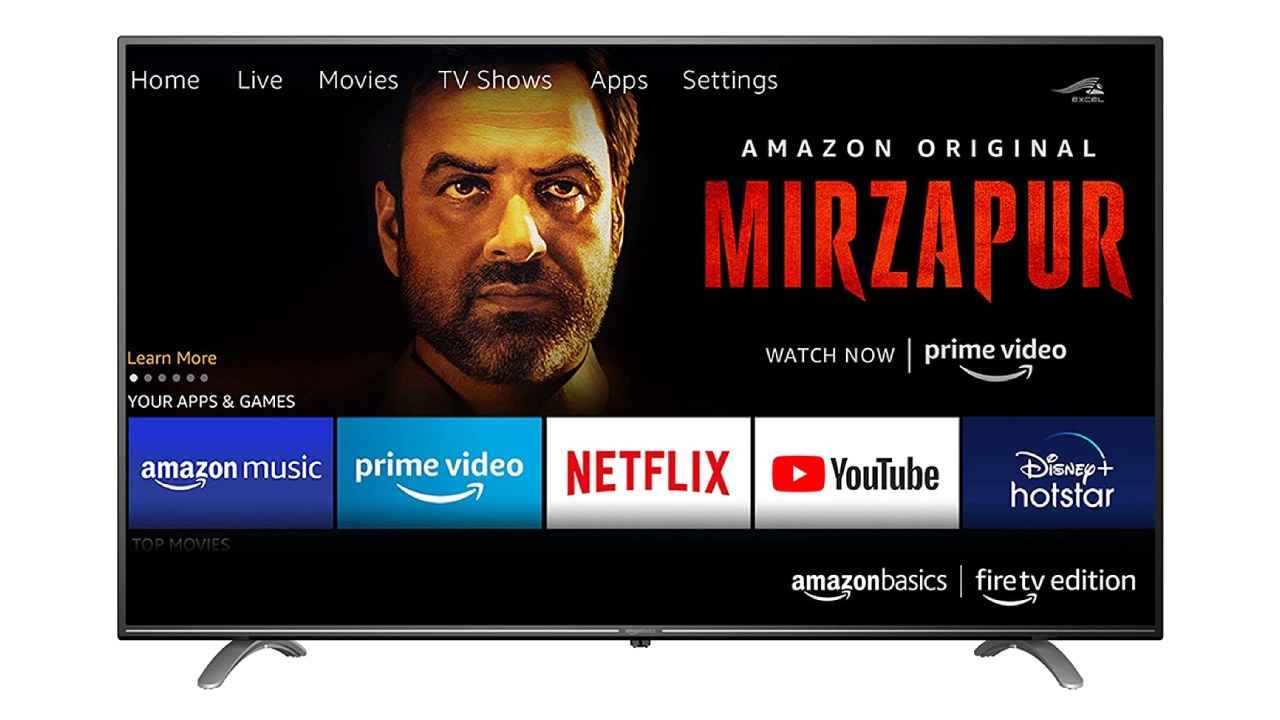 The right TV for your home depends greatly on which room you need to place it in. Too big, and it looks out of place. Too small, and you can't enjoy the content properly. For a medium-sized room in your home, you shouldn't go for anything smaller than 43 inches for a good experience. Additionally, you also need to make sure that the TV you pick comes with the best resolution and is well-rounded in its features. To help you pick out a TV for your medium-sized room, we've shortlisted some models available on Amazon that promise a great combination of features and specifications.
TCL 108 cm (43 inches) 4K Ultra HD Certified Android Smart LED TV
To ensure consistent 4K picture quality for multiple sources, the TCL TV comes with 4K Upscaling technology that delivers great detail for all your content. Additionally, Dynamic Colour Enhancement also improves the colour reproduction on the screen. It also packs Micro dimming technology, allowing finer control over the LEDs for deeper blacks and brighter whites. The TV comes with 2GB of RAM and 16GB storage space, which ensures smooth video playback in all situations. Support for Google Assistant makes it easy for you to control your TV with your voice. The slim design of the TV makes it an aesthetic addition to every room.
Mi 4A PRO 108 cm (43 Inches) Full HD Android LED TV
The Mi 4A PRO TV comes with the Patchwall 3.0 content experience. It integrates with multiple OTT services to deliver a single interface for all your favourite content, as long as you have the relevant subscriptions and are able to log in on the TV. The Vivid Picture Engine on the TV works with its HDR support to reproduce exceptional colours, significant depth, and deeper contrasts. If you're looking to share a lot of content from your phone to your TV screen, built-in Chromecast support makes that easy. The combination of 20W speakers with DTS-HD promises an impactful audio experience to complement your favourite content.
AmazonBasics 109cm (43 inches) Fire TV Edition 4K Ultra HD Smart LED TV
The AmazonBasics TV takes its smart features to the next level with its Fire TV Edition. The model supports features like Display Mirroring for easy content sharing. It also allows parental controls and data monitoring for greater insights into the TV viewing patterns in your house. Deeper integration with Alexa makes voice commands seamless in addition to the Fire TV remote for easier controls. For high-quality visuals, features like Anti-aliasing, Dynamic contrast, backlight and MPEG noise reduction are present on the TV. The DTH Set Top Box content integration allows you to switch between OTT apps and DTH channels from the same interface.
OnePlus 108 cm (43 inches) Y Series Full HD LED Smart Android TV
Featuring a colour range of DCI-P3 93%, the OnePlus TV aims for authentic colour reproduction. The Gamma Engine in the TV improves the quality of videos in real-time, powered by features like Noise Reduction, Colour Space Mapping, Dynamic Contrast and Anti-Aliasing. Its design features a high screen to body ratio of 88%, making it capable of delivering an immersive viewing experience. Using the OnePlus Connect app, you can make the most of features like Type Sync and Quick App Switch for convenient usage. The OxygenPlay platform integrates a wide library of content from multiple providers and allows you to set reminders for shows you don't want to miss.
LG 108 cm (43 inches) 4K Ultra HD Smart LED TV
With the ThinQ AI platform supported on the LG TV, you get access to leading smart assistants like Google Assistant and Alexa without requiring any external devices. In addition to this, its Home Dashboard feature allows you to use the TV as a single control hub for your smart home with compatible devices. Its visuals are powered by a Quad-Core Processor that aims for a smooth user experience every time. This is complemented by the DTS: Virtual X technology designed to deliver accurate and immersive audio. Its wide viewing angle ensures greater visibility from any point in your room.
Sanyo 108 cm (43 inches) Kaizen Series Full HD Certified Android LED TV
The Sanyo TV supports micro dimming by analysing content in 512 separate zones to adjust the brightness and darkness. This helps it give you great contrast, especially in darker visuals. With three dedicated HDMI ports, two USB ports, a headphone out as well as support for Bluetooth connectivity, the Sanyo TV provides you with many ways to connect other devices to itself. The Audio Link technology allows you to use your TV's speakers to play music from your phone without needing the TV screen to be turned on. It also features the Dot Noise Reduction technology which removes grains from your visuals for a smooth experience.