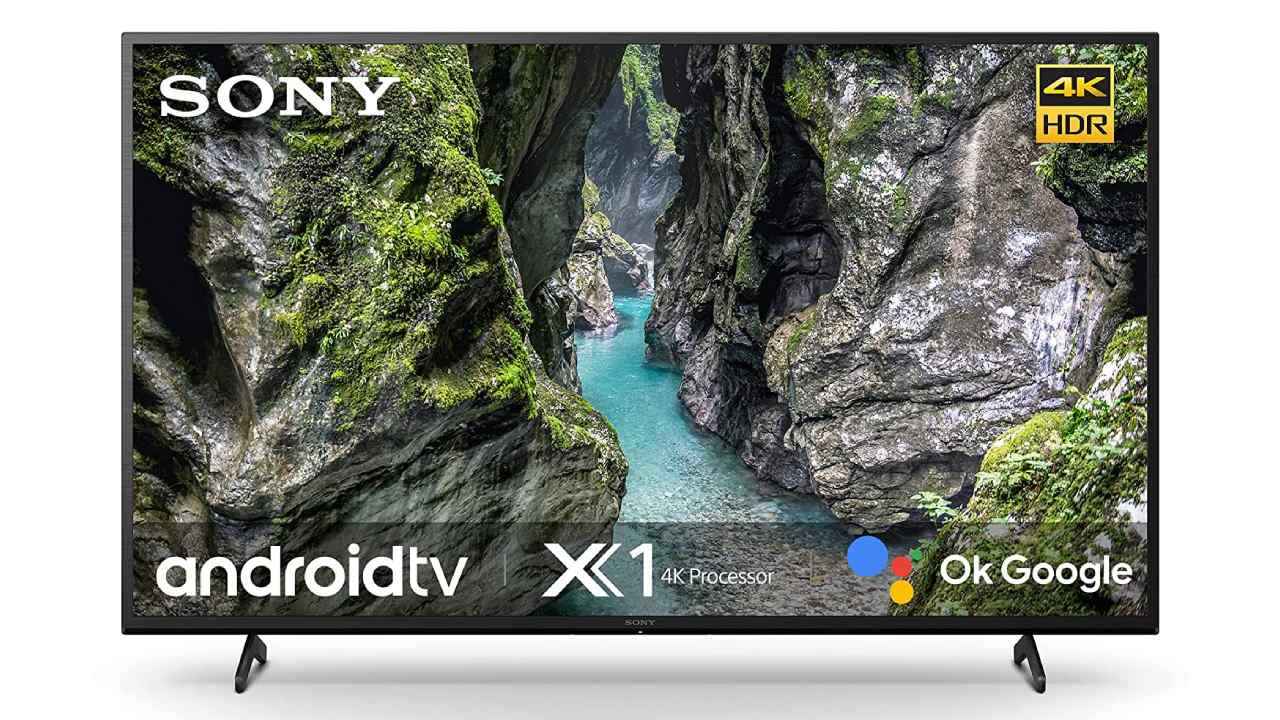 Smart features are a must-have for any TV today, so much so that there are devices to add smart features to non-smart models. In the world of smart TVs, the platform you choose can affect your entertainment experience quite a bit. However, going for an Android-based platform is always a good option due to the benefits it brings. You get easy connectivity with other Android devices. Most Android TVs also feature Google Play Store allowing you to download and install a wide range of TV apps as per your needs. To help you pick one, we've curated some of the best 50-inch Android 4K TVs available on Amazon. These options offer the right combination of specifications and features for your viewing needs.
Sony Bravia 126 cm (50 inches) 4K Ultra HD Smart Android LED TV 50X75
The 4K Processor X1 on the Sony Bravia TV aims to cut noise and boost detail for your visuals. Its 4K X-Reality Pro upscaling technology brings your 2K and FHD content to 4K resolution. With the MotionFlow technology, any high-octane action sequence will be extra smooth without missing a single frame. The Clear Phase audio technology samples the TV's speaker output and generates natural audio with even reproduction across frequencies. Compatibility with Google Assistant and Amazon's Alexa adds smart capabilities and voice commands to the TV. Built with the X-Protection Pro tech, this TV features superior dust and humidity protection in addition to safety against power surges.
TCL 126 cm (50 inches) 4K Ultra HD Certified Android Smart LED TV 50P615
The combination of the TCL TV's 4K resolution and HDR support results in a highly immersive entertainment experience with compatible content. Its Rich Colour Expansion feature enhances the colour vibrancy for a more diverse palette. With the Micro Dimming feature, the TCL TV analyses content in more than a thousand zones to fine tune brightness for better low light visuals. The TCL AI-IN platform adds voice command functionality for simple TV operations as well as queries and smart home control. Support for Dolby Audio improves sound clarity and dialogue detail for compatible content. With Google Play Store, you get access to a great variety of apps for your TV.
Kodak 126 cm (50 Inches) 4K Ultra HD Certified Android LED TV 50UHDX7XPRO
The Kodak TV packs powerful internals to keep your TV lag-free and smooth in its operations. It supports Dual Band Wi-Fi connectivity allowing you to make the most of your high speed internet connection without disrupting other devices on the network. With a 24 watt speaker setup built-in, this TV is capable of delivering impactful audio for your favourite movies and shows. Support for both Chromecast and Airplay makes it very easy to share content from Android as well as iOS devices. The built-in Google Assistant feature is complemented by dedicated hotkeys on the remote to activate voice commands.
Redmi 126 cm (50 inches) 4K Ultra HD Android Smart LED TV X50|L50M6-RA
With the MEMC Reality Flow feature, the Redmi TV delivers a blur-free visual experience for sports and fast paced action scenes. The combination of HDR10+ and HLG enhances colour reproduction and generates high quality visuals. With the Vivid Picture Engine and a Wide Colour Gamut, the Redmi TV also optimises the contrast and vibrancy of your favourite movies and shows. Its 30W speaker setup packs a punch on every type of content. This is further enhanced by support for Dolby Audio and DTS Virtual X technology. Its Patchwall content system enables useful features like Universal Search, Kids Mode and more.