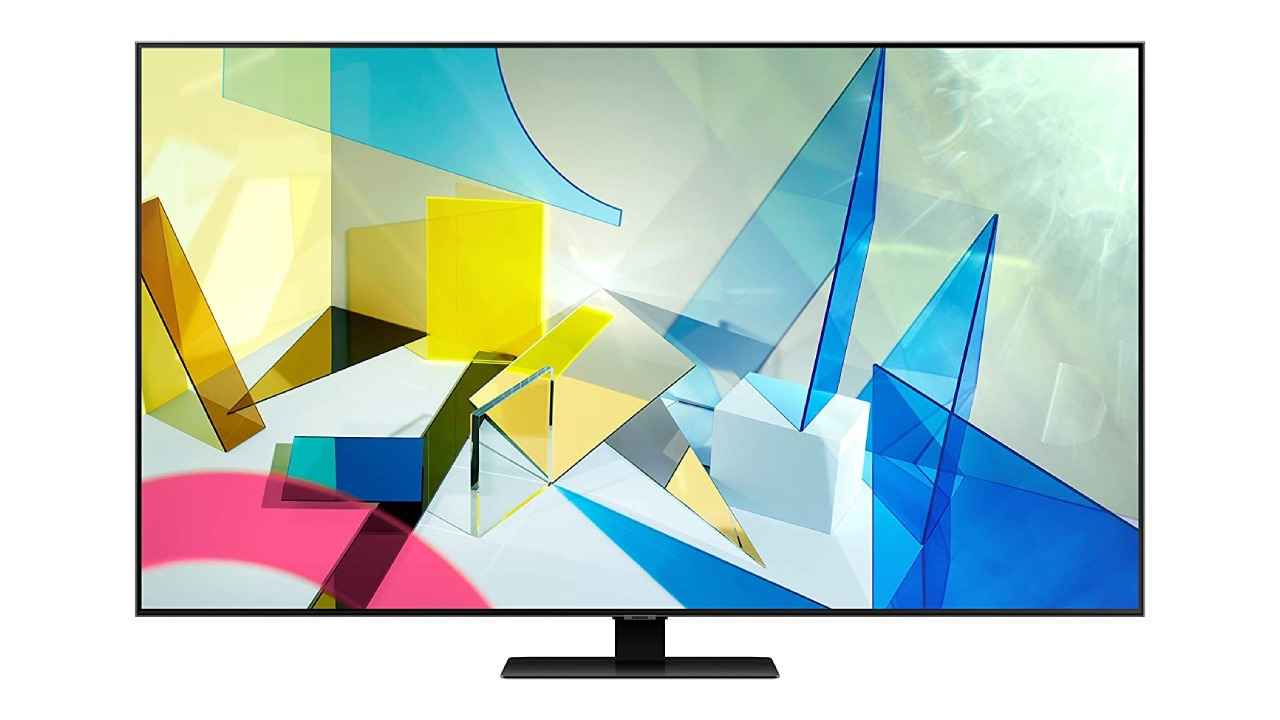 When in the market for a new TV, sure the screen resolution and the image quality should be the key deciding factors, but another factor which can shift a buyer's decision of the TV is the sound. If you're investing a lot into a TV, the sound needs to be good enough to match the price. No matter what you do on a TV – watch movies, use it as a PC, play games on it or anything else, the sound needs to be dynamic, rich, and loud without losing clarity. Even more so in a 4K HDR TV because with great visuals should come great sound to match with it. So, here are some of the top 4K HDR TVs that deliver powerful audio, which you can get from Amazon.
Samsung 138 cm (55 inches) 4K Ultra HD Smart QLED TV QA55Q80TAKXXL
A 55-inch TV is pretty much ideal for a medium-sized room. It is large enough to be visible from all angles and ensures that people can see the content on the screen without putting in much effort. Along with a 4K resolution, the TV can present vibrant images with rich colours and details. This TV, in particular, boasts impressive sound quality – a must-have for a TV that has a fantastic display. The TV has different sound modes that you may choose depending on the content – music, movies or games. The speakers on this are powerful with their 60-Watt Output and support for Dolby Digital Plus.
TCL 138.8 cm (55 inches) 4K Ultra HD Certified Android Smart QLED TV 55C815
Here's a 4K TV from TCL, which doesn't just stop at giving you great visual performance – it also backs it up with impressive sound. This is achieved with the help of the inbuilt 2.1 channel Onkyo soundbar with Dolby Atmos support for directional audio. The 4K display lets you enjoy movies and games in high resolution, while the audio lends a new layer of depth to the content. Incidentally, the TV comes with Android OS, meaning you can download several apps and control the TV using voice commands.
Sony Bravia 138 cm (55 inches) 4K Ultra HD Certified Android Smart OLED TV KD-55A8G
Sony's Bravia TVs are well known for giving users impressive visual experiences. This TV is no different – as it features a 4K resolution – excellent for true to life visuals, along with an OLED panel, which lends impressive colour richness. The high contrast and vivid colours make the experience very enjoyable. The sound system on this TV doesn't lack in any respect either as it supports powerful 40-watt speakers and Acoustic Surface Audio technology which makes the sound seem to emit from the entire TV screen itself, rather than just the bottom or the back of the TV.
Vu 164cm (65inches) Cinema TV Action Series 4K Ultra HD LED Smart Android TV 65LX
This Vu TV provides an amazing assortment of features for its price. It comes with a 4K resolution and support for HDR formats like Dolby Vision and HDR10. The large 65-inch display further ensures an immersive experience. The screen size is big enough to fit even in larger rooms and ensures that everyone can see content on the screen from every corner of the room. As for the display panel, the TV is fitted with an LED panel, making for vibrant and accurate colours. The speaker system on the TV is quite impressive as well, as it packs in a 100-watt soundbar, which delivers loud and clear audio.