Reliance Jio, for long, has been rumoured to be working hard to commercially roll out its broadband services and a source close to the development now tells Digit.in that the company has set a December 2018 target for making its broadband services live across India. Jio is aiming to deliver up to 1000 Mbps speeds with a guarantee that it will not drop below 40Mbps speeds even when operating at full capacity and customers will need to pay a deposit of Rs 4,500 to avail the services. The JioFiber services will initially be rolled out to top twenty cities across India including, Mumbai, Delhi, Kochi, Bhopal, Chandigarh and others, followed by a broader rollout as the company wants to establish a wide user-base in Tier-I and Tier-II cities first.
An Optical Network Termination (ONT) box will be installed at a user's home, which will be Jio's router being sourced from a telecommunications equipment company called Fiber Home. The device will be a smart networking equipment that can also handle Internet Protocol Television (IPTV) services. This means that Jio is not only looking to take on broadband players but also satellite cable providers like Tata Sky, Videocon D2H, Dish TV and others by offering all-in-one bundled services. More details of this will be announced by the company in coming months. We have also obtained a speed test result of the JioFiber service where the company's own server is being used and both the upload and download speeds near 100Mbps. The test was said to be carried with no load on the network and on the main server and not on the ONT box, but as said earlier, the network is said to handle multiple simultaneous downloads and still provide speeds of up to 40Mbps to each user.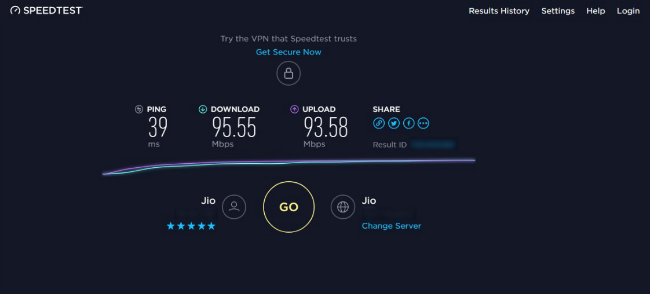 It should be noted that unlike traditional ethernet cables, Reliance Jio's entire network will be fiber based. A fiber line will be connected to the ONT box at the user's home and the box will also have an optical fiber-out port for connecting to a television or any other devices for high-speed data consumption like 4K video playback or online gaming. Below are some exclusive images obtained by Digit.in of the JioRouter. It can be seen that there are four LAN ports on the box but there are also models with 2, 6 and 8 fibre-out ports.
Another new addition will be a gaming platform or play along service for users, which is internally called "Network player interactive gaming platform." It will allow them to participate in real-time in quizzes and games that will be side-streamed along the content. It will be similar to the 'Jio Play Along' contest, which is currently underway on the MyJio app, and the 'Jio Kaun Banega Crorepati Play Along game'. Reliance Jio's recent partnership with Screenz is for implementing the feature on a wider scale with the ability to participate with other users and for the purpose of creating a larger platform for entertainment-based gamification in the country.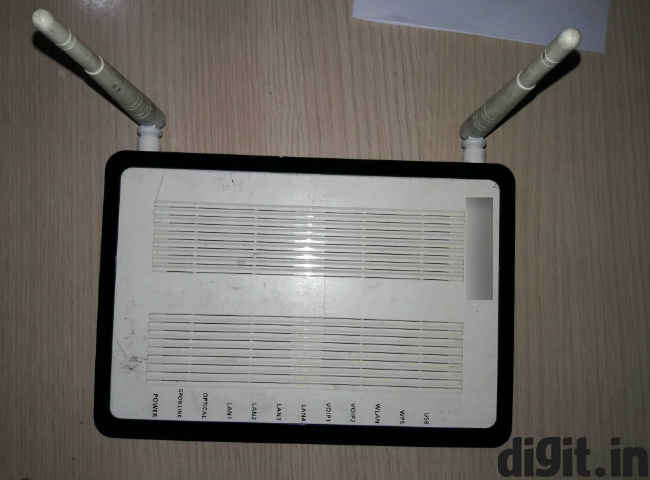 Additionally, JioFiber subscribers will also get to avail internet speeds of 1Gbps if they opt-in for special plans. We do not have precise information as to how much the JioFiber broadband plans will be priced at, but all the plans are said to be unlimited, similar to the company's current mobile plans. Stay tuned on Digit.in for more updates.