Want to modernise your banking loan application?
Build an application that analyses credit risk with #IBMCloud Pak for Data on #RedHat #OpenShift
Click here to know more
Advertisements
As was expected, the three top telcos, Airtel, Vodafone-Idea and Reliance Jio, have announced their new increased tariff plans. While the new plan pricing from Airtel and Vodafone-Idea will come into effect from 12AM on December 3, Reliance Jio has only announced that it will increase the prices of its All-In-One plans tariff from December 6. The revised hiked pricing ranges between 10 and 45 percent, and it is worth noting that only select prepaid plans, vouchers, sachet recharges and first recharge options are getting more expensive. Here are the complete details.
Revised Airtel prepaid recharge plans
Airtel is increasing the tariff on its Rs 35 and Rs 65 prepaid recharge plans by 50 paise per day, which means one now needs to shell out Rs 49 and Rs 79 respectively. Both recharge options have a 28-day validity but the benefits are also increased. The Rs 35 pack, which is now priced at Rs 49, offers talk time of Rs 38.52 with 100MB data instead of Rs 26.99 talk time. However, the new Rs 79 plan has a talk time of Rs 63.95 instead of Rs 130 talk time.
The Rs 129 prepaid plan that offers Rs 130 talk time and 2GB data for 28 days will now cost Rs 148 and comes with the exact same benefits. The plan still retains Airtel Thanks benefits like free access to Airtel Xstream, Wynk and Hello Tunes. The prices of Rs 169 and Rs 199 plans are being merged and the new plan replacing them is priced at Rs 248. With a 28 day validity, the prepaid pack offers unlimited calling 1.5GB data per day, along with 100 daily SMS. The Rs 249 plan is now priced at Rs 298 and it comes with a 28-day validity, along with unlimited calls, 2GB daily data and 100SMS per day.

Airtel's Rs 448 and Rs 499 plans are now priced at Rs 598 and Rs 698 respectively. The two plans offer unlimited calls, 100SMS per day, 1.5GB and 2GB data respectively. The telco is also increasing the validity of both plans by 2 days and they will now be valid for 84 days. Airtel's long-term validity plans priced at Rs 998 and Rs 1699 are also getting a price increase and will now be priced at Rs 1498 and Rs 2398 respectively. The two plans come with 365 days of validity and offer unlimited calls. With the former recharge, one gets 3600 SMS, along with 24GB data, instead of 12GB. The latter plan also offers unlimited calling, along with 100 SMS per day and 1.5GB daily data.
Revised Vodafone-Idea recharge plans
Vodafone is increasing the price of its combo vouchers, first recharge options, unlimited plans with 28, 84 and 365-day validity and one unlimited sachet. First off, the new combo vouchers are priced at Rs 49 and Rs 79 and they credit Rs 38 and Rs 64 talk time for 28 days, along with 100MB and 200MB data validity respectively.
Coming to the unlimited packs with 28 days validity, the telco has four new plans, all of which come with unlimited voice calling. The Rs 149 plan offers 2GB data with 300SMS, while the Rs 249 pack comes with 1.5GB daily data and 100 SMS per day. Plans priced at Rs 299 and Rs 399 will credit 2GB and 3GB data per day, along with 100 daily SMS. Do note that all of these plans have an FUP of 1000 minutes for off-net calls, which is consumed while calling users on other networks.
In the 84-day validity plan options, there's the Rs 379 pack, which comes with unlimited calls and 3000 minutes of off-net calls, along with 6GB data and 1000SMS. There are also plans priced at Rs 599 and Rs 699, which offer 3000 minutes of calls to other networks, 1.5GB and 2GB of daily data, along with 100SMS of SMS per day. Two plans with 365 days of validity are also available for Rs 1499 and Rs 2399, which come with 12000 off-net call minutes. The former option credits 24GB data and 3600SMS, while the latter has 1.5GB daily data wiṭh 100 SMS.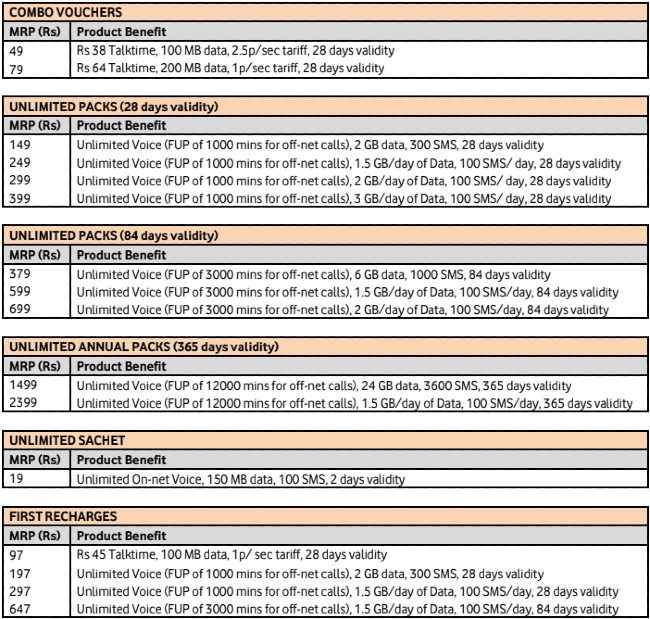 First recharge options have also changed and are now priced starting at Rs 97. The plan comes with Rs 45 talk time, 100MB data and 1p/second tariff rates for 28 days. There's are also new 28-day validity plans priced at Rs 197 and Rs 297 that offer 1000 off-net call minutes, 2GB data and 1.5GB data per day respectively. There's also a Rs 647 FRC plan that credits 3000 minutes of calling to other networks, along with 1.5GB data per day, 100 SMS and 84-day validity.