HIGHLIGHTS

The data analysis firm Tutela has released its Mobile Experience Report for the Indian region.

The report suggests Airtel performed the best in terms of speeds and latency.

Jio offered higher download throughput rates while Vodafone leads in terms of data upload rates.
Tutela recently published its Mobile Experience Report for the Indian region which features results based on mobile experience and usage. These results are said to be sourced from the company's crowdsourced mobile network testing and the data it aggregated between August and October 2019. As per the report, Airtel has taken the lead when it comes to speed and latency tests. We all know that higher data transfer speeds are always better and it seems like based on Tutela's testing, Airtel has bagged the first spot with 7.1 Mbps download speeds. Vodafone came in second with a download rate of 6.3Mbps, followed by Idea with 5.5Mbps, and Jio and BSNL with 4.9Mbps and 2.9Mbps respectively.
It is worth noting that the data analysis claims to have registered 316 billion measurements in the said time period. It touts to have 8.52 billion records for the measurements with 34.6 million speed tests and 1.47 billion response tests. Additionally, the speed test results are based upon median transfer speeds for a 2MB file download and 1MB file upload. In terms of uploads, Vodafone takes the top spot with 3.6Mbps upload speeds, followed by Idea with 3.2Mbps, Airtel with 3.3Mbps and Jio and BSNL with 3.1 and 1.7Mbps respectively.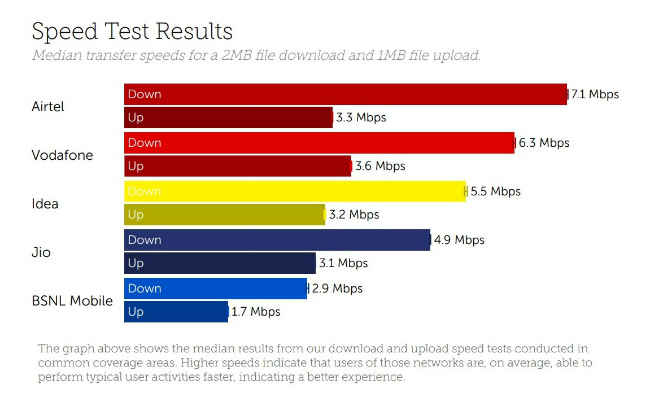 Latency is also a factor that plays a considerable role when one talks about mobile data. Ever lost a game of PUBG Mobile due to lag? If yes, then you can blame it on poor latency. Latency is a measure of delay before data packets are sent across a network and as you must've guessed, the lower this value, the better. In terms of latency, Airtel, again, tops the charts with 26.2 milliseconds of latency, while Jio is second with 27.6ms. Vodafone and Idea take the next two spots with 27.9 and 31.6 ms, while BSNL stands last with 45ms of latency.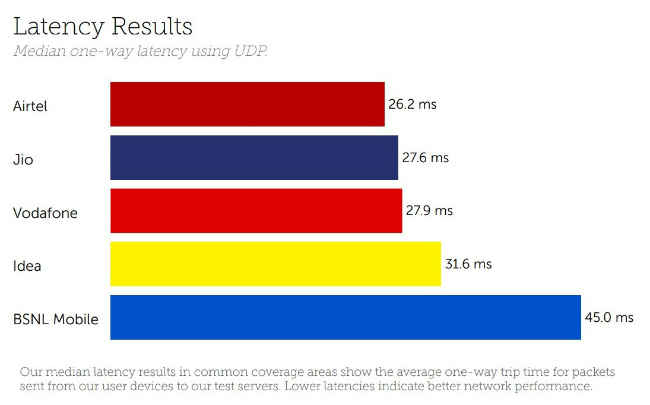 The chart shown below represents the "Core Consistent Quality Error Breakdown," which represents why a network test fails Tutlela's Consistent Quality thresholds. All the parameters mentioned here are important to deliver a good experience to users. As seen below, Airtel has a Core Consistent Quality of 89.8 percent, which means 10.2 percent of tests for Airtel failed one of the Consistent Quality thresholds. Of that 10.2 percent, 74.3 percent failed due to download, 17.4 percent due to upload, and so on. Reliance Jio has a Core Consistent Quality of 82.4 percent, which means it failed 17.6‬ percent tests of which 84.6 percent was due to download, 14.6 because of upload and so on. Similarly, Idea and Vodafone have a Core Consistent Quality of 83.8 and 82.4 percent. BSNL has the lowest Core Consistent Quality of 75.3 percent.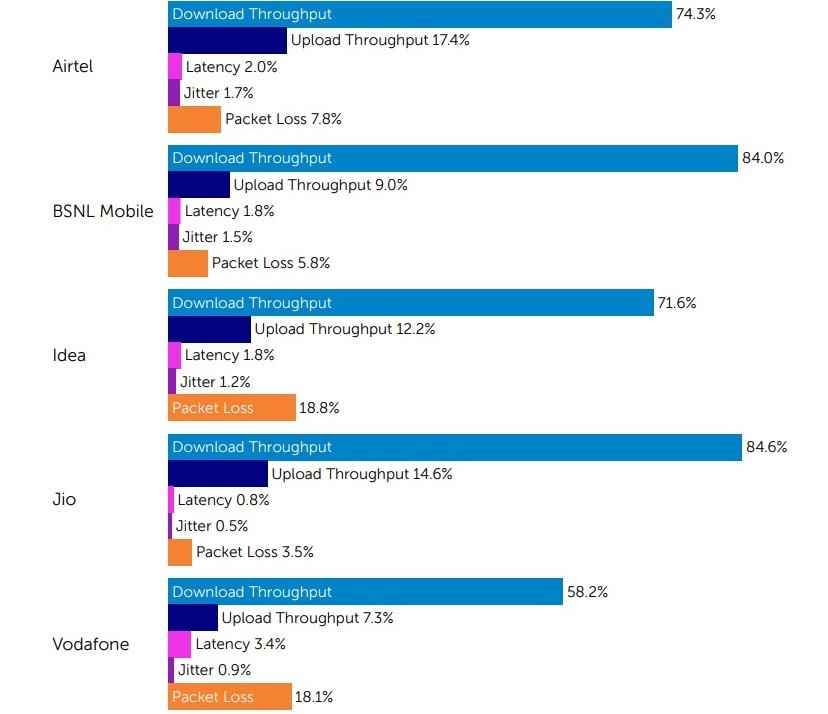 Update: Corrected the interpretation for the last chart.