Airtel has the highest download speeds on its 3G and 4G networks combined when compared with the top telecom companies offering their services in India, OpenSignal, a London-based company which specializes in wireless coverage mapping, has said in its latest report which measures the real-world experience of consumers on mobile networks. The firm found that Reliance Jio provides the widest 4G availability and lowest latency. In the the upload speed department, Idea tops the list of networks that provides the best upload experience. The three major players - Jio, Airtel and Vodafone - scored s draw when it comes to providing the best video experience on the network.
OpenSignal has published the report after accessing 10,509,371,943 data points that were collected from 1,769,711 users during the period from June 1 to August 29, 2018. The report seems to keep Vodafone and Idea as separate providers apparently because the merger of these companies was announced on August 31, 2018. India's first LTE network launched in 2012, and OpenSignal says that in India, it is seeing some of the highest 4G Availability scores of any of the markets that it has analysed. The firm included awards for the five operators across all 22 of India's telecoms circle regions for the first time.
Video Experience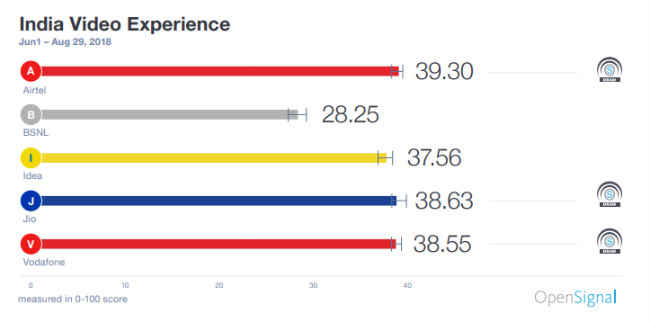 OpenSignal found that there was a three-way tie in its mobile video experience analysis, as Airtel, Jio and Vodafone all posted scores within a point of each other. It says that Jio continues to impress in its 4G availability analysis, as the operator's score continues to grow from 96.4 percent to 96.7 percent which is "remarkable in a relatively new LTE market like India." The winners all scored around 39 points in the analysis, while Idea was very close behind the top three. "We discovered there is no link, or correlation, between the time Indian smartphone users spend on 4G (4G Availability) and the quality of the mobile Video Experience they enjoy," OpenSignal said in a statement.
4G Availability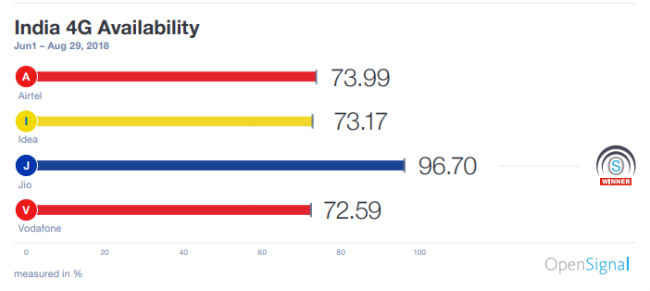 According to OpenSignal, the 4G Availability winner is Reliance Jio. All three other major operators continued to increase their scores, passing the 70 percent mark with rises of well over 3 percentage points each in measurements. Second-placed Airtel registered the largest rise of over 7 percentage points to reach 74 percent in the 4G Availability metric. "It's impossible to analyse recent developments in Indian mobile without talking about Jio. Coined the world's first 'super-disruptor', the Reliance Industries amassing over 100 million subscribers in less than six months and launching its own range of handsets to huge success. But from OpenSignal's point of view, one of Jio's most impressive achievements has been in 4G Availability. The operator has managed to achieve availability scores of over 95 percent in all of India's regions, despite huge variations in topography, and in the face of massive increases in subscribers and data consumption," the firm said.
When it comes to regional availability, OpenSignal said that Jio came top in all 22 telecoms circles scoring over 95 percent in 4G availability measurements in all regions, and topped 97 percent in 10 of them, including the Kolkata metro circle. Jio's average 4G Availability score across all 22 circles we analysed was 96.7 percent and out of the other operators providing their services in the country, Idea scored over 80 percent in 4G Availability in three regions, while Airtel and Vodafone managed this in two each.
Latency Experience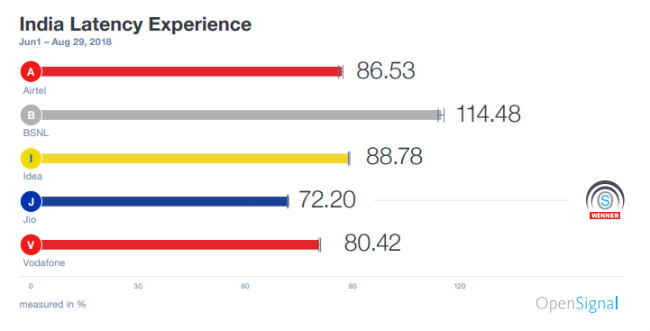 Jio also won OpenSignal's Latency Experience award, although it was Airtel which claimed the top spot for the 4G-only latency table after edging ahead of Vodafone (that grabbed the spot in this category six months ago). Jio had an average score of 72.2 milliseconds (ms), a 8ms improvement on its closest rival, while Vodafone, Airtel and Idea weren't far behind and they were in a tight group just over the 80ms mark. Latency refers to the delay users experience as data makes a round trip through the network: If the latency of your network is high, you'll experience a lot more lag time. Lower latency scores mean webpages begin loading more quickly and real-time communications apps and online games experience less lag.
"Jio was the standout operator in our analysis of Latency Experience in India's regions, winning in 17 circles and drawing in a further two. Jio's best average Latency Experience score was 54.7ms among our users in Mumbai, over 10ms better than its closest rival in that circle, Idea. Of the other operators, Vodafone won two circles and drew in three others. The operator drew with Jio in Kolkata, with Idea in the North East, while we saw a three-way tie in Maharashtra," OpenSignal said.
Download Speed Experience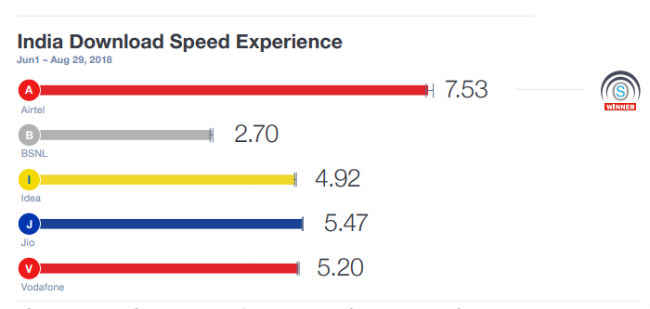 Airtel kept its Download Speed Experience crown, surging further ahead with over 25 percent growth in measurements in the past six months. The firm says that the network provider has traditionally won the lion's share of its mobile experience awards, and as mentioned above, tied for top spot in Video Experience and came in second place in 4G availability analysis. OpenSignal says that Airtel dominated 16 circles and drawing in two others. "Airtel's highest score was in Orissa where we measured its average speed at 9.9 Mbps. Airtel tied with Jio in Himachal Pradesh and with Idea in West Bengal. Elsewhere Vodafone won our Download Speed Experience crown in Gujarat, Jio came top in Jammu and Kashmir as well as in Uttar Pradesh (East), while Jio drew with Idea in Uttar Pradesh (West)," it said.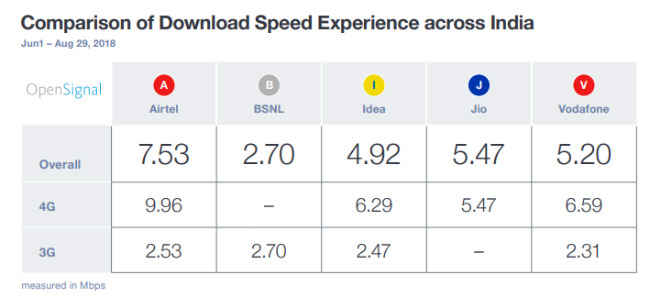 Upload Speed Experience
With averaging speeds of 2.88 Mbps, Idea was the leading operator in the upload speed experience category, winning outright in 10 circles and drawing in a further six. Idea topped both 3G upload and 4G upload speed tables, with average scores 15 percent faster than its closest rival Vodafone in 3G and 30 percent faster in 4G. Idea achieved its best average score of 3.9 Mbps in Punjab, but no operator was able to pass the 4 Mbps mark. "Competition was high in this category, with Vodafone winning in three regions including the Delhi and Kolkata metro circles and drawing in two others. Of the other operators, Airtel won two regions and drew in a third, while Jio managed a draw in two circles," OpenSignal noted.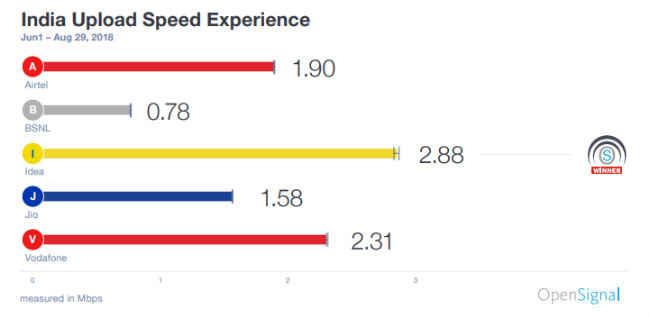 Meanwhile, taking a dig at the competition, Airtel has said that its focus remains on building the fastest and the best network that enables a high quality digital experience for discerning customers "who prefer network quality over deals and discounts." "We are delighted to see a reputed international platform rating Airtel as India's fastest network. This latest report is yet another reaffirmation of Airtel's obsession with network excellence. Over the last 90 days our pace of deployment and investment has continued to pick up. This is allowing us to decisively win with 4G customers in the top 500 cities. We remain committed to leveraging state of the art technologies and tools to delivering India's decisively best network and sustain our leadership," Randeep Sekhon, CTO, Bharti Airtel, said in a statement.
Source: OpenSignal Report