An article detailing the announcement of the super affordable dual SIM phone from Zen Mobile, called the Zen X390, at Rs. 1,649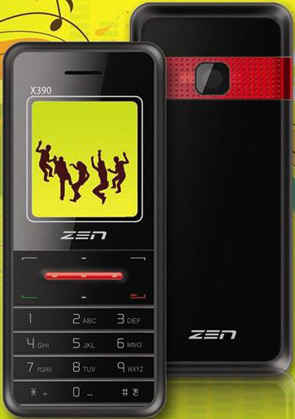 A dual SIM (GSM-GSM) phone, the Zen X390 from Zen Mobile is the latest low cost mobile from the company, and as an entry level phone, has great value for money with such features as a VGA camera, wireless FM with recorder, MP3/MP4 stereo player, torch, and a 3.5mm jack, apart from supporting both Hindi and English languages.
The Zen X390 is manufacturer rated to provide at least 4 hours of talk time, and has an internal memory of 500 phonebook entries, 300 SMS messages, and a total of 60 calls in the call register.
Zen Mobile's Managing Director, Mr. Deepesh Gupta, had this to say about the launch of the X390: "With Zen Mobile rapidly expanding its reach over to the masses in the crucial Indian market, the launch of the X390 will have a mass appeal in the market. We have always strived in bringing the best to the customers at the most reasonable price range. With this new handset, we are all set to provide the Indian mobile users another handset with the latest technologies and stylized experience."
Certainly one of the lowest priced dual SIM handsets in the market to also provide a camera, the Zen X390 will still face stiff competition from other dual SIM phone manufacturers, who are sure to bring in comparatively priced dual SIM phones soon. Nokia itself is going to be launching a dual SIM device with a VGA camera, the C2-00, at Rs. 2,500.