After getting all the bad press and being the target of many a speculation, BlackBerry has shot back at detractors, with an open-letter to customers with which the smartphone manufacturer wants "to set the record straight". BlackBerry says that it has substantial cash on hand, and has a debt free balance sheet.
Important to note that the company isn't shying away or denying the existence of the current situation, "These are no doubt challenging times for us and we don't underestimate the situation or ignore the challenges. We are making the difficult changes necessary to strengthen BlackBerry." However, the confidence is more than apparent in the rest of the letter.
While the letter is aimed at almost all smartphone users, BlackBerry has not forgotten that the enterprise audience is still critical to its survival. The letter says that in a BYOD scenario, BlackBerry's devices are much easier to manage and are more secure than Android and iOS. The company reveals that BES 10 (BlackBerry Enterprise Service) subscribers saw an increase from 19000 to 25000 in the previous quarter, and also talks up the best mobile social network. Well, Android and iOS users are still waiting to experience that, with the delay in the official BBM release for the two platforms.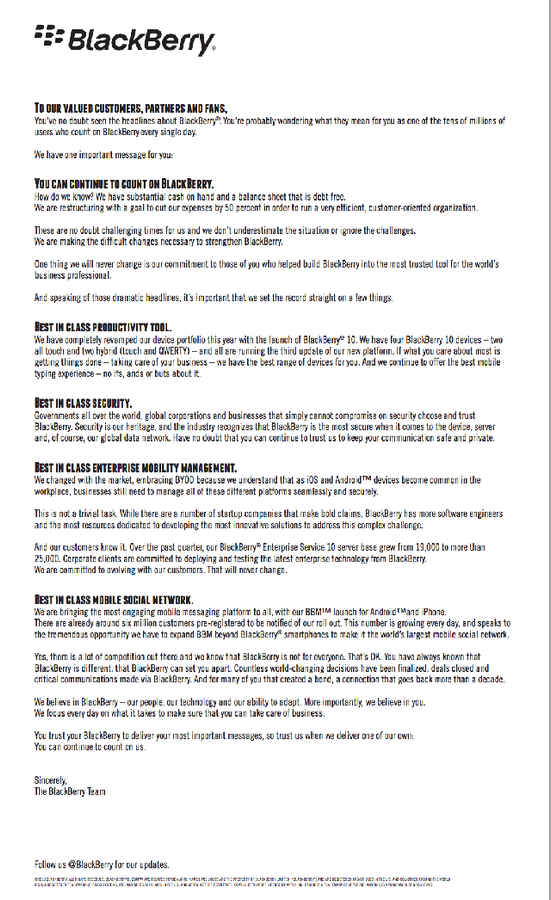 This is BlackBerry's open letter to all customers. You can click on the image for a full image of the letter.
We are not really sure if a letter would be enough to prevent customers from jumping ship to other platforms, but it is definitely heart warming to see that BlackBerry is still putting up a brave and confident face. That could just be critical for the enterprise audience, which may result in critical numbers for BlackBerry.
Read More: BlackBerry 10