The phone is expected to launch alongside MIUI 7 in an event set to be held in China, on August 13.
As the date for Xiaomi's event gets closer, leaks have started to pop-up. According to latest leak, Xiaomi is expected to launch the much anticipated, Xiaomi Redmi Note 2 in the event that is to be held on August 13. The rumors also state that the Xiaomi Redmi Note might be available for pre-booking from August 16. Furthermore, an image has leaked that shows the price of the Xiaomi Redmi Note 2 (32GB version) as CNY 799, which is approximately Rs. 8,206. This is more-or-less the same, as the price of Xiaomi Redmi Note in India.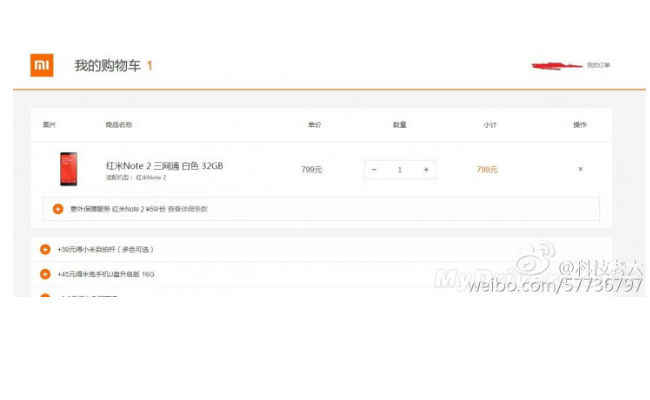 Redmi Note 2 is expected to come with a 5.5-inch HD display, 1.2GHz quad-core Qualcomm Snapdragon 410 processor, Adreno 306 GPU, and 13MP/5MP shooters. The rumored device is a successor to the Redmi Note 3G and Note 4G which received a positive response from users in India. Both the variants are almost similar in terms of specs, except for the processor and RAM. The Redmi Note 3G comes with a MediaTek MT6952 processor with 1/2GB RAM and Redmi Note 4G comes with Qualcomm Snapdragon 400 processor with 2GB RAM.
Xiaomi are also expected to launch the next Xiaomi flagship device, the Xiaomi Mi 5. But that is unlikely to happen any time soon, as it is expected to have Snapdragon 820 processor, which may release next week in an event by Qualcomm and this may delay the launch of the device. However, if Xiaomi does launch the Mi 5 soon, then they would most probably have to go with a Snapdragon 810 processor. The Mi 5 is also expected to have a 5.2-inch QHD display with Corning Gorilla Glass 4, 16MP/13MP cameras, and a 3,000mAh battery.
Recently, Xiaomi has confirmed the release of MIUI 7 in an event to be held at China National Convention Center which is most probably developed on top of Android Lollipop 5.1.
Image Source: MyDrivers.com.