As the imminent launch of the Xiaomi Mi5 comes closer, the frequency of rumours and leaks surrounding the phone has increased. The phone has been in the news lately was spotted once again but this time on an e-commerce website. The phone was listed for $599 (Rs. 40,055 approx.) on the website but now the product webpage has been taken down. All the specification of the smartphone were revealed on the online retail website. We have seen rumours and leaks in the past which hinted that the Mi5 will sport the Snapdragon 820 SoC coupled with 4GB RAM.
The phone which was listed on oppomart featured almost the same specs which were spotted online in the past. If the listing is to be believed, then the phone will house a Qualcomm Snapdragon 820 SoC. The 820 SoC is the latest flagship SoC offering from Qualcomm and as the Mi5 is speculated to take on the flagship smartphone market, it is an obvious choice. There are a lot of flagship smartphones expected to launch in 2016 that will be powered by the Snapdragon 820 SoC. Coming to other specifications of the Mi5, the smartphone will have 4GB LPDDR4 RAM which puts its at par with the OnePlus 2 which comes with 4GB RAM. There are three storage options that were listed on the website — 16GB, 64GB and 128GB. Earlier it was rumored that the phone will carry forward the same storage options that were there on the Mi4 - 16GB and 64GB.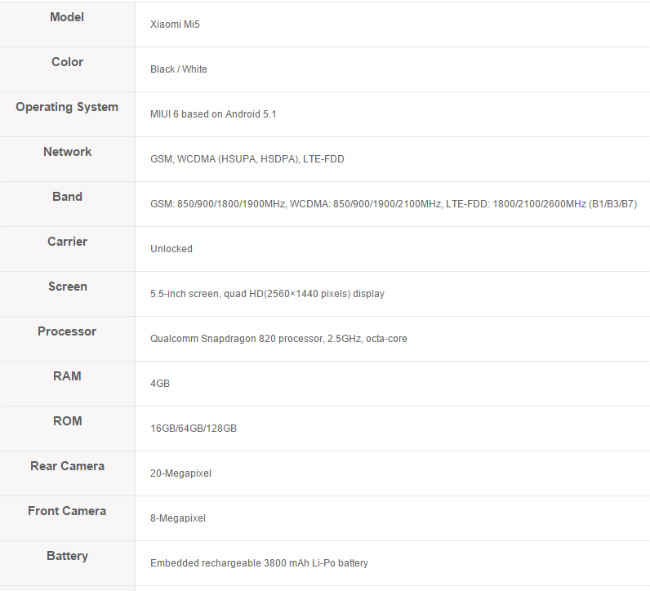 The spec sheet revealed that the Mi5 will have a 5.5-inch display with 2K resolution. If this is true, the Mi5 will become the first phone from Xiaomi to offer a 2560 x 1440p resolution in India. We expect that Xiaomi will use an IPS display panel as this seems to be the norm with the companies products thus far. In the optics department, the Mi5 is listed to have a 20MP rear camera and an 8MP front-facing camera. Other information about the camera like the make, sensor size, aperture and whether it supports OIS is still unclear. Going by the listing, the phone will be powered by a 3,800 mAh battery and is expected to run on MIUI 6 which will be layered on top of Android 5.1 Lollipop. It should be mentioned that Xiaomi is already rolling out the MIUI 7 update to almost all its smartphones. The website also listed that the phone will be available in Black and White colour options. Xiaomi is expected to launch the Mi5 in February 2016.