Highlights:
WhatsApp is reportedly testing a new feature
The feature enables reverse image search using Google
This is an attempt to curb the spread of fake news
In the past decade, WhatsApp has helped millions of people connect through instant messages and calls but has also been used as a medium to spread fake news, a danger WhatsApp developers are still trying hard to combat. In the latest beta (ver. 2.19.73) of WhatsApp, the app is reported to come with an option that lets users perform a reverse image search on images forwarded to them by others. The new feature appears to use Google's Search by Image feature to perform the reverse image search.
Though spotted in a beta version of WhatsApp, the new feature is still not available for public testing. For this reason, we could not try the feature out on our own devices. However, according to a recent report by WABetaInfo, an option called 'Search image' appears in the extended menu when a received image is selected. Tapping on the option brings up an alert with the message, "Search image? This will upload the image to Google". Tapping Search opens up the phone's default browser to perform a reverse image search on Google, a feature Google Images has had since 2011.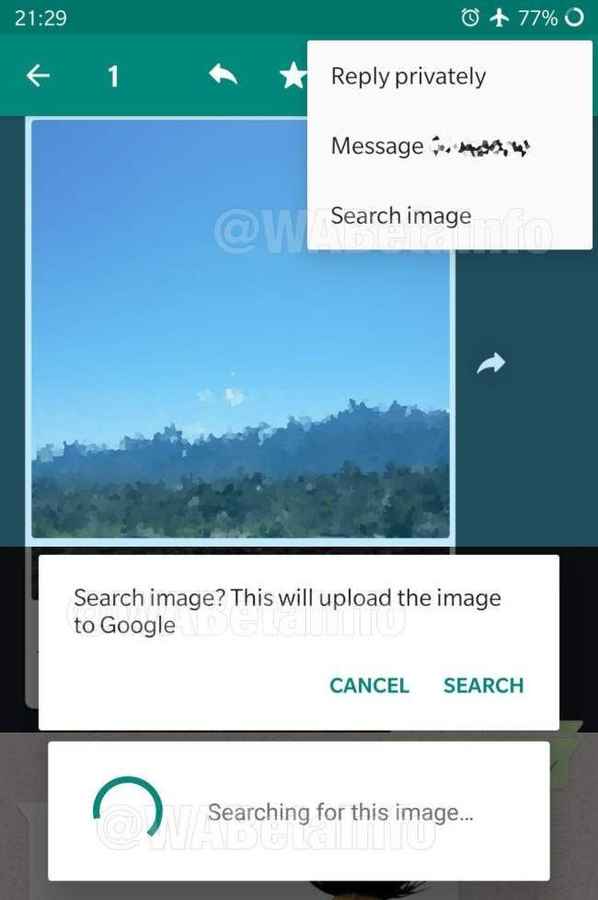 How does this feature help in combatting the spread of fake news? Once the user does a Google search using the image, they can decide for themselves whether the news is fake or legit depending on the related search results that pop up. If they see reports of whatever they've viewed being fake, they'll know. However, if there are legitimate news items around the image they've searched for, they needn't worry about spreading fake news when they forward the image to their contacts.
WhatsApp developers have made several attempts in the past to curb the spread of fake news, which was especially high in India. In July last year, the Facebook-owned company implemented a restriction in the app that allows a user residing in India to forward messages and media to a maximum of five contacts. The restriction was later implemented globally. As you can tell, the developers are still working hard to find new ways of stopping people from spreading misinformation.
Related Read: WhatsApp is globally implementing message forwarding limit of five users