Want to modernise your banking loan application?
Build an application that analyses credit risk with #IBMCloud Pak for Data on #RedHat #OpenShift
Click here to know more
Advertisements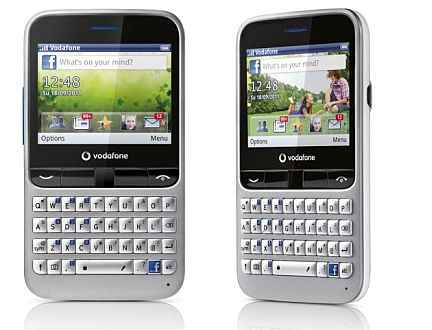 With the Facebook fever running an all time high, it didn't take too long for service providers to jump onboard, and begin offering Facebook integrated phones. Vodafone has come up with its own Facebook integrated smartphone called Vodafone Blue, which brings together the qualities of a mobile device with popular social networking. The Vodafone Blue is moderately priced at Rs. 4,950. The phone looks very similar to HTC ChaCha and it even has a dedicated Facebook key.
[RELATED_ARTICLE]
Named aptly as the Vodafone Blue, the phone offers decent amount of features for it's price. It sports a QWERTY keypad with optical track pad and a 2.4-inch QVGA display. The phone comes topped with additional features such as pre-installed apps like Opera browser and a full Facebook app experience. The phone's memory can be expanded up to 16GB and it offers flash with its 2 MP camera. The device is manufactured by Alcatel and runs on propriety OS.
The best part about the deal is that Vodafone would offer free access to Facebook for a year from the date of its purchase. This means the users can enjoy browsing on Facebook for a whole year for free. Meant for Facebook fanatics who are on the social networking web site 24/7, the phone's user interface is all about offering various Facebbok features. These include feeds, pictures and notifications which can be accessed from the phone's menu itself.
The phone was launched today in Mumbai at an event attended by Kumar Ramanathan CMO, Vodafone Essar and Peter Becker Marketing Director - Terminals Vodafone Group PLC.