It appears that mobile hotspot support is finally hitting RIM's platform with a leaked version of BlackBerry OS 7.1 for the BlackBerry Torch 9810.
While all eyes are set on Research In Motion's (RIM) BlackBerry 10, the Canadian company is reportedly prepping a new version of its current platform. A group of dedicated BlackBerry platform developers - OpenSource BlackBerry (OSBB) have revealed what is being dubbed as an unofficial BlackBerry 7.1 OS version. The leaked platform shows a Mobile HotSpot feature, which allows sharing of the device's 3G network with other devices.
The BlackBerry 7.1 OS version was spotted running on the BlackBerry Torch 9810. This means RIM may soon officially announce the update. It's notable that the mobile hotspot feature is common in most Android smartphones. The OSBB group is also offering value added features, themes, and hybrids apart from the BlackBerry software. The upcoming BlackBerry 7.1 OS update is said to be under development and may get more new features.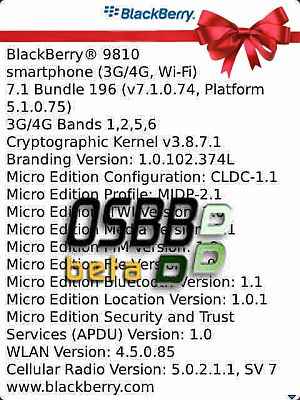 After having seen mobile hotspot in the BlackBerry 7.1, we can expect the same feature in the upcoming BlackBerry 10. For more details about the BlackBerry 7.1 platform, click here.

Source: OSBB EXCLUSIVE: 7.1 for the Torch 9810


Vote and Win!

Digit Icons of Trust 2011 Survey

Visit http://thinkdigit.com/trust to vote for your favorite tech brands in India.
Survey participation gives you a chance to win exciting gifts like wireless input devices, earphones and special edition Digit branded T-shirts.
As an appreciation of your valuable time and input, every participant will receive an assured gift in the form of Digit discount vouchers.
We encourage you to participate in multiple surveys to increase your chances of winning more goodies.