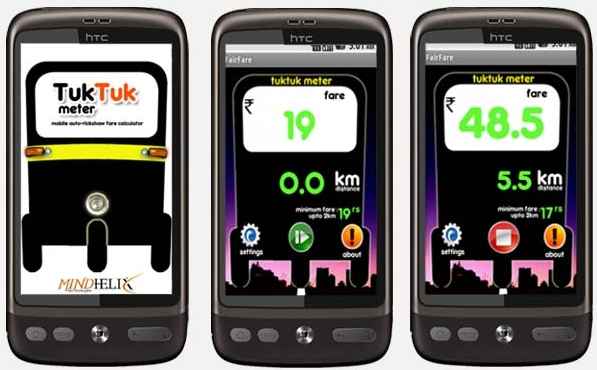 MindHelix Technologies has reportedly launched the 'Tuk Tuk meter' - India's first multi-platform auto-fare calculating mobile application based on GPS. It is said to dynamically calculate the distance travelled using the Global Positioning System (GPS) and also calculate the fare due in comparison with the auto's meter, thereby saving consumers from getting cheated by greedy auto-drivers or faulty meters.
The most interesting aspect is that it is intelligently designed to run on multiple mobile platforms including Android, Blackberry or Symbian operating systems sans internet connection or access to service provider. Hence, anyone who has a mobile with GPS access could run the auto-fare app without any limitations. According to Christin Emmanuel George, co-founder and CEO of MindHelix Technologies, the auto-fare app can be controlled by a simple start/stop button and customisation of fare details based on the location. The application is freely downloadable from the MindHelix's homesite link: www.tuktuk.mindhelix.com
Mobile application technology has successfully captured our imagination more often than not and it looks like conquering the world in its final crusade!