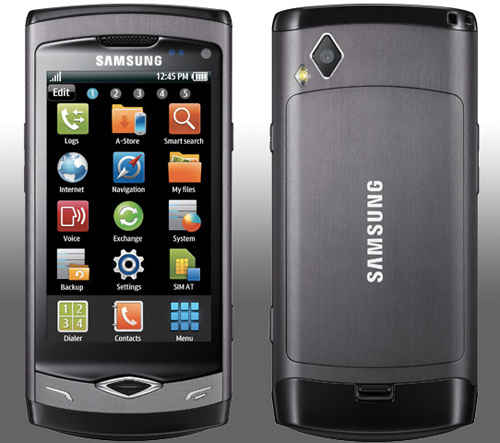 Samsung has officially previewed the Samsung Wave S8500 -- the first phone to feature its own smartphone OS -- the Bada. It was no secret that Samsung would unveil the Wave at the MWC when it had been talking about its launch earlier this year.
The mobile giant has revealed a touch smartphone that is gorgeous in looks and design, with a metallic finish and thin profile. The phone's 3.3-inch super-AMOLED touchscreen is large and looks good. The screen also uses capacitive technology and has a scratch-proof glass surface. The Samsung Wave S8500 uses a standard 1500 mAh battery
In terms of features, the Samsung Wave S8500 is a dream handset, with all the latest features and a few new ones. It is powered by a 1 GHz processor and its screen resolution is has 800x480 with a inbuilt accelerometer and auto-rotate. A proximity sensor is provided to save battery by automatically turning the screen off when in a call. It also has the latest TouchWiz 3.0 user interface and comes with an internal storage that ranges from 2 GB to 8GB, with a microSD expansion slot. It features Bluetooth 3.0 (Yes, 3.0) making it the first known phone to do so, and has a GPS receiver with A-GPS. Audiophiles will simply fall in love with the handset as it provides 5.1 virtual surround sound and has a 3.5-mm audio jack in case you want to use your own earphones. The Samsung Wave S8500 also has an FM radio with Radio Data System and also supports playback of DivX/XviD video.
The Samsung Wave S8500 comes with a 5 MP camera with autofocus. The camera also supports 720p HD video recording and playback. It also has mDNIe (mobile Digital Natural Image Engine) technology.
On the connectivity front, the Samsung Wave S8500 has an 802.11 b/g/n Wi-Fi, the already mentioned Bluetooth 3.0 with A2DP and GPS along with a standard miniUSB port.
The phone is said to have a brilliant price/performance ratio. With a comprehensive list of its features, this phone is sure to make a mark in the high-end market.
It's not all rosy though; sadly the Samsung Wave S8500 has no flash for the camera and the screen, even with its brilliance in other fields, is on the slower side. Also, with its smartphone platform, we can't say for sure how good its support will be from third-party developers -- be it apps or games.
In conclusion, the new Samsung Wave S8500 is quite impressive. Samsung has also found an opportunity to introduce its new OS along with the phone and it is still to be seen how well it performs. The Samsung Wave S8500 will be available in the Asian market by the second quarter of the year and its pricing will be announced with its launch.