Spice has added a full HD 5-inch smartphone to its portfolio, the Spice Pinnacle FHD. The device is priced at Rs. 16,990 and runs on Android 4.2 Jelly Bean.
Spice has entered the quad-core full HD smartphone race with the launch of the Spice Pinnacle FHD. Priced at Rs. 16,990, the device has a quad-core CPU along a 5-inch full HD display.
The Spice Pinnacle FHD showcases a 5-inch display with a 1920x1080 pixel resolution. The device has a 1.5GHz quad-core processor along with 1GB of RAM. It has 8GB built-in storage expandable up to 32GB via a microSD card. The rear of the smartphone has an 8MP shooter and the front has a 2MP video-calling camera. The smartphone has the ability to shoot video in 1080p. A 2100mAh battery powers the FHD.
Spice Cloud provides consumers with Cloud Backup of 2GB free data storage across devices along with security and anti-theft features. Users can access them all using the web interface at www.spicecloud.in.
Commenting on the launch, Mr. T M Ramakrishnan, CEO – Devices, S Mobility Ltd, said, "This product is an answer to the ever-growing need of the consumer expecting better display quality on the phone. The 1.5GHz Quad Core coupled with Full HD resolution is an industry-redefining feature for the affordable segment. Spice continues to bring the best of technology at an affordable & aggressive price to provide the consumer a truly advanced experience in display."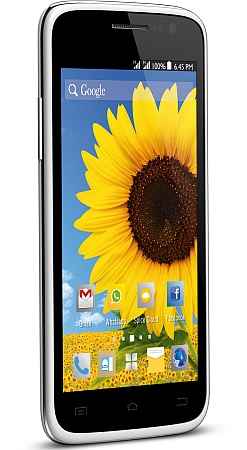 We have recently seen the launch of the Micromax Canvas 4. The device has the hardware specifications very similar to the Canvas HD with a few differences. The Canvas 4 comes with a bunch of software shenanigans that we have come to expect from high-end smartphones. We have also seen the unveiling of the Iberry Auxus Nuclea N1, a smartphone that shows off a quad-core clocked at 1.5GHz along with a 5-inch full HD display. The device is available at an introductory offer of Rs. 15,990 after which it will sell for Rs. 18,000.
You can take a quick look at the specifications comparison between the Spice Pinnacle FHD and competing smartphones below.
| | | | | | |
| --- | --- | --- | --- | --- | --- |
| Models | Spice Pinnacle FHD | Micromax Canvas HD | Micromax Canvas 4 | Karbonn Titanium S9 | iberry Auxus Nuclea N1 |
| OS | Android 4.2 | Android 4.2 | Android 4.2 | Android 4.2 | Android 4.2 |
| Display size | 5-inch | 5-inch | 5-inch | 5.5-inch | 5-inch |
| Display type | IPS LCD | IPS LCD | IPS LCD | IPS LCD | IPS LCD |
| Display resolution | 1920x1080 | 1280x720 | 1280x720 | 1280x720 | 1920x1080 |
| Built-in storage | 8GB | 4GB | 16GB | 16GB | 4GB |
| Expandable storage | up to 32GB via a microSD card | up to 32GB via a microSD card | up to 32GB via a microSD card | up to 32GB via a microSD card | up to 64GB via a microSD card |
| Processor | 1.5GHz quad-core | 1.2GHz quad-core | 1.2GHz quad-core | 1.2GHz quad-core | 1.5GHz quad-core |
| RAM | 1GB | 1GB | 1GB | 1GB | 1GB |
| Rear camera | 8MP | 8MP | 13MP | 13MP | 13MP |
| Front camera | 2MP | 2MP | 5MP | 5MP | 8MP |
| Dual-SIM | Yes | Yes | Yes | Yes | Yes |
| Battery | 2100mAh | 2000mAh | 2000mAh | 2600mAh | 2800mAh |
| Price | Rs. 16,990 | Rs. 13,850 | Rs. 17,999 | Rs. 19,990 | Rs. 18,000 |
Tags:
spice
Spice Pinnacle FHD price india
Spice Pinnacle FHD india launch
budget quad-core smartphone
android 4.2 smartphone