An article detailing the launch of the new video phone from Spice Mobiles, called S7000, which will also feature content from Disney's latest movie, Prince of Persia: The Sands of Time.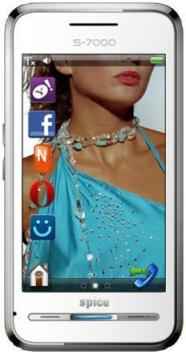 Spice Mobiles has launched a new phone into the market, called the S7000, a touchscreen mobile with a 3.2-inch WVGA screen, and priced at Rs. 7,499. The most unique aspect of the S7000 is the fact that it is launching with a Disney partnership, and will be pre-loaded with content from Disney's latest movie, Prince of Persia – The Sands of Time.
The content will include themes, wallpapers, screensavers, and ringtones. Spice Mobiles' content partnership with Disney could extend beyond this phone and movie, depending on the public reaction to this offering.
Talking about the company's latest product and tie-up with Disney, Kunal Ahooja, the Director and CEO of Spice Mobiles, said: "It has been a constant endeavour at Spice Mobiles to develop new product categories at affordable prices. We are very excited about our tie-up with Disney and are hoping to entertain our consumers anywhere and everywhere."
Apart from the pre-loaded content, the phone's major selling point is it purported ability to play all the mobile video formats. Naveen Paul, Head of Marketing and Spice Mobiles commented about this, saying that the S7000 "is the only phone in the market that plays all video file formats without the hassle of [the] user having to convert videos to a particular file format. S7000 also comes with support for Dolby sound."
Other pre-loaded software on the phone includes the Facebook client, Nimbuzz IM aggregator, Wapedia mobile encycloperia, and Vuclip (for web video). The S7000 phone will be available in white colour only, and will be entering a market of intense competition among other entry-level phone providers, such as Grapes, Lemon Mobiles, Micromax, Wynn Telecom, Mi-Fone, and others.

Find the complete specifications of the device below:
| | |
| --- | --- |
| Price | MRP Rs.7,499/- |
| Available Color | White |
| Form Factor | Touchscreen CandyBar |
| GSM Network (MHz) | 900/1800 |
| Dimensions (in mm) | 108x52x11.8 |
| Battery Power (in mAh) | 880 |
| Talk Time | Upto 3.5 Hrs. |
| Stand by Time | Upto 220 Hrs |
| Antenna Type | Internal |
| Phonebook Capacity | 1000 T Flash |
| Memory Card Type | T-Flash |
| Memory Card Support Capacity | Upto 16 GB |
| Phone Memory | 19MB |
| Screen | 3.2-inch (240x400) 262 K TFT : 3.2 Inch |
| Ring Tones | 64 Polyphonic,MP3,MIDI,AMR,WAV |
| Speakerphone(yes/NO) | Yes |
| Language Support | English |
| Predictive Text | Zi |
| Messaging (SMS/EMS/MMS) | Yes/Yes/Yes |
| Email | Yes |
| JAVA Enabled | Yes |
| EDGE connectivity | Yes |
| FM Radio | Yes |
| WAP | Yes |
| Bluetooth | Yes, 2.0 |
| Data Cable | Yes |
| Wi-Fi | NA |
| Camera | 3.2MP |
| Video Recording | Up to 15fps@avi |
| Wide Screen Video | Yes |
| Video Playback | Up to 30 fps @ MP4, AVI,3GP,WMV,FLV,MOV,RM,RMVB,DAT |
| Pixel Size (coreband) | up to 2048 X 1536 |
| Webcam | Yes |