OnePlus TV 32Y1 - Smarter TV
Android TV with superior craftsmanship and elegant design - Buy Now
Click here to know more
Advertisements
Sony has unveiled a new mobile imaging sensor that provides an incredible upgrade over any mobile camera that we have seen till date. The new image sensor employs the industry's first 3-stacked CMOS sensor mechanism, using 1GB of DRAM as the sensor's buffer memory. The exceptionally large buffer size is placed in between a conventional 2-layer backside-illuminated CMOS image sensor. What this primarily allows is exceptionally fast readout speed of photographs (time taken to shoot and process one photograph), and the new sensor can produce 19.3 megapixel photographs in 1/120th of a second - four times faster than the industry standard right now. The sensor also does this with minimal focal plane distortion when shooting fast moving objects, thereby drastically improving the paradigm of a smartphone's camera performance.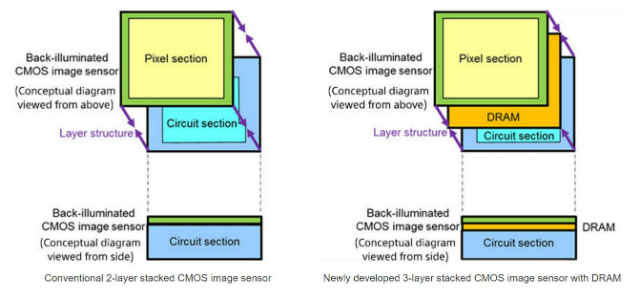 Alongside, the new image sensor can also shoot Full HD (1080x1920 pixels) videos at a whopping 1000fps, making true slow motion videos possible to be obtained from small, mobile-type imaging sensors. Until now, the likes of Apple's iPhone 7 Plus and Google's Pixel XL, all using Sony's image processor, could produce slow motion videos at 120fps, and most other smartphones can only produce a choppy best of 60fps. With the new sensor, intelligent algorithms ensure high speed shooting by detecting sudden fast movement within scenes, and the vast DRAM allows temporary storing of data subsequentially transferred to the ISP at normal speeds. This also allows the new sensor to be paired with conventional ISPs, increasing the scope of usage of the sensor. The processing circuit of the sensor has also been modified into a 4-tier construction as against the conventional 2-tier circuit, to enable better and faster processing of data.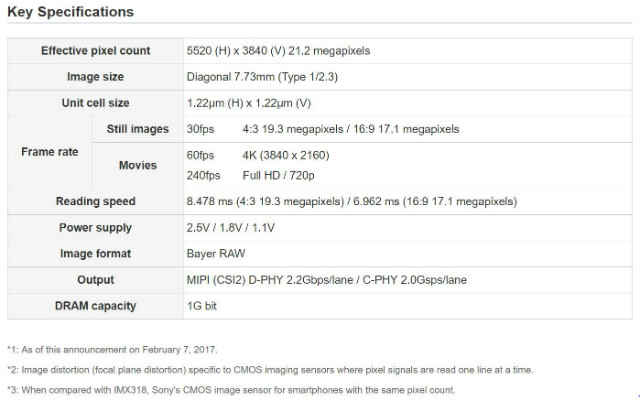 Sony has long established itself as one of the prime manufacturers of mobile imaging sensors, maintaining a global stronghold. While the new sensor is arguably production-ready, we do not expect to see it in smartphones for another year-and-half, at least. Once it is rolled out commercially, the new sensor has the potential to drastically improve smartphone imaging performance, seeing that it already beats Sony's 1-inch sensor-powered compact camera, the RX100 V, in terms of slow motion (the RX100 shoots at 960fps). With the likes of MotoMods looking to add optical zoom, larger sensors and more, the future of mobile photography does seem quite optimistic.